BYU Football: Could a Game Against Boise State Be a Thanksgiving Staple?
December 1, 2011
Doug Pensinger/Getty Images
BYU wants exposure. It also wants more and better games in November.
Is there any day in November that says "football" more than Thanksgiving Day?
The Cougars have an opportunity to put their product on TV on this blessed day, where it has the country's nearly undivided attention.
A perfect storm is rising that could allow this to happen, were BYU to be willing to push for it.
The end of one era could mean the start of a new one for BYU
Texas and Texas A&M have played each other on Thanksgiving night in years past in a game that has become a tradition as juicy as a slow-cooked ham.
But that all ends next year, when A&M bolts for the SEC. While the two teams may find a way to play their rivalry game, it likely won't be on Turkey Day.
So ESPN is left with a sizable gap to fill. Enter BYU and Boise State.
A match made in ESPN heaven
Boise State was an ESPN darling for years. BYU is currently in that slot, making double-digit appearances on the Worldwide Leader's networks with its own TV deal.
Together, these two teams and ESPN should be able to make it happen.
Geographically, it also makes a lot of sense. The schools are just an hour plane ride from each other, so not a ton of study and holiday time would be missed, and fans could make the trip without taking vacation days.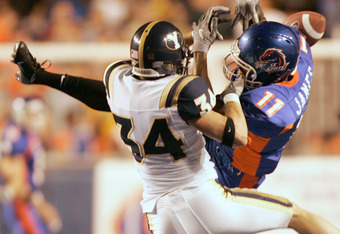 George Frey/Getty Images
More than that, the respective histories of the Boise State and BYU programs make it an appealing watch for over-stuffed and bored fans, who'd rather eat Aunt Mabel's stuffing than watch another Peanuts Christmas: Thanksgiving Night.
How feasible is feasible?
I admit, the idea is a long shot. Some of the dates for the annual clash between these Inter-mountain foes are set.
And fanbases would have to warm up to the idea.
But in the end, the TV exposure would be worth it. And that's something both schools are after. 
Follow Ryan @SportsGuyUtah.