College Basketball 2011: 5 Superstars Who Won't Be Drafted
December 1, 2011
Grant Halverson/Getty Images
In these past few months of NBA prohibition, you could say I've taken to drinking mouthwash by watching Euro League basketball.
In the minds of most American basketball fans, the Euro Leagues rank somewhere below the highest level of AAU competition and somewhere above the WNBA.
It just isn't the NBA, so it isn't given much thought. But there are, as I have now seen, plenty of talented players competing overseas on a daily basis.
Omar Cook plays for Italy's EA7 team. In the 2000-01 college basketball season, Cook looked like the next great New York City point guard to play for St. Johns.
In his freshman season, he averaged over 15 points and eight assists per game. He even broke the Red Storm's single game assists record, previously held by Mark Jackson.  
Cook entered the NBA Draft after his freshman season, and now he is remembered less for his powerful cross-over and precise passing and more as an example of what can go wrong if a young man turns pro when he isn't ready.
Which isn't fair.
One summer, years ago, I was at 5-star Basketball camp in Honesdale, Pa.
Bob Cimmino had brought what felt like every kid from Mount Vernon who could dribble a basketball.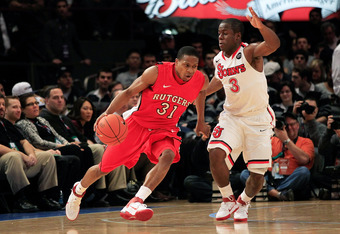 Chris Trotman/Getty Images
Mike Coburn, a very high-profile player at the time who went on to play at Rutgers, was part of that group.
So was Kevin Jones. Today, Jones is one of the best players in the Big East. Then, he was still developing as a player. I'm amazed to see how good the skinny kid in the Flightposite 3's is now. At the time, let's just say he was raw.
Coburn and Jones' teammate at Mount Vernon, Chris Lowe, was there too.
In my opinion, Lowe was one of the most underrated guards playing in the Northeast at the time. In the Federation Championship in Glens Falls, Lowe put New York State's then all-time leading scorer, Sebastian Telfair, on lock down, and went on to a really outstanding career at UMass.
Telfair's man on the block and future Villanova power forward, Antonio Pena, was there along with Villanova's two Coreys.  
Corey Fisher had all the coaches bartering with one another, trying to trade one thing or another to get the future All-Big East guard on their team.
Corey Stokes gave no hint of the tremendous shooting stroke he would later develop because he didn't have to take jump shots. He dunked on everybody.
Easily though, the most impressive player was Danny Green, recently of the Cleveland Cavaliers, who dominated the camp despite having his left hand in a brace. If I remember correctly, he was coming off a broken wrist.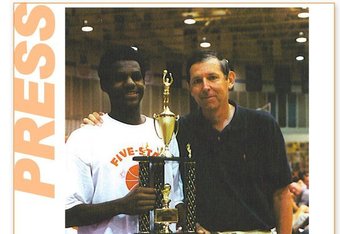 But all my memories of the budding talent competing that week in Honesdale are dwarfed by my memory of a lecture given by Tom Konchalski.
Konchalski is still the foremost scout of prep talent. Since 1964, he's edited and published High School Basketball Illustrated, widely considered by those on the sidelines as the bible of basketball recruiting.
Konchalski has seen the best from Connie Hawkins to Kevin Durant, from Isaiah Thomas to Michael Jordan.
He has advised the best coaches in the country. His evaluation can make or break the career of a player.
His stacks of notes on the players he has seen will be in the Hall of Fame one day, between Wilt Chamberlain's 100-point game ball and Red Auerbach's ashtray. Both of which, I am sure, rest in the Hall.
Anyway, Konchalski gave a lecture to the camp on the importance of grades and completing a degree.
Maybe the players in the moist gym were too tired to care, or maybe his lecture was just too boring, but either way, Konchalski was literally heckled out of the gym to a chorus of hooting and mocking laughter.
But before he stormed out fed up, Konchalski left us all with the most memorable statistic I've ever heard: there is, he told us, a one in one million chance of being drafted into the NBA.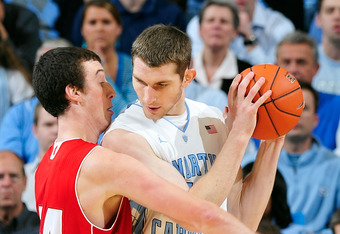 Grant Halverson/Getty Images
And that doesn't take into account the slim number of players who actually find success after draft night.
That means every year there are a handful of talented players, just like Omar Cook, who simply won't make the cut.
Now is the time to say that the five players I am about to mention are some of the best to be seen on a college basketball court today. It is easy to read an article about how and why some players won't make it in the NBA as a sign of the author's player-hater syndrome.
Not so in this case. These guys are better than what millions of ball players out there could ever dream to be. If anything, this article is evidence of the talent level in the NBA—evidence that hoops fans should be beyond psyched about the upcoming NBA season.
With that in mind, if it were 1962, Tyler Zeller would easily make the leap to the NBA. I'd say if it were 1962, Zeller would be one of the best players in the world.
A great drop step, a great baby hook and a great stride from rim to rim, the things Zeller does well were once more than enough to guarantee success in the NBA.
But in the modern game Zeller is incomplete. At almost 7 feet tall, he doesn't have the strength to guard NBA bigs, he doesn't move well enough laterally to guard NBA wings and he doesn't work hard enough, like a Tyler Hansbrough, to make up for it.
He is a smart player though, and has a knack for making himself a threat by finding position on the block. Even so, he will need a more polished offensive game and stronger handling of the ball to score in the pros.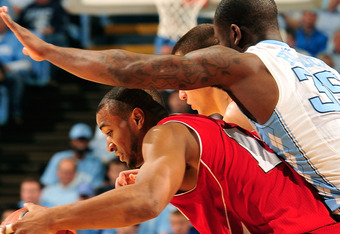 Grant Halverson/Getty Images
Though he recently dropped 37 against LSU, John Shurna of Northwestern also needs to make some drastic offensive improvements to play in the NBA.
On the court Shurna is more of a curiosity, like that Iceman found in the Italian Alps, than a ball player. Just look at that jump shot, which he seems to shoot with both hands at once.
But he shoots it well, and there is no doubt that Shurna is a gifted scorer.
But he has the luxury of playing in a system that hides some of his inadequacies. For example, he has no handle and when dribbling to the hoop, no counter moves to evade defenders.
So he scores off cuts.
His post-game, for a guy listed at 6'10" is, in all honesty, weak. So he shoots fade-aways.
Unfortunately for Shurna, even if he found those skills in a Malcolm Gladwell book, just like Zeller, he isn't quick enough to guard NBA threes, and he isn't strong enough to guard NBA fours.
Shurna's rival in the Big Ten, Jordan Taylor of Wisconsin, was picked as a preseason All-American by everyone over at ESPN, but come draft night, his name will in all likelihood not make it to the big board.
A reason for all the hype is his ability to hit jumpers at the point guard spot.
Ironically, a big reason he won't be an NBAer is that he takes to many jumpers at the point guard spot.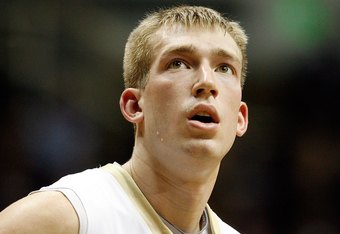 Andy Lyons/Getty Images
Taylor will struggle trying to penetrate the lane in the NBA. He isn't great at it now, thus the jump shots, but at the moment he gets by with his upper body strength. As an NBA guard however, he is small.
Purdue's Robbie Hummel once had a considerably high ceiling.
He had the makings of a Matt Harpring-esque forward; a steady jump shooter, one who can set up shots for himself and others by setting screens and grab a few rebounds. All in all, hang about the league for 10 to 15 years.  
That was pre-ACL surgery. Now, he too may go undrafted.
Watching Purdue play Iona last week, Hummel looked like he had some trouble getting lift on his jump shot. Scouts have to wonder how he will be able to guard coming off such a bad injury.
Ashton Gibbs, coming out of the hard-nosed school of Jamie Dixon, may be able to defend in the NBA but struggle to score.
Not a great athlete, he shoots a painfully slow, but accurate, jump shot. Gibbs will struggle to shoot in the league. He looks good now playing at Pitt, but Dixon plays a strict system and those who can adapt perform well.
Unfortunately, Pitt's players don't have much success in the NBA. Pitt has had only four players drafted, three of which are still active, since the dawn of the new basketball era.
By that I mean, since June 26, 2003, the day LeBron James, Carmelo Anthony, Dwayne Wade and Ndubi Ebi were drafted.
Ndubi Ebi, one may recall, was widely considered among the best high school players in America, second to only King James, and the closest competition to his crown. Ebi is currently playing in Lebanon.
One in a million as Konchalski said. Many talented players won't make it to the NBA.
So we all better enjoy watching these guys play while we can.