Broncos vs. Vikings Review: Ponder and Harvin Shine in Nail-Biting Loss
December 5, 2011
Going into Week 13 for the Vikings, only a few things were certain: The Vikings were going to be at home. The Broncos would be starting Tim Tebow. And Adrian Peterson would not be suiting up to play.
The latter of the three things I mentioned is one of the key reasons why the Vikings failed to come out with a win against the Broncos.
Denver and their dominant running game led the Broncos to a 35-32 win, which moved them into a first place tie with the Oakland Raiders in the AFC West.
Willis McGahee took the rock 20 times and rushed for 111 yards, nearly 5.6 yards per carry and a touchdown. His touchdown came in the fourth quarter on a 24-yard run.
Tim Tebow, who is normally known for his feet rather than his arm, only totaled 13 yards on four carries. It's safe to say that the Vikings had a game plan for Tebow, but not for McGahee.
Tebow showed in this game that he can win games without running the ball, as he completed 10-15 passes for 202 yards, two touchdown and no interceptions.
Demaryius Thomas caught four of these balls for 144 yards and two touchdowns, burning both Benny Sapp and Brandon Burton on different occasions.
No other Broncos receiver caught more than two passes, which shows that they can only have one receiver put on a show per week.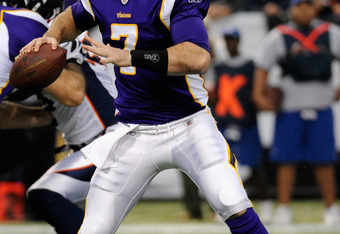 Hannah Foslien/Getty Images
Unfortunately for the Broncos, they don't get to play a pass defense like the Vikings every week, so they might want to cherish this while they can.
As for Minnesota, their offense was hitting on all cylinders, but failed to deliver when it really mattered most.
Christian Ponder was outstanding in most regards with 381 yards and three touchdowns, but his two bone-headed picks are still leaving fans scratching their heads.
Ponder threw an interception to Broncos linebacker Mario Haggan in the first quarter, who proceeded to take it to the house for a touchdown.
Later in the game, Ponder threw a ridiculous interception to Andre Goodman, the man that Minnesota had game-planned to go after all game long.
This interception sealed the Vikings fate, as the Broncos had to move just a few more yards to make it a chip-shot field goal.
Denver took the ball down to Minnesota's 5-yard line before Matt Prater lined up to kick the game-winning field goal.
The Vikings had once again played an amazing game, but had absolutely nothing to show for it except for officially being a double-digit loss team.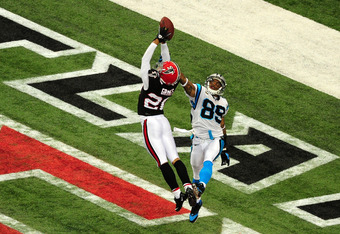 Scott Cunningham/Getty Images
It's clear that Minnesota has the offensive presence to be a force in the NFC, but the Vikings' defense needs help in nearly every area.
The Vikings secondary is a mess and it has been for years. Antoine Winfield is nearing the end of his career, while Cedric Griffin may be one of the worst starting cornerbacks in the game.
Brandon Burton, a rookie from Utah, has been seeing plenty of playing time lately with Antoine Winfield out for the year, Asher Allen nursing an injury and Chris Cook not hurt, just being punished.
However, the Vikings are playing Burton far too early. He was burned more than once by Demaryius Thomas on Sunday, and it's clear that his coverage skills are seriously limited.
At this time, Minnesota's cornerbacks are Cedric Griffin, Antoine Winfield, Asher Allen, Chris Cook, Benny Sapp, Marcus Sherels and Brandon Burton.
Besides Winfield, none of these players have the ability to be No. 1 cornerbacks in the NFL. Cook certainly has the potential, but he can't live up to it if he's in jail.
I expect both Griffin and Allen to be released from the team this offseason, and that will leave Minnesota's main priority this offseason to be at cornerback.
Minnesota is now a lock for a top-four pick with their 10th loss, but it looks like they'll be picking either second or third.
If this is the case, the Vikings will take either Matt Kalil or Justin Blackmon. Kalil, a left tackle from USC, is one of the best lineman prospects in years. Blackmon, a dominant wide receiver from Oklahoma State, has a tremendous ability to stretch the field.
However, many Vikings fans have been wondering whether or not Minnesota should either reach for LSU cornerback Morris Claiborne, or trade down in order to get him.
I don't see either scenario happening at this point. If the Vikings have the opportunity to draft either Kalil or Blackmon, they must do it.
Kalil has the potential to be the next Joe Thomas, while Blackmon can be the Vikings' version of Calvin Johnson.
The Vikings will definitely draft a cornerback in the first three rounds, though. Although it's one of the weakest classes for cornerbacks, Minnesota will able to find a capable starter in the second round.
Brent Grimes, Carlos Rogers, Cortland Finnegan, Brandon Carr and Terrell Thomas are all No. 1 cornerback worthy players that Minnesota will individually give looks at.
None of these players are a lock to re-sign with their current club, but I would bet that Brent Grimes stays in Atlanta and Terrell Thomas will remain a Giant.

Minnesota doesn't have many areas to address on either side of the ball, so most of their salary cap can be put towards an A-grade cornerback.
I would bet on Antoine Winfield remaining with the Vikings next year, but both Cedric Griffin and Asher Allen will not.
After watching the entirety on Sunday's game, it became clear that a No. 2 receiver isn't the Vikings' most glaring need.
Although Devin Aromashodu hasn't been lighting up fantasy teams this year, he did manage to catch six passes for 90 yards against the Broncos.
It's a sure-fire bet that Minnesota will look for a receiver to complement Harvin, but it doesn't need to come at a high price. The Vikings already made a huge mistake by giving Bernard Berrian a huge contract almost four years ago.

Therefore, if Minnesota fails to land Matt Kalil, the pick will either be Justin Blackmon or the Vikings will trade down.
Trading down will allow the Vikings to potentially acquire a fourth-round pick, which was traded to the Patriots for Randy Moss. Also, future picks, most likely a second-rounder, would be included in any deal.
Vikings who won't return in 2012:
QB—Sage Rosenfels
RB—Lorenzo Booker
WR—Michael Jenkins
WR—Greg Camarillo
TE—Visanthe Shiancoe
T—Charlie Johnson
G—Anthony Herrera
C—John Sullivan
DT—Remi Ayodele
DT—Fred Evans
LB—Xavier Adibi
LB—Jasper Brinkley
LB—E.J. Henderson
CB—Asher Allen
CB—Cedric Griffin
CB—Benny Sapp
S—Andrew Sendejo
S—Tyrell Johnson
LS—Matt Katula
That's a whopping 19 players that I don't expect to be in purple and gold next year. Some will be cut because of salary (Michael Jenkins, Visanthe Shiancoe, Remi Ayodele and Cedric Griffin), while the others are either going to be free agents or just plain suck.
Minnesota will have a solid amount of money to dish out this offseason, and with a potential top-three pick, the Vikings future is looking very bright.
Brace yourselves for an offense that includes Christian Ponder, Adrian Peterson, Percy Harvin, Kyle Rudolph and potentially Justin Blackmon next year.
Vikings owner Zygi Wilf announced today that Leslie Frazier will indeed return as head coach for the Vikings in 2012.
Be sure to follow Tanner Thoms @TannerThoms