New York Mets: Wilpon, Alderson and Front Office Drive Nail into Fans' Coffin
December 5, 2011
Christopher Pasatieri/Getty Images
Fans of the New York Mets organization have sent clear warnings to anyone who cares to listen. Without making an offer to former franchise player—and possibly the most talented homegrown offensive player in Mets history—Jose Reyes, the Mets' front office once again proved just how low they have sunk.
Who could have foreseen that after Carlos Beltran went down meekly looking at an Adam Wainwright curveball for the final out of the seventh game of the 2006 NLCS, the Mets would be at such a pathetic low?
It started with their historic choke in 2007, failing to hold a seven-and-a-half game division lead with just 17 games remaining (14 of which came against teams with losing records).
Next came another historic choke in 2008, failing to hold a two-and-a-half game lead heading into the final week of the season.
Both times, the Mets had a chance to advance to the postseason by taking two of three games against the Marlins at Shea Stadium. Both times, they failed.
Fast forward to the 2012 offseason and once again it's the dreaded Marlins—now called the Miami Marlins—that have ended the Mets' hopes.
One major difference is that, this time, the Mets won't just miss one postseason. With the current talent the Mets have in their farm system and on their major league roster, this group might not climb out of last place for at least a decade.
Look at the other teams in the NL East. Start with the five-time defending division winner Phillies, fresh off a 100-win season and still possessing the most fearsome staff in the majors with Roy Halladay, Cliff Lee, Cole Hamels and Vance Worley.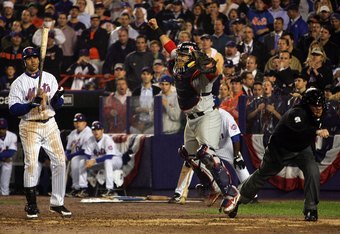 Al Bello/Getty Images
Then comes the Braves, who, despite a Mets-like collapse to miss the 2011 postseason, are filled with talented youngsters on both offense and the pitching staff. Much like the group that won division titles every full season from 1991-2005, the Braves are set to contend for a long time.
The Washington Nationals are excited for the first time since moving to the nation's capital, with a host of young pitching prospects like Steven Strasburg, Tyler Clippard, Drew Storen, Jordan Zimmermann, Tom Milone and Brad Peacock, along with catcher of the future, Bryce Harper.
That brings us to the Marlins. Once the butt of big-market teams like the Mets, the Marlins have now announced themselves as major players in the free-agent market, having signed Reyes and former Met and All-Star closer Heath Bell.
Now the Marlins have their sights set on Albert Pujols. Factor in Josh Johnson, Ricky Nolasco and Anibal Sanchez, all of whom are either be returning from injury or looking to rebound from a poor 2011, and you have a very strong team.
Then comes (chuckle, chuckle) the Mets. When Sandy Alderson announced that the Mets were not interested in matching the Marlins' offer, he pretty much put a voice to the joke that has become the Mets organization.
To make matters worse, Alderson then proclaimed that the 2012 Mets are not rebuilding. Are you kidding me? This is what the Wilpons have turned Alderson into. A corporate shill who blatantly has stooped to lying to an already-abused fanbase.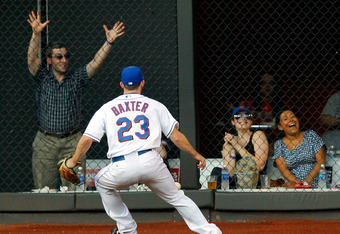 Paul Bereswill/Getty Images
Last week, the Mets invited season-ticket holders to Citi Field for a hot stove update on the team and their plans for the offseason and future.
Alderson and the rest of the Wilpon yes-men sat up there and actually had straight faces when they talked about a future for this organization. They hyped up their young pitching, led by Jeurys Familia, Zack Wheeler and Matt Harvey.
The problem is that the Mets have no ability to evaluate their own talent. From Lastings Milledge to Shawn Abner to Billy Beane to Fernando Martinez, the Mets always overvalue their talent.
Remember the last time the Mets tried to sell the public on a pitching trio? Anyone who wants a good laugh, look up "Generation K."
The 2011 Mets already had gaping holes in their starting rotation and lineup. So far this offseason, they have lost Chris Capuano (tied for second on the team with 11 wins) and Jose Reyes. They have sat by while middle-of-the-line closers (who they apparently can't afford, either) Jonathan Broxton and Joe Nathan have signed with other teams—despite the fact that Alderson stated that the team's bullpen needed to be addressed.
The Mets need to show some sign to their abused and tortured fanbase that they care about them. Announcing lowered ticket prices in SOME areas is comical, if not desperate.
By allowing Reyes to leave—to join a division rival—the Mets have stabbed their fans straight in the back. There is no player with an inkling of the talent Reyes has on the horizon.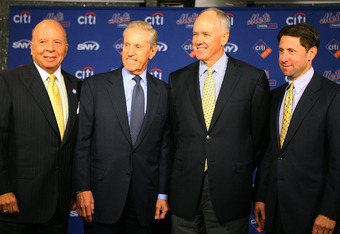 Andrew Burton/Getty Images
The Mets have now officially become a complete laughingstock. They are owned by people whose treatment of the fanbase has become criminal. Everything that Sandy Alderson had accomplished in his career in baseball has been erased by his actions this past week. It's not bad enough to allow your best player to go without even an offer; to then purposely lie to Mets fans and say that this team is not rebuilding is delusional at best.
If this is too harsh, it's meant to be. I have never seen a front office that was so completely ignorant as to the reality facing them.
The Wilpons cry poverty because they stole and had money stolen with Bernie Madoff. Instead of being honest with their fanbase about their finances, they have insisted that their issues with Madoff did not and are not affecting how they handle their team.
Yet they have dismantled a 97-win team into a laughingstock, leaving fans in tears. Mets fans are ripping up their season tickets, throwing away memorabilia and burning their jerseys.
Fortunately for fans that feel burned, lied to, taken advantage of and misled, you now get to see just what happens to an organization that practices borderline criminal acts and treats their fanbase as idiots.
Citi Field  will be a ghost town this season. Thousands of Mets fans have written me and voiced their displeasure, saying they are done spending a single dime on this team as long as it's run by liars and thieves. Anyone who pays a cent of their hard-earned money to Fred Wilpon is a fool; you are giving your money to a thief.
There is a select group that still will dish out money to this franchise. To you I simply say this: Would you stay in a relationship in which you were personally lied to, stolen from and then mentally abused?
Would you support someone who was taking your money and engaging in shady business deals? If the answer is yes, then you are saying it's OK to do those things to people.
True fans of this organization will speak this season by saying they have had enough of being humiliated and stolen from. The Wilpons have turned the Mets into the Kansas City Royals, and they have done so with a Cheshire cat grin and fiendish attitude that has one hand in your pocket while it stabs you in the back.
Good Luck, Mets. Enjoy announcing an attendance of 10,000 every game this season, while fans watch a minor league product.
To David Wright, Ike Davis, Johan Santana, Angel Pagan and anyone else near or just past his prime, do yourselves a favor and beg to be traded. This team has screwed your career and left you with no chance to compete for a playoff spot. You are foolish if you let these people keep you in last place during the prime years of your career, all while you face the abuse and torment of the few Mets fans that will no doubt take out their anger on the poor souls left to play on the field.
If you thought playing in New York was tough before, just wait until you are 40 games out by August 15th, playing in front of 10,000 people who are booing your every move. If you are lucky enough to leave the game with a lead (Johan), you'll see a bullpen filled with castoffs and minor leaguers blow the game for you.
Whatever happens, remember that you have now brought this upon yourselves. Shame on you, Wilpons.