Brett Favre Rumor: Chicago Bears, Meet the Minnesota Vikings
December 5, 2011
Gregory Shamus/Getty Images
Greetings from the Frozen Tundra of Wisconsin, friends!
While trolling through my dear social networking site, I stumbled across a post from my favorite radio station that said something to the effect of "Brett Favre going to the Chicago Bears?"
After I stopped screaming, I flew to the sports sites, just to calm myself, all the while saying "No, Jackie, he's retired.  He's truly retired this time.  And the Chicago Bears have too much common sense.  It will be okay.  It will all be okay ..."
It's just a rumor, my friends.  And a really, REALLY mean one at that.  So far, Brett Favre remains in an undisclosed location in Mississippi.  He's not firing up the personal jet and landing at O'Hare, if you know what I'm saying.
Now, I realize that there are some Favre fans out there that would love to see him play again.  And that is your prerogative, really.  However, there are other people out there, including myself, that think, "Brett Favre is 42 years old.  Brett Favre has not played professional football in a year.  And I do believe that the NFL came up with the Lockout just to keep Brett Favre retired."
You know, keeping the will he or won't he retire drama out of the news?  The Lockout effectively ended the will he or won't he, as there wasn't a regular offseason, which was detrimental to Brett Favre returning.
So, hypothetically, let's imagine that in a parallel universe Brett Favre did return.  His plane lands in Chicago, he gets off the plane to cheers of adoring fans.  He gets to Soldier Field and goes into the stadium.  He goes up to the podium and says, "Well, now, I'm real happy to be in Minneapolis.  I mean, Chicago."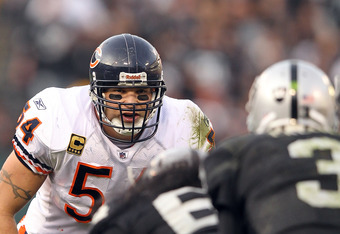 Ezra Shaw/Getty Images
The tour of the NFC North must end for Favre, my friends.  While Aaron Rodgers is doing fine in Green Bay, Matthew Stafford should take note that if Favre does, indeed, go to Chicago, his job is surely being put on notice.
If you don't believe that Brett Favre should stay retired, just ask any fan of the Minnesota Vikings.  After blowing raspberries at Packers fans for one season, where Brett Favre did indeed dominate the Packers (as much as it hurts me to say), season two had Packers fans sitting in smug silence as Brett Favre became unglued and dismantled a strong Vikings team. 
Chicago Bears fans:  Brian Urlacher looks like he could seriously put a hurting on someone ...  having Brett Favre in his locker room might push him over the edge of sanity and WE DON'T WANT TO SEE THAT HAPPEN NOW DO WE?
So, let's just put this rumor to rest, Chicago ... let sleeping dogs lie and let Brett Favre enjoy his retirement.  Please.