Boise State Football: Give Me a Break!
December 5, 2011
Otto Kitsinger III/Getty Images
Although several schools have expressed disappointment at the decision to place Alabama in the BCS Championship Game against the undisputed No. 1 LSU Tigers, Boise State is the only one really crying about it.
Someone please explain to me why Boise State thinks it deserves to be in any BCS game, let alone the Championship game.
One complaint is that Virginia Tech is in a BCS game without beating a Top 25 opponent. 
I agree with the argument that the Hokies shouldn't be in a BCS game, but I'm still not buying that Boise State should be.
They beat Georgia in the first week of the season.  Impressive.
Georgia is a lot better now than they were then and LSU showed Saturday that even a much improved Georgia team is nowhere close to being ready to compete with the big boys.
After the Georgia win, who did Boise State even play? 
Every major football program plays a couple of weak opponents to break from their conference schedule.
But those games seem to be the only games Boise State plays. 
I found it quite humorous reading one Bronco advocate's argument based on BSU's "body of work" in which he said that the only loss was to the defending Rose Bowl Champions.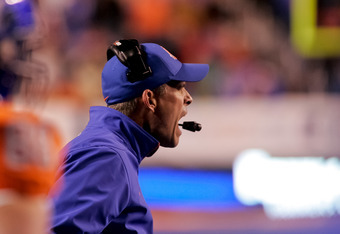 Otto Kitsinger III/Getty Images
Way to make TCU sound better than they are. 
If we're going to live in the past, then let's not forget that Alabama slaughtered the defending BCS National Champions 42-14 and Oklahoma State dominated the defending Fiesta Bowl Champion. 
Maybe I have a different understanding of "body of work" but I thought that meant that you played an impressive schedule with impressive wins.
I'm confused as to how this could be used as an argument FOR Boise State.
Oklahoma State beat four teams currently ranked in the BCS top 25.  Alabama beat three. LSU beat five, three of which are currently in the top six.
Boise State only played two, and only beat one.
I know the media gives Bronco fans false hope by giving them a high preseason ranking, but let me let you in on a little secret:
Boise State is in no way, shape or form a legitimate BCS Title contender.
Chris Peterson and Bronco fans should embrace the occasional BCS bowl game that they get when they go undefeated in their barely-FBS conference and stop crying when they get what they actually deserve, the MAACO Bowl.
One day, after you've been in a legitimate BCS conference for a few years, you'll be able to compete with the big boys and you'll get your shot. 
Until then, enjoy your time in Vegas and good luck against Arizona State.