BYU: It Was Hype, Heart and Lack of Mobility That Killed the Jake Heaps Era
December 6, 2011
Jake Heaps quietly left the BYU football program with a simple press release. Maybe he should have arrived that way as well.
How quickly things unraveled for the most over-hyped BYU football recruit ever.
What began as a self-proclamation to win a national championship at Iggy's Sports Bar, ended after two disappointing seasons, in which Heaps failed to live up to the gigantic expectations he had set for himself.
In hindsight, we should have all seen it coming. After all, who calls their own press conference at a sports bar? Especially when the destination is BYU?
It simply wasn't right from the beginning.
A lot will be said in the coming days about the brief Jake Heaps era. Some fans will blame the coaches, saying that they didn't develop Heaps the right way.
Some will argue that Heaps simply wasn't as good as advertised.
The truth is, sometimes, no matter how hard you try, the shoe just doesn't fit.
It wasn't as if Heaps didn't have his chances. Quite the contrary, he started in over a dozen football games for the Cougars.
He just never seemed to develop any kind of sustained rhythm, nor any kind of leadership role as the BYU quarterback.
The hype didn't help.
When Heaps was on the field, it was as if the entire fan base was waiting for something spectacular to take place.
After all, the fans were spoon-fed story after story about Jake Heaps and his extraordinary potential.
But reality was a simple drop step and pass, a pass that seemed more often than not to be a few inches too high or a few inches too low. And with Heaps, if his passing wasn't pinpoint, there was no reason to keep him on the field because of his lack of mobility.
Heaps was and is a passing QB, and with passing QBs must come sustained accuracy to remain on the field.
There were way too many three-and-outs in games in which Heaps started.
In comparison, Riley Nelson's offense punted just once in his first three games as BYU's starter.
If Heaps had any kind of mobility, things most likely would have been much different.
In fact, Heaps proved to be so immobile that he makes old video of Ty Detmer look like Tim Tebow.
No matter where Heaps decides to continue his career, he will need to find a way to become more mobile. He will not find success anywhere as a simple drop-back passer.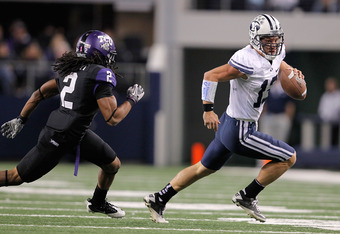 Sarah Glenn/Getty Images
Lastly, there is the question of heart.
Much has been said about Jake Heap's lack thereof, and Riley Nelson's wearing his heart on his sleeve.
I have always been one who believes that heart is something that cannot be taught. You either have it or you don't.
There are two plays in my mind that seemed to sum up this question.
1. The Jake Heaps interception at Ole Miss. 
Trailing by just three points in the second half, Heaps throws a pick at the Rebel 5-yard line. Heaps does not make any attempt to run down the ball. He allows the Rebels to return a 95-yard touchdown without even making an attempt to even jog after the Rebel defensive back.
2. The Riley Nelson fumble at midfield against Utah.
Riley had just entered the game late in the fourth quarter, in which BYU trailed 47-10. Riley would get hit and fumble at midfield. Pulling himself up off the ground, he would sprint at full speed after the Utah player who recovered the ball. The Utah player eventually scored, but Riley's effort showed something that cannot be taught.
Of all the games and all the plays, it will be these two turnovers that I remember when I think back on the Jake Heaps, Riley Nelson QB controversy.
Just like in life, it's not about what you do when things are going right; it's how you respond when getting knocked down.
In my opinion, the right QB for BYU is the one traveling to Dallas for the Armed Forces Bowl.