Why the Mets Are the Most Beleaguered Team in Major League Baseball
December 6, 2011
Daniel Shirey/Getty Images
Once the dust settles in Queens and the New York Mets come to grips with the loss of a hometown superstar, they face a rather daunting reality.
What you're about to read is certainly a reaction to—but hardly a condemnation of—losing Jose Reyes to the suddenly spendthrift Miami Marlins. His eventual price tag, pegged at $106 million over six years, is far too rich for a player with his injury history. Reyes turns 29 in June and with the Mets at least two to three years away from contention he was never worth the investment. But this is just another heartrending turn of events for Mets fans. It fits the narrative of the organizational chaos that has consumed the franchise as of late.
There are other teams enduring a tumultuous offseason. The Mets are not alone. Other clubs suffer from financial woes—especially considering the current economic climate. Other teams have been mired in baseball purgatory for years—think the Royals and Pirates as two examples—with seemingly no way out.
But the New York Mets have outdone their counterparts—piledriving a big-market franchise into the ground with laughable impunity. The name Bernie Madoff will forever live in infamy with Mets fans as the team's owners lost hundreds of millions of dollars investing with the schemer. A lawsuit representing Madoff's victims seeking funds from the Wilpons is still ongoing and clouds the short (and perhaps long) term future of the franchise. And just last year the team operated at a $70 million loss. That's due in part to lagging box office figures that are guaranteed to worsen considering the departure of the team's most exciting talent.
The Mets are saddled with several cumbersome contracts (specifically those belonging to Jason Bay and Johan Santana) that haven't worked out as planned. Poor decisions with regard to personnel and the failure to build depth in the minor league system are the main contributors to a decidedly flawed 25 man roster. The team has also failed to pay back a $25 million loan MLB extended to them in November of 2010 when they couldn't meet their current obligations.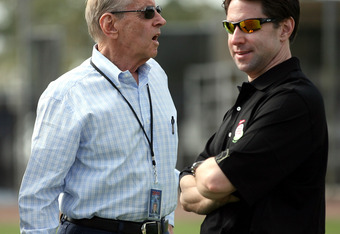 Marc Serota/Getty Images
The Wilpons nearly sold a share of the team to investor David Einhorn, a Mets season ticket holder with deep pockets. That flirtation ended when conflict arose regarding an option Einhorn could trigger to purchase a larger majority stake. Mets fans were enamored with the young investment guru. Too good to be true.
Then you have Citi Field—a nice, retro park built to honor the stadiums of yesteryear and bizarrely—the Brooklyn Dodgers. This venture too has been a bumpy ride—the Mets hierarchy has decided to change the original dimensions. The move eliminates most of the odd nooks and crannies but brings the fences in—a shortsighted move designed to increase offense (and perhaps season ticket sales with it).
The only constant in this torturous saga is the presence of several enablers. Fred Wilpon and his son Jeff placed blind trust in a super scout named Omar Minaya with a lacking front office skill set. What they reaped from this misplaced trust is a roster Sandy Alderson—a man hand picked by commissioner Bud Selig and recommended to the Mets—must deconstruct and rebuild. Not to mention a minor league system in need of a massive makeover.
The Wilpons trusted the aforementioned Madoff—a close family friend—and ended up squandering the bulk of their fortune which directly impacted the day to day operations of the Mets. At the very least they're guilty of negligence. As skilled businessmen, they asked no questions of Madoff despite the fact that he was netting a return on investment that seemed unrealistic.
Commissioner Bud Selig's role in this saga is more covert. He's not an antagonist but his actions (or inaction) have enabled the Wilpons to drive this car over the cliff, albeit slowly and painfully. Think the 'kick' scene in Inception rather than Thelma and Louise. His close relationship with the Wilpons has allowed a once proud organization with a thriving fanbase and burgeoning payroll to fall apart completely. Mets fans have been left paying comical sums of money for tickets to an inferior product. One would assume that a cozy relationship with the commissioner of the sport would benefit the team. It's quite the opposite.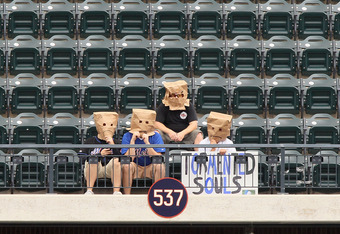 Jim McIsaac/Getty Images
The fans finally are also enablers—though by no fault of their own. It's easy to suggest a fanbase neglect its beloved team to force change. But those that love baseball passionately and wish to pass this on to their sons and daughters aren't going to stay away. Fans—no more than an organized mob—won't stop patronizing altogether.
This toxic recipe has left the New York Mets a beleaguered shell of its former self. It's shameful considering their brand new stadium, regional sports network, and loyal fanbase. What we have is a team with an incomplete roster, a farm system years away from netting potential major league stars, and a franchise bleeding cash as these words hit the screen. A team with ownership blind to the wishes of their fans. And as long as they maintain a controlling majority of the Mets, we can only expect it to continue.
The dictionary defines beleaguered as 'beset with difficulties'. But when these difficulties are born of negligence and are largely self inflicted, that almost seems too kind.