Ronald Martinez/Getty Images
December 6, 2011
He's scored 27,868 points, been named to 13 All-NBA teams, won two finals MVPs, a regular season MVP, garnered 11 All-Defensive team selections and arguably is the greatest Los Angles Laker of all time. 
So what should that earn Kobe Bryant as he enters year 16, all spent with the Lakers, of his illustrious career? Well, if the Lakers as an organization are intent on insuring long-term, sustainable success Kobe's days as a Laker should be numbered.
The case for trading Bryant is a simple one. With two of the league's top-tier players on the market, in Chris Paul and Dwight Howard, the Lakers are one of the few franchises with the assets and capital in house capable of trumping the summer of LeBron. 
Just two seasons removed from back-to-back championships, the Lakers have gotten real old, real fast. While still one of the league's premier players, this isn't your 2009 version of Kobe Bryant. Father time eventually has his way with all players, and last season was the first glimpse that the scale has tipped in his favor against Bryant.
That, along with a point guard more suited for NBA labor negotiations than defending the Derrick Rose's of the world, and a breaking down version of Pau Gasol, should be all the evidence needed to dash the pipe dreams that this current version of the Lakers was just an experimental knee surgery away from a title. The 2011-12 Lakers are 50 wins and a second-round exit from the playoffs material, but the 2012-13 Lakers may be miss-the-playoffs material. 
While Laker fans may be blinded by delusions of grandeur, all indications point in the direction that Lakers GM Mitch Kupchak is fully aware the window has shut closed for this version of Showtime and is vehemently attempting to turn the page, before it is too late. 
The first step in this veiled retooling process was the hiring of former Cleveland Cavaliers head coach, Mike Brown. It's been disclosed that Kupchak and Jerry Buss went ahead with their hiring of Brown without consulting Bryant. In the world of mega-superstars, all decisions, no matter how small, are always made with the knowledge and acceptance, albeit at varying levels, of team superstars. Don't believe for one second that the Lakers somehow forgot or regret not consulting Bryant before the hire, as Buss has tried to portray. This was a calculated decision, which could be the first "post-Kobe-mind frame" decision made by the organization.   
The second step in this process is the Lakers' knowledge that Dwight Howard is intently set on coming to Los Angles. In the worst kept secret since, well since the last larger than life Magic center was rumored to be going to the L.A., it is clear Howard is set on expanding his brand and adding a few championships to his resume in Hollywood.
Knowing this, don't expect too many teams will be willing to make a deal for Howard, knowing full well he'll be on his way out after the season. Any deal including Bynum, Gasol, cash and/or draft picks should be enough to secure the Lakers the 25 year-old star. 
Having Howard already in-hand, it would appear the Lakers would have enough to compete for a championship, possibly for the next two to three seasons. But with an old and weak supporting cast surrounding Bryant and Howard, the Lakers would soon find themselves with Dwight Howard and nothing much else.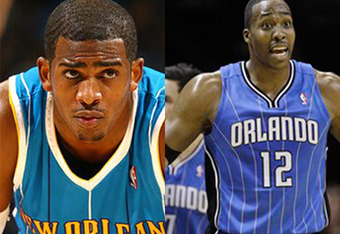 New faces of Lakers?
This is where Mitch Kupchak and Jerry Buss are met with a momentous decision. Faced with the opportunity to not only secure two to three seasons of championship contending, but to also form one of the most dynamic one-two punches in all of basketball for the next ten seasons, the Lakers could entice the New Orleans Hornets to part ways with Chris Paul, by offering one of the greatest players in NBA history in return.
For the Lakers adding Paul would ensure that there will be a smooth transition to life after Kobe and would guarantee the Lakers place among the league's elite for the next decade, while allowing the Hornets to sell tickets and boost its relevance for a team in dire need of new ownership.
If in fact the Lakers do try and trade Kobe, what could stand in the way is Bryant's full no-trade clause. But as we saw in 2007, Bryant has shown a willingness to waive his no-trade under the right circumstances. There may be little chance he actually waives his no-trade and allows a trade to New Orleans, but it would be foolish of the Lakers to not considered it.  
Trading Kobe Bryant would be a shock to the very core of the Lakers. For the better part of 15 years, Bryant has been the face of not only everything Lakers, but everything Los Angeles. Trading the man who brought you five NBA championships would be a cold, calculated move. But as The Godfather, one of the greatest movies ever produced out of Hollywood told us, "It's not personal, Sonny. It's strictly business."
It may be time for Kobe to go, on behalf of business.
_______________________________________________________
Follow Bobby B. on Twitter  @BobbyB_sports      
Like the new article format? Send us feedback!