NBA Predictions 2011: A New Beginning for Houston Rockets' Terrence Williams
December 7, 2011
One of these days, just maybe, Houston Rockets swingman Terrence Williams will get to experience a normal basketball season again.
After a stable and successful four-year career at Louisville for Rick Pitino, the 11th selection in the 2009 NBA draft has been required to adapt to three coaching changes, being demoted to the NBDL as a punitive measure and being traded. He also was sidelined last March following minor surgery for an abdominal problem.
Williams's sixth pro coach, Kevin McHale, isn't involved yet, but the Houston Chronicle reports that TWill, along with Kyle Lowry and No. 1 draft pick Marcus Morris, worked out at the team's Toyota Center facility on Monday, perhaps an indication that the 24-year-old's occasional immaturity issues are on the mend.
Standing 6'6", 220 pounds with athleticism oozing from every pore, the Seattle native has kept his name and game visible during this extended offseason and would appear to be motivated for minutes.
Doubts regarding his offensive abilities and motivation have dogged the dawning of this guy's pro career, but a player who can defend three positions aggressively is a valuable commodity.
TWill got his most steady run and produced his most effective play as a rookie with the New Jersey Nets, as Kiki Vandeweghe oversaw the bulk of a dreadful 70-loss season.  Williams, though, contributed respectable numbers in his 78 games, primarily in a reserve role. The NBA's Rookie of the Month for April 2010 notched double-figures, scoring 30 times.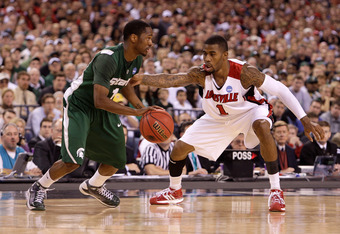 Andy Lyons/Getty Images
But his sophomore jinx involved disagreements over playing time with both new Nets coach Avery Johnson and deposed Rocket head man Rick Adelman.
After running through some drills with Lowry, Williams told the Chronicle's Jonathan Feigen, "I definitely look at it as a new beginning…Hopefully, this is my last time saying that."
The young legs and physicality of TWill and the other young talent that GM Daryl Morey has been assembling should pay dividends as the games stack up in a grinding condensed schedule. One man's obstacle is another's opportunity.
Has Terrence Williams's time arrived to answer this knock of opportunity?
Is Kevin McHale the right coach to get the best production out of his skill?
We soon shall see.