Boise State vs. the BCS
December 7, 2011
Otto Kitsinger III/Getty Images
Boise State got the shaft. Again.
As a matter of fact, so did Arkansas, Kansas State and South Carolina. Does anyone else besides me think that the need for a playoff system has finally come? I'm going to go way out on a limb here and say that the answer to that question is yes.
The BCS system was primarily set up to ensure that the No. 1 team and the No. 2 team play each other in a mythical national championship game to determine who is the best.  I say mythical because who is actually No. 2 is very debatable. If you don't believe me, go ask Oklahoma State.
There are six automatic qualifying conferences the way the system is now set up. No matter where you finish in the final BCS standings, if you are the champion of one of these conferences, you get to play in one of the prestigious BCS bowl games. West Virginia will vehemently let you know that the system is not flawed.
Boise State is not in one of the six automatic qualifying conferences. There are more rules for a non-automatic qualifying conference to field a team for one of these games. I would like to know who decided which conferences are automatic qualifying and which conferences are not. I'm sure these conferences didn't agree to be a part of this system with the stipulation that they be continuously screwed.
Notre Dame. Where did that rule come from? If BYU, Navy, or Army were to finish number eight in the final BCS standings, do they get an automatic slot in a BCS game? I don't think so.
Boise State was the Cinderella team a few years ago when they beat Oklahoma in the Fiesta Bowl. Now, they have proven that they can play with anybody. Now, they are upsetting the apple cart. Now, that just can't be tolerated. The system has spoken.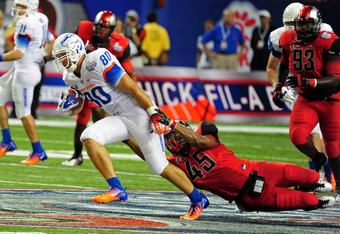 Scott Cunningham/Getty Images
Boise State did not win their conference this season, but neither did several of the other teams who did get an invite to a BCS bowl. Boise State finished  higher in the rankings than five of the teams that did get invites. In fact, Boise State has finished in the top ten of the final standings the last several years. What else do they have to do?
I am tired of the same excuses over and over. They don't play anyone. They are in a weak conference. Even when they do win there are excuses. Boise beat the second best team out of the SEC this year, Georgia. If you don't win your conference you're not the best. That is what Boise was told. So, Alabama is not the best, or second best. Say whatever you want, that is called opinion. They couldn't beat Georgia if they played them now. That is another statement called opinion. I will tell you a fact however, Boise State beat Georgia this year.
Boise State doesn't belong in the top ten or even the top twenty. How many times have you heard that? I will let you all in on another fact. The exact same system that has LSU at number one has Boise at number seven. I'm sure strength of schedule is factored in there so I'll be waiting to hear some new, more original excuses to use against Boise.
The need for a playoff system is now. The naysayers will be out in force shouting that the whole season is a playoff. We all saw some meaningless games the last week of the season so don't tell me every game counts. You will also hear a playoff will not produce a real National Champion, just a team that got hot in the end. Too bad. If professional football does it this way, go tell them that they're doing it wrong.
I had another idea. All of the non-automatic qualifying conferences should join the FCS. All the big boys could play themselves then. There wouldn't be any more creampuffs or weak conferences. Can you imagine, soon LSU would be calling Alabama the doormat of their conference and USC would be calling a game with Oregon a warm up.