College Football: Army's Andrew Rodriquez Named Nation's Top Scholar-Athlete
December 7, 2011
West Point has added another academic accolade to its legendary history with the presentation Tuesday night of the 22nd William V. Campbell Trophy Award to Cadet Andrew Rodriquez, a senior linebacker on the football team. The presentation was made at the 54th National Football Foundation Annual Awards Dinner in New York City.
"We are thrilled to honor Andrew as the nation's top scholar-athlete, commented the NFF President & CEO Steven J. Hatchell, who added the 2011 NFF National Scholar-Athlete class was perhaps the best ever, and for Andrew to stand above them all really says a lot about his accomplishments. Given his considerable commitments to the US military and his outstanding performance in the classroom, while accomplishing everything he has as a football player makes him the clear choice as the best scholar athlete in college football."*
Cadet Rodriquez is the first West Point Cadet to receive the award named for Bill Campbell, the chairman of Inuit, former player and head coach at Columbia, and the a recipient of the NFF Gold Medal in 2004.
A number of illustrious college football players are on the list of past Campbell Trophy honorees including Sam Acho of Texas last year, Tim Tebow of Florida in 2009, Brian Leonard of Rutgers in 2006, Chad Pennington of Marshall in 1999 and Peyton Manning of Tennessee in 1997. The only previous service academy recipient was Chris Howard of Air Force in 1990.
Rodriquez has a 4.14 grade point average majoring in mechanical engineering, and ranks third in his class. West Point's release described that he has 21 A-plus grades and six terms with a GPA of 4.0 or better.
While being one of West Point's best students, Andrew Rodriquez has overcome a serious back injury requiring surgery to come back and start every game for the Black Knights in 2011.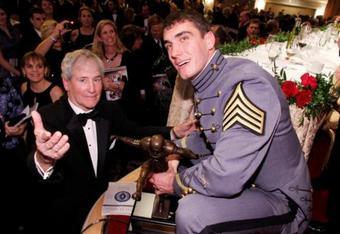 At the Army-Navy Game Press Conference held in Arlington Virginia, last Wednesday, I had a chance to interview the co-captain who will suit up as a starting linebacker against the Midshipman on Saturday. I asked what it had taken to recover from the back injury so that he could play his senior season, Rodriquez said, "It took a lot of support from my family, friends, teammates, coaches, to keep going and stay with it despite the adversity. I also had great help in rehabilitating from the training staff at Army, so the combination of things like that, and a good surgery by my doctor, helped me get back".
About being able to excel both athletically and academically while recovering from a serious injury, he said, "I am lucky to have great coaches; that helps me excel athletically, then good teammates. I really benefit from playing with teammates who make me look good sometimes. Academically, you just try to do the best you can, work with your teachers and work with your classmates. It is part luck, part skill, but it seems to work out in the end. It takes a lot of time management; that is something we as a team try and do, so we can be successful on the field. But, it also helps in doing well with school and with other military duties." 
The Academic Dean at West Point, Brigadier General Timothy Trainor must be pleased with this award being presented to one of his seniors. General Trainor mentioned to me this fall how pleased he was to write a letter on behalf of Cadet Rodriquez for his Rhodes Scholarship nomination.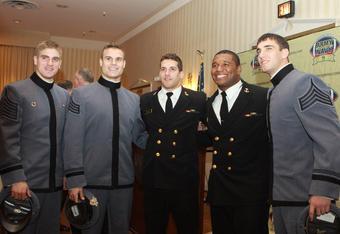 On the field as a sophomore linebacker in 2009, Rodriquez led West Point with 85 tackles. Against Vanderbilt he made 13 tackles and stood out for a vital play in overtime by stripping the ball from Vanderbilt runner Warren Norman on the goal line, preventing a touchdown and enabling Alex Carleton to kick a game-winning field goal to defeat the South East Conference foe. 
Rodriquez missed the entire 2010 season due to a back injury that left his football career in serious doubt. His ability to undergo back surgery and recuperate while maintaining an extraordinary academic performance at West point is an impressive story. 
This year, I knew that Andrew was back in action when he made an interception in an August scrimmage at Michie Stadium. Going into the Navy game he is third on the Black Knights in tackles with 55 playing at the defensive end position. Rodriquez has been able to bring stability and experience to a young Army defense along with fellow Captain Steve Erzinger who leads the team in tackles with 92.
Andrew Rodriquez has been selected for Infantry as his Army branch assignment, we know he will do well serving our country and leading soldiers through future challenges that we can only imagine. Perhaps this is the essence of college football as an educational experience, teaching leadership skills that will be applied to vital activities in post football careers.  
*National Football Foundation press release.
Ken Kraetzer covers Army football and Iona basketball for WVOX AM 1460 in New Rochelle, NY and Sons of the American Legion Radio. He can be reached on kgk914@aol.com