Boston Red Sox: David Ortiz Staying Complicates Kevin Youkilis Situation
December 7, 2011
Jim Rogash/Getty Images
There's no doubt about it in my mind: Big Papi's decision to accept arbitration and stay in Boston is the best news the Red Sox have had in several months.
In 2011, Ortiz was by far the best designated hitter in baseball. (Check the facts here.)
Joe McDonald of ESPNBoston.com quoted Ortiz as saying, "I've got so many ways to keep doing what I've been doing around here. I bring so much to this organization, I bring so much to the table here because I care so much about this organization."
Underscoring that statement, prior to Game 2 of the World Series Ortiz received the Roberto Clemente Award, which honors one player every year who has made a significant contribution to the community.
The Red Sox will not regret this move, but it does muddy the waters for Kevin Youkilis.
If Ortiz had left, Youk would have been the ideal candidate to step right in as DH, with the option of playing some at third and first as needed. He would have been a better option than Ortiz during interleague play because of his ability to play two infield positions.
However, the way he plays the game has taken a toll on his body, as the series of recent injuries shows. More importantly, this injury issue is not isolated to 2011. As Ricky Doyle of NESN.com points out, "Lost in the constant attack on J.D. Drew is that he only played in three fewer games than Kevin Youkilis (528 to 525) from 2007-2010."
Long term, he needs to play first base or DH to keep his body from breaking down. 
However, first base is not going to happen in Boston with Adrian Gonzales there. With Ortiz back as DH,  Youkilis doesn't really have a position to play full-time.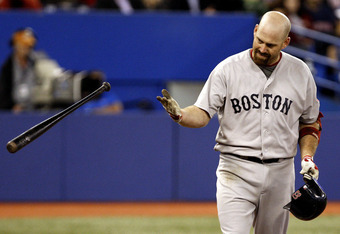 Abelimages/Getty Images
Youk will be 33 in March and—for a player of his caliber—he is relatively affordable at $12 million for 2012. This the fourth and final year of a contract he signed in 2009, although there is a $13 million team option for 2013 with a $1 million buyout. He also has serious credibility; at the start of last season he was 35th on the Sporting News list of the 50 greatest current baseball players.
While the injuries have taken their toll on him defensively at third, he is certainly no slouch as a first baseman. After all, until recently he held the major league record for most consecutive errorless games (238) at first base (broken by Casey Kotchman). 
A number of teams need corner infielders, and I could see Youkilis involved in a trade for pitching with clubs such as the As, Braves, Giants, Rockies or Pirates.
No one plays the game harder than Youk, and I'm sure his team (with the possible exception of Jacoby Ellsbury, according to Jackie MacMullan) would hate to see him leave. But Youk is the best (and most expendable) trade chip the Red Sox have.
I predict he will be dealt before the season starts.