Manchester United: Beginning of the End for Sir Alex Ferguson?
December 8, 2011
Jamie McDonald/Getty Images
How many more reality checks do Sir Alex Ferguson and Manchester United need?
They started the season playing gung-ho football, rattling in goals and slamming Arsenal 8-2, before being ripped open by Manchester City and Basel.
In the aftermath of shock, the manager and the team focused on defence and won a string of matches 1-0. Hardly vintage United.
On the back of that confidence boost Sir Alex followed his traditional instincts and threw on the youngsters and second choices against a Palace team more than a league-and-a-half below them. Even then there were nine internationals wearing red shirts before the end.
But even allowing for an almost unparalleled conveyor belt of injuries, United have the squad strength in depth to cover up the gaps. Unfortunately, the gaffes that had led to an avalanche against City started to reappear in Europe: an own goal against Benfica; two shocking defensive failures against Basel; and bye bye Champions League.
How Does Sir Alex Bounce Back from This?
So how does Sir Alex come back from this? He's 70 on New Year's Eve. He's supposedly building another dynasty and desperately wants one more Champions League. But on tonight's form, that's probably not even going to happen next season.
The Europa League beckons but that won't fill the massive hole in the budget or in the hearts of the supporters. Early December and already out of two competitions, with the "noisy neighbours" to overcome in both the others.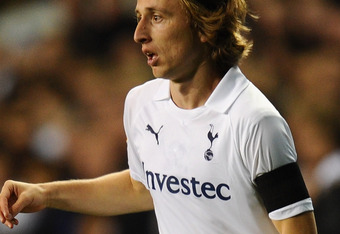 Mike Hewitt/Getty Images
He's a proud man and when he woke up today, did he still have the stomach for the fight or will he decide that finishing the season empty-handed is not the way to retire?
Furthermore, he must have known for at least two years that he doesn't really have the squad or the class to take on the top European teams head to head. Team spirit can only carry you so far.
Even before last night he would have to be kidding himself to seriously believe he didn't need any new faces in January. Based on the season so far, he needs an overhaul as United's general decline cannot simply be based on a bundle of injuries.
But who of the top names he covets will now come to a club that is out of the Champions League? When they look around, they will see Barcelona and Real Madrid on the march; Manchester City still on the rise, despite their own European demise; and even Tottenham on a roll. You can probably kiss goodbye to Luka Modric joining United.
Last night's performance could not hide two things, however. First, in the last three or four matches United have actually played very well without either luck or end product. When Basel's first goal was scored, Chris Smalling was lying prone in the penalty area with a head injury. So much for FIFA rules!
But the most important conclusion, that has been evident for years now, is that Sir Alex's tactics have been found out.
Barcelona have shown twice that all you have to do is surround the world-class players and press until United cough the ball up. Lesser teams can flood the defence when necessary and plan the counterattack. Fill both defence and attack with big players prepared to put their body on the line. United is the scalp they treasure.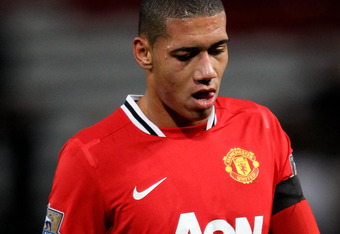 Alex Livesey/Getty Images
Now, 4-4-2 is the tradition we have grown up with, but Sir Alex only plays it in Europe now when he is desperate to score in a must-win match—4-5-1 isn't going to frighten anyone and sends out the wrong message from the start.
Yes, United were by far the better attacking side last night but where was the end product? Wayne Rooney completely missed a sitter, hasn't scored for ages and certainly has forgotten how to head the ball. More to the point, he was playing on his own.
Nani was outstanding and pinged cross after cross and the only one that even reached Rooney resulted in a whiff. Giggs gave a masterclass in passing to the opposition yet again.
A Never-To-Be-Repeated Record of 25 Years
Twenty-five years is an astonishing achievement by any man at the top in any walk of life. Sir Alex's record will never even be matched. He seems able to eternally reinvent himself but, unlike Jose Mourinho and even Roberto Mancini, he now seems to lack the creativity and flair to break the deadlock with something original.
Worse still—and I have been asking this for years—why do United virtually never score from corners or set pieces? Do they not practice these? Players from Norwich, Stoke, Wolves and others seem to be able to put a dead ball on a sixpence. Ryan Giggs and Nani can't seem to get it past the first man or the wall.
Big men of average ability all across the Premiership seem to be able to score headed goals against every defence, but Vidic, Ferdinand, Evans, Smalling and Jones don't seem to be able to get on the end of a cross, let alone hit a barn door.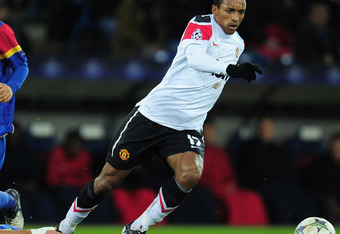 Jamie McDonald/Getty Images
Are United on the Slide?
Recently I wrote an article questioning whether there were already signs of United being on the slide.
A year or two ago, few would question Sir Alex's judgement. Then he bought Bebe for £7 million without seeing him play. Then he rolled out the same tactics against Barcelona that had led lambs to the slaughter two years before. He has defended his purchase of David de Gea but the "rising star" looked like Ben Foster or even Roy Carroll last night, at £20 million more.
Has Sir Alex's judgement gone? Is he past his sell-by date? Are his ideas as out of date as Andre Villas-Boas' are ahead of their time?
Is it finally time for change, for a white knight rather than a red knight to ride to the rescue and begin to create a new reputation and a new dynasty? Is that a Pepe Guardiola, a Jose Mourinho? Or is it an Ole Gunnar Solskjaer? Did Martin O'Neill's patience run out only months before the job he covets finally became available?
The sad thing is that when I sat down last night to watch the match, I was resigned to the possibility that United could bow out. There has been too much complacency and when you desperately need a result, nights like last night can happen.
Qualification wasn't lost last night; it was lost at Old Trafford with two unnecessary and wasteful draws against inferior opposition. Or was it lost when neither Roy Keane nor Paul Scholes were replaced?
And how on earth are they going to be replaced by top-class players now that there may be only the FA Cup and the Europa League to play for?
The one consolation apart from a trophy still to play for is that the next generation of United youngsters may get more matches than they might have expected after January...