Why Tiger Woods Will Win More Than 20 Majors
December 8, 2011
Robert Meggers/Getty Images
At the conclusion of the U.S. Open at Torrey Pines in 2008, when Tiger Woods won his 14th major, few doubted he would sooner or later break Jack Nicklaus' record of 18 major victories. 
Oh, what a different world we live in today. 
Tiger has played so poorly (by his standards) for the last two years that only a few seemingly foolish souls still dare to predict he will win even one more major championship.  In fact, two titans of the golf world, Nick Faldo and Greg Norman, have stated for public record that Tiger will never win another major.
No doubt some pro-Tiger voices will come out of the woodwork after his victory at the Chevron, but I don't understand why.  After all, his win came in an exhibition tournament on his "home court" against a tiny field of 17 rusty players on vacation.  He still has much to prove after two years of hitting the ball all over the yard and missing clutch putts.
I've long predicted that Tiger will win over 20 majors and I've never wavered from that opinion during the last three years.  It hasn't been easy to stay the course in the face of scandal, divorce, layoffs and several injuries, including a frightening reconstructive anterior cruciate ligament (ACL) surgery on his left knee in 2008.    
But Tiger's knee has now had more than three years to recover, and it seems he's put his personal problems in the rear view mirror.  The knee looks solid and he seems healthy enough to play a full practice and tournament schedule for the first time since Torrey Pines. Furthermore, he's initiated swing changes designed to protect his knee for many years to come.
Assuming he remains physically able to play full time, I continue to forecast a career major win total of more than 20 majors for Tiger.  And I'm not basing it at all on his performance at the Chevron.
I'm basing it on the career statistics of his only historical peers:  Harry Vardon, Walter Hagen, Bobby Jones, Ben Hogan and Jack Nicklaus.  Tiger's only 35 years old.  He has many prime winning years ahead of him.  If healthy, there is no reason to think he won't match or exceed the career performances of these five golfers.
The truth is that Tiger belongs to a unique club of historic champions, each of whom had the capability to win more than 20 majors.  For a variety of reasons, older era golfers didn't play in the same number of majors as today's golfers.  Because of this, their nominal major win totals are misleading.   
If we look behind the numbers, we can see that each could have won 20 or even 30 majors.   
Harry Vardon's prime career stretched over 25 years.  Only the great Nicklaus was able to win majors in as long a period.  During Vardon's era, the only major he played in regularly was the British Open.  Overall, he entered just 24 majors, winning seven of them for a 29 percent major winning percentage. 
If Vardon had been able to play in four majors a year like modern golfers, he would have competed during his prime winning years in 108 major tournaments (by comparison, Jack had 118 prime career starts in majors).  If Vardon had maintained his 29 percent winning percentage, he would have won 31 majors.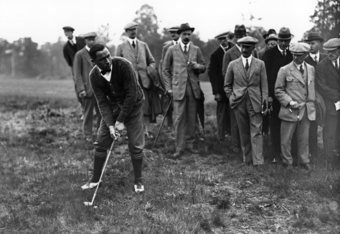 Hulton Archive/Getty Images
Bobby Jones had an even better winning percentage.  He won 13 majors in just 28 starts for a 46 percent win rate.  If Jones had competed in four majors a year and retired at age 40 instead of age 28, he would have played in 80 majors.  If he had maintained his winning percentage, he would have won 37 majors.
Walter Hagen won 11 majors in 44 starts for a 25 percent major winning percentage.  If he had played in four majors a year through his prime winning years, he would have played in over 79 majors.  If he had maintained his career winning percentage, he would have won 17 or 18 majors.   
Ben Hogan won nine majors in 47 prime starts for a 19 percent major winning percentage.  If he had been able to compete in four per year through his 18 prime winning seasons and maintained his winning percentage, he would have won 14 majors.  If he hadn't been such a late bloomer, he may have won 20.
Jack Nicklaus was able to play in four majors a year for his entire prime.  Although he "only" won 18, he finished second in 18 others.  The dirty little secret of the mythology of Jack is that he was the worst closer in the history of golf.  If he had had Tiger Woods' killer instinct, Nicklaus would have won at least 30 majors.
Given Tiger's commitment to strength training and conditioning, it's possible his prime playing years could extend into his late 40's.  This would give him as many as 50 more attempts at majors.  He would only need a 14 percent winning percentage during this period to get to 21 victories. 
Considering that before his knee surgery, he had a major winning percentage of 33 percent, that's not hard to imagine.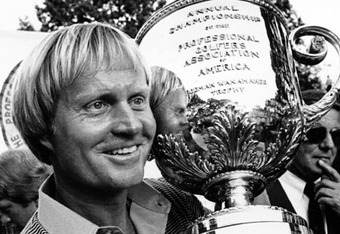 In other words, he doesn't need to be even half as good as the "old Tiger" to get to 21 majors, and only a third as good to tie Nicklaus. 
Here's one final speculation.  What if Woods actually comes back to play as well as the "old Tiger"?  In fact, what if he's even better?  After all, Hogan, Phil Mickelson and Vijay Singh won all of their majors after the age of 33.  And consider Tiger's claim that he played for 14 years on a wobbly left knee and for the first time in his career, it feels strong and stable. 
If Tiger regains his pre-surgery 33 percent major winning percentage, or exceeds it, then 30 majors will be within striking distance.  And given the track records of his historical peers, 30 majors is a number that shouldn't surprise us.
As Johnny Miller would say, "Look out!!!"
P.S.  Several years ago, I posted a series of articles profiling these six premier golfers and comparing their careers in depth.  I've embedded links to all six articles in this post.  It reads best if you start with the first article about Harry Vardon.  To do this, click on Harry Vardon's highlighted name in the seventh paragraph of this post.  To read the next article, click on Walter Hagen's name and so on.   The last article, where I name the greatest golfer of all time can be found here.