Fantasy Football Week 14: 3 Tight Ends to Pick Up If You Owned Fred Davis
December 8, 2011
Rob Carr/Getty Images
Fred Davis surprised fantasy football owners all season long by being one of the best tight ends to own. Now Davis has surprised fantasy owners again, but not in a good way.
Davis has been suspended for the last four games of the NFL regular season for violating the league's substance abuse policy. For fantasy owners, the timing could not be worse as most leagues are starting their playoffs this week or next week.  
Now that fantasy owners have stopped crying and placed Davis in their league's dumpster, they need to find a fill-in for these final crucial weeks. Here are three guys who could work out to be perfect stopgaps for owners with a humongous hole at tight end now: 

Anthony Fasano, Miami Dolphins
Miami quarterback Matt Moore must be watching tapes of Dan Marino. The guy has thrown eight touchdowns to just one interception over his last five games and has transformed the Dolphins offense from moribund to high-scoring. 
Moore's improvement has translated into better fantasy stats for Fasano, who is now using his big body more in the red zone and over the middle more than he did early in the year. Fasano has three touchdowns and two 60-yard games in Miami's last five contests. 

Kellen Winslow, Tampa Bay Buccaneers
There are probably not many or any tight ends available in your league who have 18 receptions for 225 yards over the last three weeks.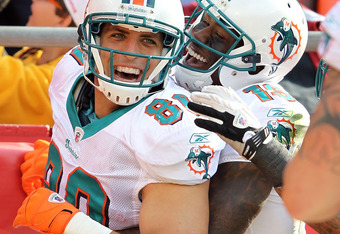 Jamie Squire/Getty Images
Winslow has posted those numbers and should continue to do well in the immediate future. His next two games are against the injury-ravaged secondaries of the Jacksonville Jaguars and Dallas Cowboys.   

Dallas Clark, Indianapolis Colts
No need for Peyton Manning or Andrew Luck, Indy! Dan Orlovsky has brought the "Air Orlovsky" offense to the Colts, and he is an upgrade over Curtis Painter the same way Christian Bale has been an upgrade over George Clooney in the role of Batman. 
Jacob Tamme has been playing the role of Dallas Clark recently and did a solid job, but Clark is back practicing and is on pace to suit up this week. Clark was probably dropped in many leagues after he fractured his fibula, so snapping up a Pro Bowl quality tight end this late in the season would be a goldmine for fantasy owners. 
Now that he has a halfway-decent passer throwing to him, Clark could be good for four receptions a game and a couple touchdowns from here on out.   

Run and Shoot:

Three Players Fantasy Owners Should Pick Up This Week:  
Marion Barber, Chicago Bears (RB)
Fantasy owners are shocked that Matt Forte is actually injured. The guy had never missed a game before and has proven to be more durable than Chris Berman. But Forte's MCL sprain will shelve him for a few weeks, opening a hole for Barber to barrel through.   
The good news for fantasy owners: Barber should get 20-plus carries per game while Forte is on the mend. No fantasy owner or Bears member, not even pass-addicted Mike Martz, wants Caleb Hanie throwing any more than he has to.
The bad news for fantasy owners: Barber is running behind a below-average line and will probably face plenty of eight-man fronts since opposing defenses do want Hanie to throw. And Barber has been no Gale Sayers this season when he has played (3.7 yards per carry). 

Demaryius Thomas, Denver Broncos (WR)
The man crush Tim Tebow had on Eric Decker has been put on hold. Thomas has suddenly become the apple of Tebow's eye, breaking out for 144 yards and two touchdowns against the Minnesota Vikings last weekend.
The former first-rounder has been injury-prone and inconsistent during his first year-and-a-half, including collecting just seven receptions in a half-dozen games this year before last Sunday, but Thomas was drafted in the first round for good reason. He is big, strong, runs like a greyhound and can make big plays downfield, all attributes that could make him a fantasy force—if Tebow can get him the ball.  

Brad Smith, Buffalo Bills (WR)
While fellow flanker Stevie Johnson learns how to celebrate touchdowns without falling down or impersonating Plaxico Burress, Smith is getting more touches every week as a wide receiver. Buffalo is coming around to the fact that Smith is more than just a kickoff returner and option quarterback.
Smith has 11 receptions for 149 yards and a touchdown over his last two games and is now starting opposite Johnson. With Fred Jackson not around to run the ball and Buffalo trailing and passing late in games, look for Smith to continue to get targeted a bunch from here on out. 

Three Players Fantasy Owners Should Worry About: 

DeMarco Murray, Dallas Cowboys (RB)
Have you noticed how Jason Garrett is calling fewer running plays? Garrett must have forgotten that Murray is the main man now and that Garrett does not have to be scared anymore to have a balanced attack.
Murray was the hottest thing since the I-Pad while Felix Jones was out, but now between Jones stealing some of his carries and Garrett calling plays like he is coaching BYU in the 1980s, Murray's fantasy worth has been stunted.
Murray has not had a 100-yard rushing game or a touchdown over Dallas' past three games. Even scarier for fantasy owners is that Murray is starting to run like Jones. 

Dwayne Bowe, Kansas City Chiefs (WR)
Remember Bowe's early-season four-game stretch when he raced through secondaries for 403 yards and four touchdowns? For fantasy owners it feels like it happened back in 1965. 
Since that scintillating stretch that ended on October 9, Bowe has not had a 100-yard-game or a touchdown over a seven-game span. He is supposed to be one of the premier receivers in fantasy football, yet while he has still racked up receptions, most fantasy points come from yards and scores.   
Things have only gone from bad to worse with Tyler Palko quarterbacking Kansas City. The weak-armed Palko cannot get the ball deep to Bowe, and the Chiefs visit the red zone once per week, tops. And with savior Kyle Orton dislocating his finger on his first pass attempt last Sunday, who knows if Bowe will have an NFL-caliber QB throwing to him again this season.

Joseph Addai, Indianapolis Colts (RB)
I would rather watch Chad Ochocinco recite the entire New England Patriots playbook at halftime of the Super Bowl than watch Madonna perform. That being said, I would rather sit through her 15-minute medley of her hits than have Addai on my fantasy squad.
Addai has gone from a top-20 fantasy RB to maybe not even being in the top 200. Over the last two months he has carried the ball a grand total of 39 times for a not-so-grand total of 130 yards. That's one game's worth of work for Maurice Jones-Drew. 
With Donald Brown taking over as the primary runner and Indianapolis facing Baltimore, Tennessee and Houston the next three weeks, Addai is of no use to fantasy owners now. He will likely split carries with someone else on some other team in 2012.