Biggest Winners and Losers of the 2012 MLB Offseason Thus Far
December 9, 2011
Jamie Squire/Getty Images
Well, the 2012 MLB Winter Meetings have drawn to a close, and many dominoes have already fallen.
So, who have been the biggest winners and losers of the 2012 MLB offseason thus far? Let's break them down:
Winners
Los Angeles Angels
Whenever you land a player of Albert Pujols' caliber and a pitcher like C.J. Wilson, you know you've done something well. Yes, the Angels may end up with an albatross contract in Pujols down the road (they signed the 31-year-old to a 10-year, $254 million deal), but I don't think Los Angeles is too concerned about the future. They care about right now, and Pujols immediately changes the dynamic of that lineup.
The funny thing is, even though Pujols is obviously the bigger name, Wilson may ultimately prove to be the better signing, as he will join a pitching staff that already includes the likes of Jered Weaver, Dan Haren and Ervin Santana, giving the Angels one of the best starting rotations in the bigs.
Miami Marlins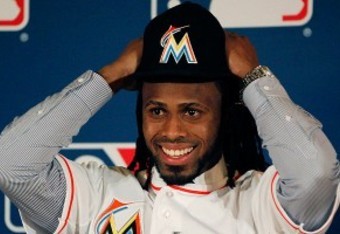 It is the beginning of a new era in Marlins baseball, as they nabbed three of the offseason's biggest names in Jose Reyes, Heath Bell and Mark Buehrle. Inserting Reyes into the lineup will give Miami one of the speediest teams in the majors, as it already boasts Emilio Bonifacio and, of course, Hanley Ramirez.
It was said that the Marlins' biggest concern coming into the winter months was addressing the pitching staff, and they rectified that by signing Buehrle (they may not be done, either). Buehrle will provide some much-needed stability in what actually is a very talented starting rotation, but due to ace Josh Johnson's propensity toward getting injured and Ricky Nolasco's inconsistency, it has never been able to get over that hump.
Hopefully for the Fish, Buehrle can step in and help form what could be one of the better rotations in baseball if Johnson stays healthy. Let's also remember that the staff includes Anibal Sanchez, one of the league's most underappreciated pitchers.
Finally, Bell should hold down the ninth inning, something that has consistently been a problem for Miami the past several seasons.
St. Louis Cardinals
This is one of those situations where the Cardinals both won and lost (stay tuned). Yes, they lost their best player since Stan Musial in Pujols, and I can only imagine what the atmosphere is like in St. Louis right now, but look on the bright side, Cards fans: you didn't commit nearly $260 million to a declining 31-year-old.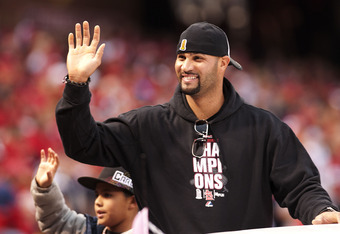 Ed Szczepanski/Getty Images
I understand that a "declining" Pujols is still one of the best players in the business, but if he is already experiencing a sharp downturn (which he is), what will he be like a few years down the road? Over his past three seasons, Pujols has posted WARs of 9.0, 7.5 and 5.1, respectively.
His defense has also dropped off considerably. In 2008, Albert's UZR was 11.3. Since then, Pujols has recorded UZRs of 3.1, 1.5, and 2.4.
So, it may hurt right now, but St. Louis may end up breathing a sigh of relief.
Losers
St. Louis Cardinals
I said "stay tuned" for a reason. While the Cardinals certainly saved themselves a lot of money and a potential headache in the future, they still lost a player who was a god in the state of Missouri and someone who would have been chasing the all-time home run record in a Cardinals uniform.
Unless St. Louis makes a big splash this offseason, they likely are not going to be a contender in 2012, as there is absolutely no way you can replace Pujols' presence on that team. It may end up being quite a while before the defending champion Cards push for a World Series title again.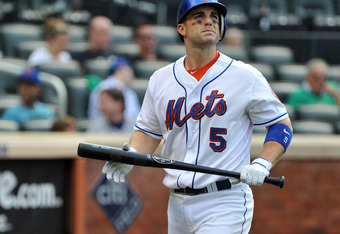 Christopher Pasatieri/Getty Images
New York Mets
Just when it looked like things couldn't get any worse for the Mets, they did, as Reyes, their prized possession, signed a $106 million deal with the Marlins.
Many Met fans are livid that New York let their shortstop walk, especially to a division rival, but it seems as if the Mets are so strapped for cash right now (due in large part to their unfortunate monetary loss in the Bernie Madoff scheme) that they had virtually no chance of retaining the 28-year-old Reyes for that price.
One has to wonder what New York decides to do with David Wright. Does it build around him, or does general manager Sandy Alderson elect to go into total rebuild mode and deal the third baseman sometime between now and the trade deadline? It remains to be seen.
It looks as if it is going to be a very long season in Queens.
Texas Rangers
Last year, the Rangers lost Cliff Lee in free agency, but due to the fact that they still had Wilson, they were able to make it back to the World Series in '11. Well, now they lost Wilson, and Buehrle, whom they were coveting, signed with Miami.
There is obviously still plenty of time for Texas to make some moves, but as of right now, things are looking fairly bleak for the two-time defending AL champions.