BCS Bowl Games: BCS Set Up for Epic Fail
December 10, 2011
Kevork Djansezian/Getty Images
This college football season has been very unique, yet painfully the same.  In each season since the BCS system was implemented, there has been growing controversy and discontent among fans and coaches alike. 
The 2011 season may have finally reached a boiling point, and if the chips continue to fall into place, the BCS may be forced to make some drastic changes.
"BCS Busters" such as Boise State, Utah and TCU have enjoyed terrific seasons in the past, but soft schedules and untimely losses have lead to these teams being left out of consideration for a national title. 
The fact that mid-major teams have a 4-1 record in BCS bowl games since 2006—against teams from the six automatic qualifying conferences—adds weight to the cries for a playoff.
Fans of the major FBS conferences are put off by these stats, claiming that if these teams had to face a gauntlet of quality opponents week after week, they would inevitably lose more games.  
It is hard to imagine Boise State going undefeated while playing Alabama, Arkansas, Oregon and West Virginia (from LSU's 2011 schedule).  However, if they did, no one could dispute their right to play in the national championship game. 
If LSU ran the table while playing Georgia, TCU, Wyoming, San Diego State, New Mexico and Air Force (Boise State's schedule), we probably wouldn't be having this discussion.
The BCS has left itself open to scorn this season, and the debate has now reached a fever pitch.  There is no doubt that, as the only undefeated team in the land, LSU is the No. 1 team in the country.  With so many one- and two-loss teams, computers, coaches and writers determined which school would cash in on the giant payday and get a shot at glory. 
This year, Alabama was chosen as the No. 2 team on BCS decision day.  Personally, I think Alabama is the second-best team in the country.  However, many college football fans are disgusted that a team that didn't win its own conference—much less its division—should be entitled to a "second chance" at LSU.
On January 10th, after a new national champion has been crowned, the debate will rage on.  The argument for a playoff—or at the very least a "plus-one game" where the BCS picks two bowl champions to play for a national championship—will reach a fever pitch.  It would be very surprising to me if we are still under the exact same 2011 system when the 2012 season kicks off.
If certain bowl games play out in this order, we could see the process of reform expedited.
Boise State plays Arizona State in the MAACO Las Vegas Bowl.  Arizona State has already fired their head coach Dennis Erickson.  Boise State feels slighted by being left out of a BCS Bowl for the second year in a row.  What happens if Boise State thrashes ASU by about 40 points, which is highly possible?  Boise will have strengthened the argument for reform ever so slightly.
Oklahoma State plays Stanford in the Tostitos Fiesta Bowl.  Stanford has looked very mortal in its two losses to Oregon and USC.  Oklahoma State was this year's bubble boy, and coach Mike Gundy, while classy, was quite upset that his team was slighted for SEC favorite Alabama. 
(He is probably just as upset that he missed out on his $500,000 bonus for appearing in the national title game.)
Needless to say, the emotional Gundy will have his team fired up and ready prove to the BCS that it made a huge blunder.  What if Oklahoma State beats Stanford by two touchdowns?  OKSU will have inched us ever so much closer to a playoff.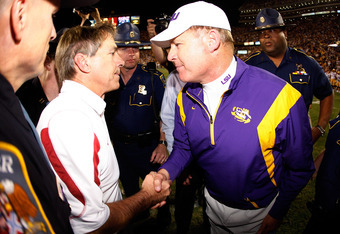 Chris Graythen/Getty Images
Finally, what if Alabama shocks LSU in the BCS National Championship game?  That's entirely possible, considering their last slugfest ended 9-6 in overtime. 
Some will say that Alabama and LSU should split the national championship.  (That smells like a tie to me, and a tie is like kissing your sister.)  Some will say—based on LSU's body of work—that the team should still be the national champion as long as the final score is under a touchdown.  Some will say Alabama deserves the crown outright, since the team won the national championship game.
When will this mess ever end? 
Mike Gundy and Boise State's Chris Peterson will be railing at the top of their lungs that if they only had that chance, they too could have knocked off the mighty Bengal Tigers from Baton Rouge. 
Who is to say that they couldn't?  No one thought Boise State could have beaten mighty Oklahoma in the 2007 Tostitos Fiesta Bowl, but they did.
This bowl season, I say that, if you are tired of the talking heads beating a dead horse about "playoffs" and "plus-ones", you should root for Boise State, Oklahoma State and Alabama.  If these three games fall this way, the BCS will have no choice but to revamp the system and put the issue to rest.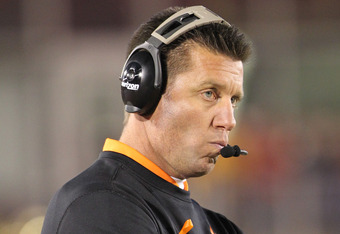 Reese Strickland/Getty Images
For arguments sake, let's say a four-team playoff decides the national championship matchup.  Instead of watching the New Mexico Bowl, the Famous Idaho Potato Bowl or the Beef O'Brady's St. Petersburg Bowl, college football fans would instead be treated to a quality game featuring quality opponents. 
The debate would then turn to teams shut out of the playoff.  In a four-team playoff this season, LSU would play Stanford and Alabama would play Oklahoma State.  The winners would play in the championship game.  This would still leave Oregon and Boise State shut out of a playoff. 
Oregon lost two games, so they can't gripe too much.  Boise State?  Well, maybe they can still gripe.  But, at least they wouldn't be completely shut out of the BCS bowls that they rightly deserve to play in.  Under this system, there is absolutely no way that they are relegated to the Las Vegas Bowl to play a .500 football team.
This sounds much easier to stomach than our current system.  The only way to get there is for Boise State, Oklahoma State and Alabama to come through.  So, go Broncos!  Go Cowboys!  And roll Tide!