UFC: Analysis of the Miguel Torres 'Rape Van' Tweet and Firing by Dana White
December 10, 2011
Let me preface this by letting everyone know I do not condone rape. I do not condone pedophilia. I do not condone domestic violence or violence against women of any kind. No man should force himself upon any other person, nor should a woman.
With that said, let us delve into the Miguel Torres "rape van" issue.
"If a rape van was called a surprise van, more women wouldn't mind going for rides in them. Everyone likes surprises." This is the tweet made by Torres that has UFC brass, namely Dana White, so up in arms.
This tweet was enough to force Dana White, president of the Ultimate Fighting Championship, to cut bantamweight contender and former WEC titlist Miguel Torres from the roster immediately.
"Miguel Torres has been cut from the UFC and his career with us now is over," White stated in an interview with SI.com.
This all comes in the wake of two very similar and equally politically incorrect statements made by former UFC light heavyweight champion Forrest Griffin and former light heavyweight champ Rashad Evans. Both are winners of The Ultimate Fighter.
On Nov. 8, Griffin tweeted, "rape is the new missionary," (h/t Huffington Post).
The tweet, of course, came with it's due backlash, causing Forrest Griffin to put himself on Twitter restriction as well as going to the Rape Crisis Center in the area to explain himself and make up for his comment.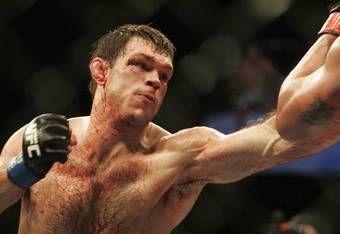 In an interview with Ariel Helwani, Dana White talks about Griffin's explanation that, while flipping through channels, all he saw on television were different stories of rape occurrences, prompting Forrest to make the comment.
This, for me, is easy to live with. It was a poorly constructed attempt at satirizing the fact that far more rapes are being exposed and/or exploited by television and news outlets than ever before.
The intent was not to offend, but to be more of a social commentary; however, a clear failure of the task.
What makes this entire issue dumbfounding is Rashad Evans' comments directed at Phil Davis during a press conference for their upcoming main-event bout on "UFC on Fox 2."
At the presser for the January 28 event, Davis made a comment about current light heavyweight title holder, and former Evans training partner, Jon Jones' statement that Rashad Evans "doesn't have a chin." This was Rashad's response;
"You're going to have to find out for yourself. I bet you won't be able to put your hands on me, though. I bet you'll be the first one to take a shot. I guarantee you'll be the first one to take a shot, 'cause I'm going to put those hands on you worse than that dude did to them other kids at Penn State."
This statement is in reference to the alleged pedophilia perpetrated by Jerry Sandusky, former assistant football coach at Penn State, where Phil Davis attended and was a champion wrestler.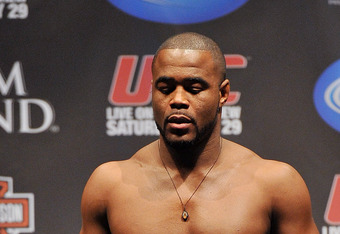 Jon Kopaloff/Getty Images
According to Dana White, Evans's explanation was that it was "in the heat of the moment" and that Evans was trying to get under the skin of Phil Davis by knocking Davis and his school at the same time.
In the interview with SI.com, White said, "…so we talked on the phone, he gave me his explanation, he said, 'I'll do whatever it takes, I'm sorry, I didn't mean to offend anybody. In the heat of the moment, that's what I said to him because he's from Penn State.'"
This holds absolutely no credence. Evans is sitting at a crucial press event promoting a main event on a card to be aired live on Fox and is basically saying "I'm going to do things worse than Jerry Sandusky."
How is there any way to justify any part of Rashad Evans comments? How does Rashad's realization that he was wrong bar him from ANY consequence for a comment as tasteless, insensitive and downright stupid as the comment made towards Phil Davis?
Apparently, Miguel Torres's real mistake was explaining that it was just a joke. A joke that came from Season 4, Episode 2 It's Always Sunny in Philadelphia, which is a staple show on FX, a company parented by Fox.
That is correct, the Fox network that just inked a huge seven year deal with the UFC. FX, being the daughter company of Fox, will be, going forward, airing The Ultimate Fighter.
This was tweeted by Matt Erickson of MMAfighting.com, "Just spoke to @MiguelTorresMMA via text. He assures me he was quoting from It's Always Sunny in Philadelphia and was watching it at time."
           After his firing, Torres released this statement on his website;
"I have a lot to be thankful for in my life, I have my beautiful wife and daughter, my family, my health, my gym, and in terms of my career, I succeeded to the biggest stage in the sport of mixed martial arts, the Ultimate Fighting Championship. 

"I am very sorry for upsetting my bosses at the UFC, and also to my fans and everyone else who was upset by the language in my tweets.  I understand it was wrong, and I meant no harm or disrespect.  Given the chance, I will do whatever it takes to make things right. I am going to learn from this.

"I think life throws you opportunities that can make you a better person, and so that's what I'm going to do here. That is how I am going to react. I am going to use this to improve myself, and I hope that my fans will continue to support me."
So, at a press conference, Rashad Evans can threaten to touch a man in a way that is worse than an alleged pedophile, but Miguel Torres cannot reference a show on a network that has a large contract with the company he works for? Excuse me, worked for.
Let us ignore the blatant hypocrisy in all this.
Dana White says that he handles everyone on a "case-by-case" basis. Well, those cases are full of money, and Rashad's case has a lot more vested in it than that of Miguel Torres.
Rashad Evans is the headliner for the first UFC on Fox event officially within the new deal. Rashad Evans is a TUF winner. Rashad Evans is a big draw and polarizing figure that everyone wants to see finally face Jon Jones, so long as they both win their upcoming bouts.
Of course, Rashad Evans is not getting fired. And to fine him and make a big deal about it publicly will hurt numbers; it would hurt the bottom line.
In fiscal comparison, who is Miguel Torres?
Miguel Torres is expendable, that's who. And I think that is BS...at least, the man apologized!