Heisman Trophy: Will We Ever See Another Two-Time Heisman Winner?
December 10, 2011
Ronald Martinez/Getty Images
Tim Tebow couldn't do it. Mark Ingram couldn't do it. The only person who has ever done it was Archie Griffin.
I'm talking, of course, about winning the Heisman Trophy twice over the course of a college career.
Griffin won the award in 1974 and 1975 as a running back for the Ohio State Buckeyes.
He ran for 1,695 yards  and 12 touchdowns during his junior year in 1974 and followed that up with a 1,450-yard, four -touchdown senior campaign in 1975.
I'd argue that Chuck Muncie got robbed in 1975 (1,460 yards, 13 touchdowns), but that's not what we're here to discuss.
The question is: Will we ever see another two-time Heisman Trophy winner?
The voters these days hate familiarity it seems. A guy like Andrew Luck will probably finish lower in the voting than he should this year because of the fact he's seemingly been around forever.
Now, Robert Griffin III is the hot new commodity in the ranks of college quarterbacks. The Heisman voters like to feel like they are uncovering new talent and honoring that particular year's most exciting player.
So, if there is ever going to be another two-time Heisman winner, it's going to be incredibly difficult.
But, if ever there was a year to start off a two-time Heisman winner's campaign, it's 2011.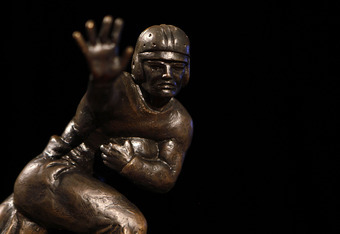 Jeff Zelevansky/Getty Images
Luck, Griffin, Tyrann Mathieu, Montee Ball and Trent Richardson all have at least one year of college eligibility left, if they should choose to use it.
Luck, Griffin, Richardson and Ball are all juniors, and Mathieu is only a sophomore.
Luck will almost certainly be heading to the NFL though, so if he wins, we aren't likely to see a repeat Heisman winner for a while.
But, RGIII is an interesting case. He's projected to win the 2011 Heisman Trophy, and his NFL draft stock might be helped by staying in college another year.
Luck, Landry Jones and Matt Barkley (if they declare) are all rated ahead of Griffin in most 2012 NFL draft projections.
If Griffin comes back to school, it's possible he could wind up as the No. 1 quarterback in the 2013 NFL draft.
If he puts up the stats he did in 2011, he'll probably hold off Aaron Murray, Tyler Bray and Tyler Wilson and headline the class.
And, if he puts up the stats he did in 2011, it's hard to imagine he won't win the Heisman Trophy again.
Basically, if Griffin doesn't return to college next year, it may be a long, long time before we see another two-time Heisman Trophy winner again.