Why Tim Tebow Will Go Down as a More Beloved Denver Bronco Than John Elway
December 14, 2011
Justin Edmonds/Getty Images
This might sound ridiculous to most Denver Broncos fans, but it's probably true.
Tim Tebow will go down as a more beloved Bronco than John Elway in the long run.
There's always fans for the big names in sports.  Tom Brady and Peyton Manning have lifetime fans all over the country, and the greats of old like Joe Montana and Dan Marino will always have their truest fans, well after their names have fallen deeper into the NFL's history.
Elway, on the same note, grew a following in Denver and across the NFL when he became the most successful and most well-known Bronco to ever play the game.
Some argue he could have been the best quarterback to play in the NFL's modern era.
For a team like Denver, as young as it was, Elway was the fans' first look at glory in the professional leagues. Denver had yet to witness a championship run like Elway's, and it had the privilege of witnessing it two years in a row.
Before the Broncos' repeat Super Bowl victories in 1998 and 1999, Denver had only the Stanley Cup Championship of the Colorado Avalanche in 1996 to look back on.
What Elway did for Denver will be unforgettable.
In what some view as a selfish move, Elway refused to play for the team that drafted him and instead was traded to the Broncos.
The rest of his story is known very well already.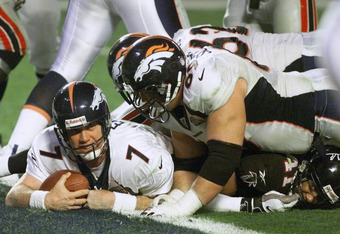 Pool/Getty Images
However, when Elway was at the top, he did what most champions never get the opportunity to do: He left at the top of his game, the top of his career.
Rather than risk a fall from true greatness in an attempt to be the first ever NFL team to win three consecutive Super Bowls, Elway retired after his second and left the Broncos' faithful wanting, yearning for another championship.
More than a decade later, Denver finds itself still searching for a franchise quarterback.
Attempt after miserable attempt of finding Elway's replacement found Denver and its fans in a spot they had long since forgotten. 
The team was in the NFL's basement.
The Broncos had gone through countless quarterbacks, multiple coaches and far too many less-than-satisfying drafts. Poor roster management and uninspiring coaching from Mike Shanahan and Josh McDaniels left Denver behind the game and scraping for something to bring its organization back into relevancy in the league.
Enter Tim Tebow.
Tebow built a college resume that's hard to argue with—a Heisman Trophy and two national titles is difficult to achieve for a player of any caliber. And Tebow did it with what's still debated as a poor throwing motion, sloppy mechanics and nothing close to the prototypical NFL pocket-passer throwing arm.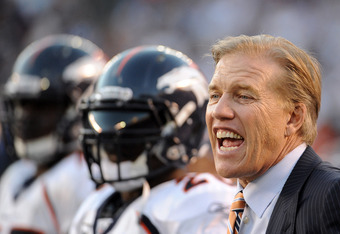 Harry How/Getty Images
Unable to fully commit to Tebow, Elway has been less than candid in his statements regarding Tebow as the Broncos' quarterback of the future.
And for this, Broncos fans and TebowManiacs have responded in almost violent fashion. Elway's been raked across the coals in all aspects of social media for his failure to acknowledge that Tebow is "his guy."
I can't say that I blame him. It's hard to commit to any player after only 11 starts at the professional level.
But for TebowManiacs and Denver fans that were drowning in mediocrity and gasping for air, there is no other perceived option.
Perception is reality. And right now, Denver fans see Tebow as the man to bring forth a new generation of football and a winning tradition to the Broncos franchise. What Tebow has done for Denver in only seven games in 2011 is enough for fans to believe that he is in fact the man of the future for the Broncos.
It's said that performance is a function of ability and motivation. The Broncos' players have the ability, or they wouldn't be on the roster. What Tebow brings is the motivation to get the job done.
Veterans like Champ Bailey and Brian Dawkins have gone public in saying that Tebow makes them play better.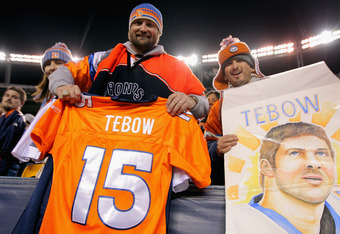 Doug Pensinger/Getty Images
Tebow—with help from his coaching staff—has coerced his team into playing better ball and has managed to take away seven wins in the process.
In the meantime, Elway's comments, attitude and clearly unenthusiastic body language in regards to Tebow's late-game heroics and unexpected winning fashion is moving him further and further from the hearts of the Broncos' most loyal fans.
After multiple attempts to walk back over his recent comments regarding Denver's new idol, Elway seems more and more foolish in his handling and opinion of Tebow.
As Tebow accrues more wins, continues to silence his critics and fuels the fire of his most adamant supporters, he is establishing himself as the first and foremost favorite in the Broncos' organization.
If Tebow manages to preserve his winning ways and move Denver closer to recapturing the glory this city felt in the late '90s, he will inevitably surpass Elway as the most beloved Bronco in team history.