Heisman Hype: Could Robert Griffin III Be the Next QB for Cleveland?
December 11, 2011
Sarah Glenn/Getty Images
It was almost as "story book" as it comes.
Robert Griffin III is a guy who, at the beginning of the 2011 College Football season, had little hype surrounding him as a Heisman candidate. Yet, he goes on to have an improbable season, surging in the voting late with his outstanding performance against Texas with 15/22 320 yards passing, two TD and two rushing TD.
In doing so, he becomes the first Heisman winner in Baylor history.
If that's not directly from the "Heisman Underdog" storybook written by Disney, then I don't know what is.
At this point, one has to wonder what Robert Griffin III will do going into next season. Honestly, I don't have any hunch at all what he will do, so for the purposes of this article, we're going to assume he'll declare for the NFL draft.
In looking at the teams that will be needing a QB going into 2012 in the NFL, there are a couple that stick out to me as potential landing spots for the newly crowned Heisman winner.
At the top of the list, obviously, are the Indianapolis Colts. Manning's type of neck injury rarely heals as people expect it to, and has cost many an athlete his career. In reality, I believe that if Peyton Manning does play, it will likely be with another team not named the Colts.
The Colts, however, seem destined to select Andrew Luck at the No. 1 overall position.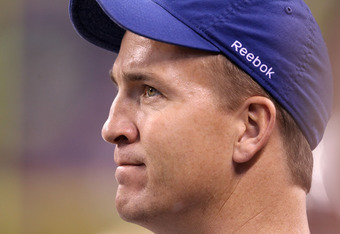 Andy Lyons/Getty Images
The next logical suitor could be the Jacksonville Jaguars.  I know, I know...they just selected Blaine Gabbert. However, he hasn't been remotely impressive in his rookie season, and with the new CBA, he'll be owed a very affordable $4.772 million.
In addition to that, Jacksonville will have a new owner, and former owner Wayne Weaver would want to see this through. Gene Smith, Jacksonville GM, is there, and he wanted to draft Roethlisberger ahead of Leftwich and couldn't because of Weaver.
All that means is that Gene Smith and a new owner could see fit to revitalize that franchise by selecting the new "face" of the team. And new regimes, more times than not, mean new QBs.
Following Jacksonville, the next logical stop for RGIII would be in the District of Colombia, to play for Mike Shanahan and the Washington Redskins.
Living in Denver, and having seen Shanahan's QB dealings with the Broncos, I can tell you one thing for absolute certain, he's going to be in the market for a QB this season. Beck and Grossman are just gross, man...I'll be here all week.
He'll surely be looking for someone to shore up what is arguably his weakest position right now.
Next would be Miami. The Dolphins are in desperate need of a QB and someone who can help get that once proud franchise back on its feet. 
However, based on some things I've read and people I've spoken to, they really like Case Keenum from Houston, and he can be had later. Not to mention, Matt Moore has actually developed quite nicely this season.
Which brings us to the Cleveland Browns.
The debate of whether or not Colt McCoy can be a starting QB in the NFL rages hotly amongst the Cleveland faithful, and both sides have very valid opinions.
I for one am on the side that believes Colt McCoy CAN be a good player in Cleveland, but he needs some supporting cast members to help get him there.
I feel like Colt McCoy has been more a victim of, than responsible for, most of what's happened this season. The bad OC scheming, depleted O-Line, below average to bad WR corps, injured (Hillis)/bad (Hardesty) RBs and no time to go through his progressions on the field have really put him behind the eight ball.
That said, the NFL is a results now league, and the team of Mike Holmgren and Tom Heckert could see RGIII as the answer at the QB spot, and a player that could put them over the top.
With the flexibility of having two picks in the first round, seemingly available is anyone Cleveland wants, save for Andrew Luck. To get up that high, Cleveland is going to have to give up a LOT, and far too much for my comfort level, and perhaps even justification.
But, could RGIII be the answer in Cleveland?
There's a lot to like about Robert Griffin III—his speed, his arm, his intellectual capacity (will earn his Masters in Communications this spring) and his level of humility.
As I watched the awards ceremony last night, I was struck by how humble and real RGIII is.  He's got some character, some goofiness (love the Superman socks) and a ton of upside. He could be a good fit and bring in some much needed energy.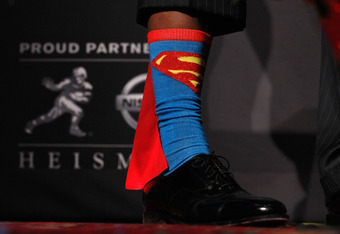 Jeff Zelevansky/Getty Images
According to Adam Schefter, who spoke on ESPN this morning, there's a lot of chatter around the league about RGIII right now, and some even prefer him to Andrew Luck.
I don't know that I buy the second part there, but I do know that he's a very good player, and could help a lot of the teams in the league right now.
How his combine pans out will positively or adversely affect how he's rated, and that's a long time from now. If it's good, I can see Cleveland targeting RGIII as their guy.
The fact is, whether Cleveland fans will admit it or not, a QB needs help to be successful. Even with all the talent in the world, a QB is doomed to failure if he doesn't have people around him.
QBs need WRs that can run the correct routes and catch the ball. 
They need RBs that can perform effectively to take the pressure off the pass game and force defenses to respect the run.
They need O-linemen that can give them time to get through their progressions and make the right reads.
They need an OC that understands how to use the running and passing games in conjunction with each other instead of in lieu of the other.
They need help. It's as cut and dry as that.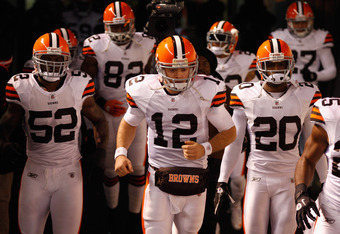 Jared Wickerham/Getty Images
As I mentioned earlier, I am a believer in Colt McCoy. I think that with a Justin Blackmon or Trent Richardson on his side, McCoy could develop nicely and would have the help he needs.
I also believe that if Cleveland truly does get a legit OC going into 2012, that can recognize McCoy's and other key players' talents, and use them effectively, McCoy and this Cleveland team can progress.
Cleveland is a fantastic town, with some of the best fans in the league, and they're starved for a winner after years of being the NFL's doormat.
Perhaps RGIII is the guy that can come in and change the losing ways. I like this kid a LOT. Maybe, just maybe, the guy they need is already there. 
Maybe is the operative word here, and maybe is never certain.
Will Cleveland select RGIII in the 2012 NFL Draft? Maybe. Will it be an interesting offseason?  Certainly.