UFC 140 Results: Is Tito Ortiz Body Telling Him It's Time to Retire?
December 11, 2011
There are two prevalent schools of thought when it comes down to the age old question of retirement for athletes.
From the fans and promoters perspectives: A "what have you done for me lately" attitude based on performance output and relevancy.
From the fighter's perspective: They strive for a graceful exit from the sport they have dedicated their passion and time into for a majority of their lives, and tend to base their retirement decision largely on an internal intuition on how well they know their own bodies.
After iconic UFC star Tito Ortiz slumped over from pain induced by Antonio "Lil Nog" Nogueira's gut-busting ground and pound at UFC 140, we seem to have a third perspective—one that can't be denied by either party.
When a fighter's body says it is time to hang up the gloves and fails to cooperate at a high level with the heart and mind, it's time to call it quits.
All great preemptive game plans are perfect on paper—for any job or project—but if the right tools aren't working at a certain standard, then the execution is going to suffer. It's a disheartening reality that traps a man in the carbon shell he was born in: Our minds stay sharp enough throughout life to realize our bodies are made of pure mortal ingredients.
This truth is most evident when people put their bodies through the rigors of high-impact training and sport.
As a consequence, it appears that Ortiz has developed a soft spot in his sternum area (around his ribs) from competing at the highest level since 1997, taking countless amounts of damage in a very physically demanding sport for 14-odd years.
Last August at UFC 133, Ortiz suffered a similar fate against Rashad Evans, who fired off a crumpling knee to Ortiz' midsection that essentially ended the fight in the second round.
After getting hit, he keeled over in agony and couldn't defend himself against Evans' punches, very similar to what happened against Nogueira.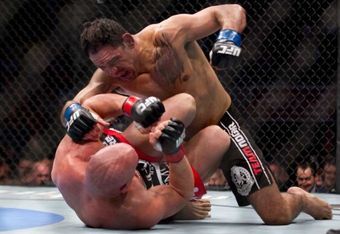 It's always sad to see household names go, but when the time is right, the preferred exit is one that doesn't include a fighter competing for the wrong reasons and suffering unnecessary punishment and losses. If that shot from Nogueira was the wake up call in question—love him or hate him—Ortiz will be missed for the strong emotional energy he brought in and out of the cage.
In addition to being a fan-favorite and a polarizing figure in MMA throughout the years, Ortiz has always fought hard despite being riddled with injuries in the second half of his career.
Even during his interview with Joe Rogan at UFC 140, it's clear the fighting fire in the depths of his heart and mind is blazing brightly, but it's just not translating to the rest of his body—making him more vulnerable against younger, more powerful guys.
What if Nogueira was 10 years younger—what kind of thumping shots would Tito have taken?
At some point, whether or not fighters can still go through the motions, it just doesn't make sense for them to keep forcing it. Tito has made his fortune of late. With the title out of the picture, what else is there to prove? A contract extension is completely out of the picture.
Ortiz will turn 37 in January, and has been hinting at retirement ever since his loss to Rashad. For my money, I say let the people see their champ finish off the last fight on his contract. His title days might be long gone, but Ortiz will always remain one of the most popular figures to ever step in the octagon.
With or without the willingness of his body, hopefully we'll see Tito jumping up and down in his corner, staring daggers across the octagon at his opponent, ready to be released like a ravenous animal at least one more time. 
Be sure to stay tuned to Bleacher Report for all things UFC 140. B/R is your home for complete coverage of the December 10 fight card, including results and post-fight analysis.