How New England Patriots Fans Feel Right Now
December 12, 2011
Tom Brady won three Super Bowl rings before he turned 28, and he got them faster than any quarterback in the history of the NFL. 
But Aaron Rodgers is also pretty good, and right now he's the most dangerous man in the league. If the Packers go undefeated and win a Super Bowl, Rodgers will have perfected the dream season that Brady couldn't. The resulting damage to Brady's legacy could be profound.
If the Patriots come up short this year, I wouldn't be surprised if Brady genuinely hopes Rodgers and the Packers take care of business. That's what kind of guy he is. 
And that leaves Patriots fans in a strange emotional limbo. It's impossible to root against Aaron Rodgers, not only because he's a magical player of unlimited greatness, but because he's also a nice guy. He and Brady are champions cut from the same cloth. 
I prefer the Patriots take it all this year, but if they don't, I'd like to see Rodgers make some history.
But that doesn't alter the larger picture. 
Tom Brady and the Patriots already have a black mark on their legacy, even without the help of Aaron Rodgers. It's called Super Bowl XLII. It was an event that psychologically damaged Patriots fans in a way I'm not sure we've fully realized yet. We woke up one morning ready to put the Brady/Montana argument to bed and by the night's end, we were forced to be satisfied with our quarterback taking a top-five slot.
Brady's been asked about the Montana thing before. And in classic Brady fashion, he made it clear that he's entirely uncomfortable with having his name mentioned anywhere close in proximity to his idol's name. And that's what we expect from him.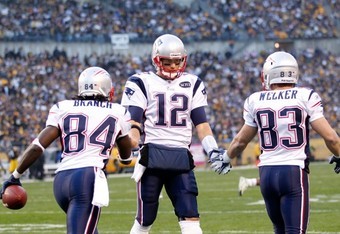 But as fans, we don't have to be so considerate. Patriots Nation still wants this top spot nailed down. And if you ask me, winning a fourth title can ice the black mark of Super Bowl XLII for good. It's not about avenging the loss as much as it's about proving Brady can win titles at different points in his career, which is the true sign of greatness.
100 years from now there will still be round table shows on ESPN and NFL Network, and those analysts will argue incessantly over the best quarterback of all time. Joe Montana, Tom Brady and Aaron Rodgers will have their names in that discussion. And if Rodgers captures a perfect season and a Super Bowl victory in 2012, he's going to have the support of most of those analysts in 2112. 
What Aaron Rodgers is doing right now is uncanny. The spotless record is all well and good, but it's his total mastery of the game that impresses me the most. His skill, his gut feelings on the field and his accuracy are all devastating elements of his prowess. And I expect him to carry this fire through the playoffs.
Brady's playing terrific football too, but he's falling flat in the post-season. There's no way to dress it up in sugar and lilacs. Three seasons without a playoff win is unacceptable. And last year's loss to the Jets tells me that the Patriots can just as easily lose this year to the Texans, Broncos, Steelers, Bengals, Ravens and again to the Jets. 
Yeah, it's important for the Patriots to finish the season on a strong note, but it's not my biggest concern. They went 11-5 in '01 and won a Super Bowl, then went 16-0 in '07 and lost a Super Bowl. They went 14-2 in '03 and won a Super Bowl, and they went 14-2 last year and lost to the Jets at Gillette Stadium.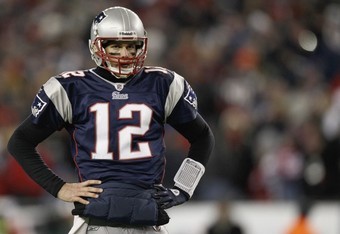 Having a stellar regular season record only goes so far for this team. They're 10-3 right now and Patriots Nation is still pretty confused about how to feel. While Texans fans and Broncos fans are bursting with joy and anticipation, I'm left wondering if my team will win a playoff game. To have the best record in the AFC and still feel uneasy is not an easy task. One earns it with many seasons of disappointment.
Of course I want a bye and of course I want home field advantage, but neither of those things will shake the monkey off our back. Only winning will do that.
The Patriots have the intellect and the skill to win the Super Bowl this year, but raw power will do to intellect and skill what a bazooka will do to a second-degree black belt in Judo. And the one thing all our opponents have that we don't is raw power.
Every team that's beaten the Patriots in the last three years has done so with the recipe of strength and brutality as originally concocted by the Giants. We might as well jar that sauce and sell it at the supermarket. Every game since Super Bowl XLII has left a sense in Patriots fans that our team is no longer feared. And that's how you get guys like Dan Orlovsky and Rex Grossman pushing Tom Brady to the limit.
How I went from nearly settling the Montana/Brady argument to suddenly worrying about winning a single playoff game is pretty puzzling. And as if it couldn't get any stranger, Tom Brady has actually gotten better with each passing season. 
The quality of the team around him has dropped, but it certainly hasn't plummeted. The '07 team proved that much. And this current team has weapons too. We have the best receiver in the game, the best coach and arguably the best tight end as well. But there seems to be a crisis of confidence in the Patriots that developed during and after Super Bowl XLII.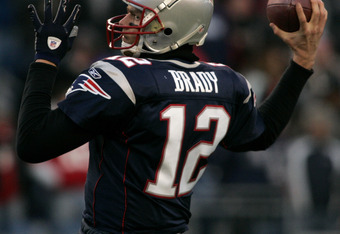 But why should we be afflicted with this crisis? The Jets aren't. If they get the Wild Card, I have no doubt they'll enter that game with an unrelenting confidence in their own abilities and a belief that they can reach the Super Bowl. 
Think about that for a second. A team desperately clawing for a chance to keep playing is more confident than a team with the best record in the conference. It's madness on our part. Why are we doing this to ourselves?
If the Jets are going to have a game-face, then we can have one too. There's no reason why any of us should be nervous about playing the Broncos next week, but of course we are. It's ridiculous. We were nervous about the Colts and the Redskins, too. This has to stop. 
We have to annihilate the Broncos, the Dolphins and the Bills. I'm totally on board with grinding-out wins against Joe Flacco and Big Ben, but a line has to be drawn in the sand here. Going down to the wire against Rex Grossman is pitiful. 
I won't look a gift horse in the mouth, so I'll take the win against the 'Skins. But having to pick-off Grossman to steal the game is absurd. And having to recover an onside kick to ice the Colts last week was also pretty infuriating. Yeah, I'll take the W's, but there comes a point where living dangerously every week becomes a dangerous way to live. 
Bottom line: Patriots fans are nervous. We shouldn't be, but we are. There's no rhyme or reason, and the players are trying to figure it out too. 
It sounds kinda silly, but can't the Patriots just wake up and realize they're the Patriots? I see the chemistry between these guys, it's there. I've been to Gillette Stadium and I've seen the banners. I've seen Brady play in person and the guy really does define excellence. 
Watching him toss the pigskin is like watching Ken Griffey Jr swing a bat or Ray Allen shoot a three. It's poetry in motion. And there's also a poetic quality to his brutal intensity and his psychotic will to win.
I still think he's the best quarterback of all time. 
Now if he could just win us a playoff game...