WWE's Special MC Report: Life After Attitude Era- the New Generation Part I
December 14, 2011
2003
Stone Cold Steve Austin and The Rock began their transition into their veteran roles in the year 2003. With high 5.0s ratings and good PPV buyrates, the WWE began their own transition into forming bright new stars.
After memorable feuds with big names like The Undertaker and Rob Van Dam, Brock Lesnar elevated himself to main event status in 2003. Standing at 6'3" tall with over 200 pounds of muscle, Brock Lesnar was a rare breed—a monster heel with actual ring ability and agility.
One of the most underrated feuds and matches of all time in my opinion is the program between Brock Lesnar and Kurt Angle, which led to an amazing bout at Wrestlemania 19. A year after the iconic Rock vs. Hogan match, WWE had their hands full in trying to top what they did the year before.
However, Brock Lesnar and Kurt Angle on that night rose to the occasion. While I am not usually one who harps on "technicians" in the business, it's impossible to take away what those two men did that night.
That match symbolized a lot of things in the year 2003.
While Kurt Angle—and even Brock Lesnar, on some level—did not possess some of the same mainstream power as the likes of Rock and Austin did, they were still interesting characters who could put on a hell of a match that entertained both casual and and more traditional fans.
Both of them signaled a year where entertainment and wrestling was going together hand in hand.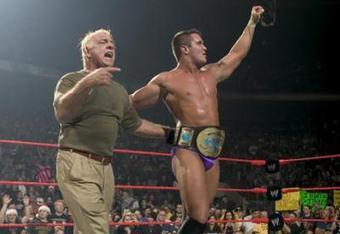 It was also the year that a new generation of superstars would go on to make their mark in the business. Two in particular: Randy Orton and John Cena.
After his rookie stint on Smackdown and healing from a shoulder injury, Randy Orton moved to Raw and became a member of Evolution, standing alongside the likes of Ric Flair, Triple H and another rising star in Batista.
During this time, he began his push as "The Legend Killer," running through all the legends in the WWE while making a legacy of his own. He had the looks, the mic skills and the in ring ability. It is expected from a guy who is a third generation superstar who's father is a Hall of Famer.
I remember during this time Orton was garnering a lot of comparisons to The Rock, not only for being a third generation wrestler, but also in some of his character and actions. This would be ironic, seeing as Orton's later character change would actually go on to make him more comparable to Austin than Rock.
Orton would go on to win his first title by defeating Rob Van Dam at the Armageddon PPV. He would become one of the longest reigning Intercontinental Champions and also aid in bringing prestige back to the title.
In a feud with Brock Lesnar, John Cena would also gain attention on the Smackdown brand. His Dr of Thuganomics persona was an edgy one that attracted both older and younger fans.
I admit though, I wasn't really high on Cena, even when he was a rapper. At first I thought the gimmick started as a joke of sorts, but Cena was able to use it to the best of his ability and made it—and himself—into a real contender in the WWE.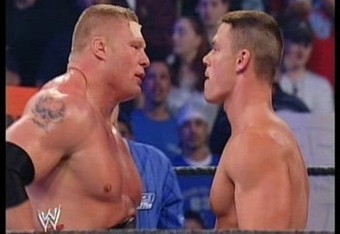 It is impossible, though, to talk about WWE in the year 2003 without mentioning another division that was earning the popularity and respect of fans.
It was in 2003 when the women's division was at it's peak in terms of wrestling, on screen time and playing a vital role for the audience. Trish Stratus underwent her transition from eye candy to becoming a serious and well respected in-ring performer.
In the past Stratus was dominated by Lita, who had more in ring ability and experience. However, that would all change this year as Trish would began capturing her Women's Championship title reigns. She would prove herself to be just as hardcore as Lita was with the memorable Hardcore match against Victoria at the Royal Rumble of that year.
Lita, though, was still an important role in changing the face of the women's division. Her Raw steel cage match with Victoria was one of the first times the Divas was shown in that capacity.
These two women lead the pack in making the women's division just as important as the main event and mid-card divisions. They proved that women could wrestle and perform just as well as the men could.
This was especially proven at Armageddon that year, when they wrestled an actual good match between Christian and Chris Jericho.
Other unforgettable names were the likes of Victoria, Jazz and Gail Kim. Jazz, who was one of the few female competitors in the original ECW, made her presence felt with her strength and domination. Victoria's crazy persona proved that women could actually have un-stereotypical wrestling characters and actually get the fans to still care about them.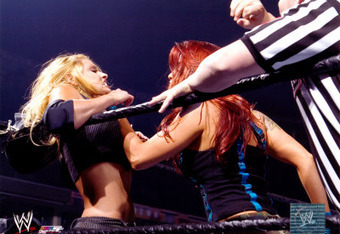 In all, the year 2003 was the year of the New Generation leading a new era in the WWE. Young superstars such as Brock Lesnar, Randy Orton and John Cena kept much of the core audience interested. The wealth spread as the women of this time, most famously Lita and Trish Stratus, added variety and a new image to the new WWE.
During the later years, however, the departure and/or absence of some of these names—as well as tragedies—would lead WWE to stray from its course into a crossroads of sorts. Their image would undergo another transition that still is debated by wrestling fans today.
However, for now, the future is here.
Thank you for reading!  Comment, like, retweet. Anything would be appreciated in order to spread the word on this article!
Follow me @ http://twitter.com/itssocrates.
WWE's Special MC Report: Life After Attitude Era- the Beginning Years Part I
WWE's Special MC Report: Life After Attitude Era- the Beginning Years Part II
Also check out my other articles in my profile! Stay tuned for the next part!