NFL Playoffs: Is 2011 the End of the Drought for the Tebow-Led Denver Broncos?
December 13, 2011
Justin Edmonds/Getty Images
Isn't it amazing how the Internet has made geniuses of many casual writers?
While the so-called media experts seethe and chomp at the bit at the apparently "uninformed" opinions of those of us that don't make a living from writing, their "expert" opinions make it really easy for us to look like the real experts.
But hold that thought, I'll come back to it in a minute...
Okay, so I admit it, I have a healthy man-crush on Tim Tebow. It seems that the harder the media looks for sound bites and missteps to expose his human fallibility—not to talk about his supposedly absent NFL quarterback skills—the more it seems he has none.
I know, I know, everyone is flawed! But even if you're an avowed Tebow hater, you do have to grudgingly admit that for one living under such abject public scrutiny, Tebow comes off as a really amazing young man. 
But don't tune out just yet as this isn't a post on the god-like virtues of Tim Tebow. In fact, in some ways, this post is about me. You see, I don't want you to miss my genius and so I'm calling your attention to an article I wrote after Week 9 of the NFL.
I thought about waiting until the end of the season, but that was only a fleeting thought since I realized that this would be as good a time as any to gloat!
My article was titled Denver Broncos: 8 Bold Predictions for Denver's Second-Half of 2011-12 Season. At the time the Broncos were 3-5—2-1 under Tebow—having begun the season 1-4 with Kyle Orton under center.
Here are some of the bold (or asinine, depending on your point of view) predictions I made at that time.
I confidently declared "Orton hears a 'Who?'" I stated that the beleaguered quarterback would not finish the season in a Broncos uniform.
I declared that Tebow would win at least once against every AFC West team. Consider that at the time they had lost at home to the Oakland Raiders, gone on to win in Oakland and lost at home to the San Diego Chargers. Almost none of the experts gave them a chance to win in San Diego.
I boldly declared that Elway would stick with Tim Tebow. Now, while some of his early comments did not in any way show confidence in his quarterback, you can read some of his more recent accolades for his quarterback here.  In his weekly radio show in Denver, Elway declared, "Everyone believes that something good's going to happen, and, obviously, Tim's been the guy that's led that thinking." 
I said Von Miller would lead the NFL in sacks amongst linebackers. Currently, with 11.5 sacks he's third behind DeMarcus Ware, a pro-bowl linebacker who is a converted defensive end who has 15, and Terrell Suggs, another Pro Bowl linebacker who has 13. Keep in mind that Miller missed a game against the Vikings with a broken thumb.
John Fox will be the first coach since Mike Shanahan to lead the Broncos to the playoffs. That notion, as far-fetched as it seemed with a 3-5 record at the time, appears almost indisputable now. With only three games left, a full game ahead of the Raiders plus an easier schedule on paper, they only need to win two of the three to almost assure themselves of winning the AFC West.
Champ Bailey will have a crucial interception to cement his legacy and help his team win a playoff spot. Needless to say, Champ and the entire defense are worthy of the NFL MVP prize this season.
The Broncos will win six of their remaining eight games. Since Week 9 Tebow has led them to five victories—six straight counting the Week 9 win over Oakland—and only needs one out of the remaining three games to confirm my genius status.
Finally, I confidently and boldly stated that Tebow would lead the post-season-starved-Broncos to their first playoff appearance since "Mountain Man" Jake Plummer in 2005.
So, having confirmed my genius status based on the amazing accuracy of my bold predictions, I wanted to get back to my thoughts about "the pro-football and Tim Tebow experts."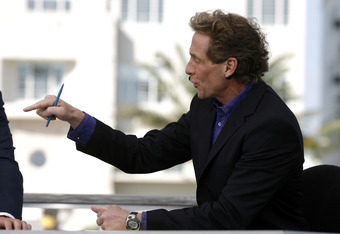 Allen Kee/Getty Images
Let me begin by publicly declaring that I'm not a Skip Bayless fan. I find him overly opinionated and not terribly well informed. But I like Stephen A. Smith even less. At least Bayless had the good sense to recognize and admit to Tebow's talent and abilities long before the hapless Smith.
On their show, First Take, on ESPN 2, Smith, who has continually derided Tebow and declared that he is not and will never be an NFL quarterback, had this to say after Sunday's victory over the Chicago Bears which, by the way, Smith said would never happen:
"In the fourth quarter I saw an NFL quarterback....He looked like an NFL quarterback, he played like an NFL quarterback....I am officially humbled." Then to help us put it in context, Smith threw out Tebow's fourth quarter stats, "18 for 24 passing, for 191 yards."
I have a declaration to make (insert drum roll here please):
Stephen A. Smith, I want your job! 
Why? Because I'm confident that I can do it better than you can. At least I'll be able to recognize talent, leadership and NFL quarterbacks much sooner than you. If opinions—right or wrong—are all it takes to get paid at ESPN, I want in on that gig!
Finally, I wanted to carefully but intentionally mount my soap box and rant about one Brian Urlacher. Yep, the Brian Urlacher! Perennial Pro Bowl linebacker for the recently defeated Chicago Bears.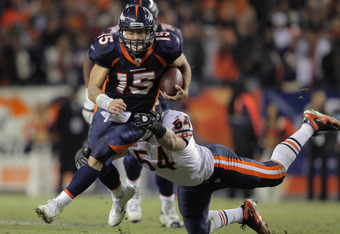 Doug Pensinger/Getty Images
How classless do you have to be in order to lose to a team and talk smack about their quarterback? When asked what he thought about Tebow, Urlacher declared, "He's a good running back...he does a good job for them."
Really, Brian?
Your team gets beaten by a "running back" playing quarterback and you're okay with that? What does that say about your defense when a running back goes 18 for 24 in the fourth quarter? For that matter what does it say about you (after all, it's the middle linebackers job to secure the running back), when he drives his team down the field for two scores to tie the game with less than three minutes left to play?
As I recall, your running back ran out of bounds when he should have gone down in bounds, thereby handing the Broncos—who had no timeouts left to stop the clock—a 40-second gift to help tie the game. I also seem to remember that he fumbled the ball when your team was in field goal range and could have won the game in overtime.
I guess all "running backs" are not equal huh, Brian?!
In inimitable Tebow style—never speaking out of turn—when asked about his thoughts on Urlacher's brash and classless assertion, Tebow responded, "Coming from a really good player, that means a lot."
I love that!
I bleed orange and blue, baby!!!