Rest of Season Could Be Make or Break for Brad Stevens and Butler
December 13, 2011
Andy Lyons/Getty Images
After a really bad start, the rest of this season could be could be make or break for Brad Stevens and his Butler basketball program.
Clearly, this is a drastic statement, considering what the Bulldogs have been able to do the last couple of years. In 2009 they started 8-4, and last season they lost 10 games. Both resulted in runs to the national championship game.
This season, one without Gordon Hayward, Shelvin Mack and Matt Howard it isn't really about their 4-6 record. It is about the message that this current group of Bulldogs and its heralded coach is sending.
This is the first season since the last time Butler did not make the NCAA tournament in 2004-05 that the Bulldogs can't shoot. The 38 percent from the field, 27 percent from three point land and 64 percent from the foul line are starting to make Butler's performance in last years' national title game look like "the Butler Way."
This is also the first year since the mid-2000s that the Bulldogs cannot hold onto the basketball. Butler averages 17 turnovers per game. Main ball handlers Ronald Nored and Chrishawn Hopkins lead the team in turnovers. You can't win basketball games against the schedule that Butler wants to play that way, plain and simple.
These statistics are troubling, and will undoubtedly get better. However, they lead to an even deeper issue. Butler has four scholarship freshmen on the roster who see significant minutes in Roosevelt Jones, Kameron Woods, Jackson Aldridge and Andy Smeathers.  Are they all nice players? Yes. Will they all improve? Yes. But here is the bigger question: Have you ever heard of them? Probably not.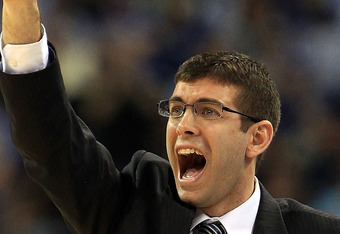 Streeter Lecka/Getty Images
As the country watched freshman Cody Zeller lead the Indiana Hoosiers to the upset win of this young season over No. 1 Kentucky on the same day that Butler lost to a mediocre Ball State team, who couldn't help but wonder what might have been if Zeller had signed with the Bulldogs? Brad Stevens put all of his eggs in Zeller's basket and what he came up with was the combination of the four freshmen listed above. None of which are ranked in this class's top 100.
Citing the last two seasons as an example, it doesn't take a bunch of McDonald's All Americans to reach the pinnacle of college basketball. But in order to remain on top of the college basketball world year to year, you are going to need to sign a Cody Zeller or two eventually.
The window of opportunity is shrinking, and it is doing so quickly for Brad Stevens and Butler basketball. It sounds premature because the man is embarking on what looks like a promising coaching career, a can't miss coaching prospect with a seemingly perfect situation in the heart of Indiana, a recruiting hotbed in the past decade. Oh, that and he's been to two final fours in a row. That's the type of exposure that no mid major has ever had before.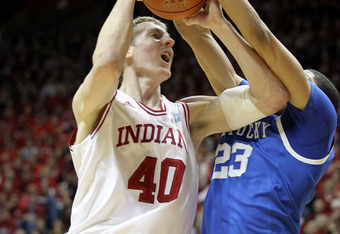 Andy Lyons/Getty Images
When is that window of opportunity any bigger than after you lead a small mid-major to two straight national championship games? Quite frankly, it's not going to get any bigger. Next year Stevens has one of the top high school shooters in America coming to Indy in Kellen Dunham, a player ranked right around the top-100 in almost every recruiting list. He's also got the nation's best transfer in Rotnei Cark out of Arkansas for a single season of eligibility.
It could be too little too late though.
In next years' freshman class, rivals.com has five top 100 recruits in Butler's backyard of Indianapolis. No. 17 Kevin Farrell is headed to IU, No. 22 D'vauntes Smith Rivera to Georgetown, No. 25 Gary Harris to Michigan State, No. 48 Jeremy Hollowell to IU and No. 91 Ronnie Johnson will attend Purdue.
This is a time where high school kids commit early, and often times change their minds on where they will go two or three times. The fact that none of these guys chose Butler, the king of Indiana for the last five years is troubling.
If Brad Steven's can't get a big name recruit after back to back national championship runs, when will he?
Butler now is much like Gonzaga, relevant in every college basketball discussion. They will be good and they will make the NCAA tournament a lot. But coming off of two unbelievable basketball seasons, two seasons that captured the hearts of the nation, they had the chance to do something unique and become a Duke or a Kentucky. Final four expectations would surround the program year in and year out. Those might be far-fetched expectations, but the potential appeared there.
Butler is rebuilding, a luxury that they do not have if they want to reach the heights of the major programs.
The window of opportunity is getting smaller and smaller with every bad loss Steven's and his team endures. But who knows, maybe come March, Stevens will prove us all wrong again. If he doesn't that window just might close.
----Drew Schmelzer