Why Tiger Will Not Win a Major in 2012 or Maybe Ever Again
December 14, 2011
Scott Halleran/Getty Images
Arizona is the Diamondbacks. Arkansas is the Razorbacks. When politicians aren't taking kickbacks, they're talking cutbacks and of course there is Tim Tebow, the quarterback who has God's back or vice versa.
But the biggest "back" in sports or politics is Tiger Woods. Is he or isn't he back? That finish at Sherwood sure made you feel like Tiger was back. Back to back birdies to come back and beat Zach.
The fire was in his eyes. The shots were at the pin. The putts were in the hole. The fist could have pumped up the Goodyear blimp.
But not so fast. Although I'm still aware that you can never count out Tiger Woods, being a realist works both ways and that's why I believe you can never count him in again either.
So, back? Not back? So what? That's just not the right question because the golf world has changed even if Tiger hasn't.
Now that Woods is playing regularly again and has a win under his belt it's easy to pretend that the sheriff is going to restore law and order in the Wild West. Nobody can outdraw him when there's a showdown. He's the fastest gunslinger ever seen in these parts. Let 'em try!
Ok, I've trapped myself here in the dust of Dodge City. Let's put the guns away and get out the balls, bats and gloves and imagine for a moment that Babe Ruth had sat out the next season after he hit his 60 home runs.
And then let's imagine that during that year he was away a swarm of new pitchers with names like Koufax, Gibson, Carleton, Clemens, Maddux and Johnson (Walter and Randy) had made it to the Show and none of them are on the Yankees when he returns.
Jim McIsaac/Getty Images
The Babe hasn't even tinkered with his swing but because of the new arms he has to face, that ball that looked like a grapefruit before, now is more like the size of a pea.
Tiger is in a similar bind although he may not see it that way. It's not just Phil and Ernie and Furyk and VJ anymore. He had their numbers big time.
Woods messed with their minds and they thought, "If only I had been born 20 years earlier or later…" Call it the old "Singh Tao" and the head on that beer has been lost forever.
Here's a list of players who have something in common: Luke Donald, Nick Watney, Adam Scott, Hunter Mahan, Lee Westwood, Rickie Fowler, Jason Day, Dustin Johnson and Bubba Watson.
They're all good and for sure one of them every week in any given tournament is going to be very good.
And what do they have in common? Well, none of them has won a major and I could double the size of this list of "major" wannabees and not dilute its quality and potential… Ishikawa, Manassero, Kyung-Tae.
Haven't even included the names of Bradley, McIlroy, Kaymer, Schwartzel and McDowell who are major champions or veterans like Stricker, Choi, Kuchar, Poulter and Garcia who aren't.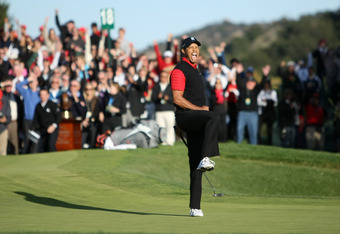 Robert Meggers/Getty Images
And what do all of them have in common? None of them is afraid to go head to head with Tiger Woods. Those days are gone forever.
There's no questioning Woods' skills or desire, it's just that the golf world changed while he was away. These new guys respect him but are not intimidated by him. If he had never come back, life was going to go on without him.
It's no longer "Thanks, Tiger, for all you do." It's "Thanks, Mr. Woods, for all you've done."
And one more thing about whether Tiger is back or not back… It's not the back that we should be talking about, it's the knee! The one that's been operated on four times. Hopefully, it's fine and fixed but realistically, it's damaged goods.
The fact is more wear and tear can only make it worse, not better. At a certain point time is unkind to even the greatest of athletes just as it is to all of us who are merely mortal. 
Tiger turns 36 at the end of the month but the most important number to him is five. That is how many more majors he needs to bag to get to 19 and pass Jack Nicklaus.
Jack won four of his after he was 38. So, time isn't totally working against Woods. On the other hand Babe Ruth was 32 when he hit his 60 home runs.