Atlanta Braves' Collection of Pitching Prospects May Be Best Ever
December 15, 2011
Scott Cunningham/Getty Images
Since the Atlanta Braves' string of 14 straight division championships began in 1991, they've been known for their ability to maintain a consistently elite farm system. This is especially true for pitchers, and while they've developed some of the best rotations in MLB history over the past several decades, Atlanta's current group of pitching prospects may be their strongest of all-time.
The Braves are so stacked with young pitchers, Chipper Jones pronounced last fall that it's "almost embarrassing."
That may not be the best way to put it, but the depth in Atlanta's possession is impressive to say the least.
The Braves' top tier of pitching prospects consists of Julio Teheran, Arodys Vizcaino and Randall Delgado. Barring setbacks, all three will see time in the MLB this season, and all have All-Star potential, if not more.
Teheran, 20, is the cream of the crop. Widely considered the best pitching prospect in all of baseball, the 6'2'' Colombian is poised to become a future ace. Teheran's combination of dominant stuff and command of the strike zone is rarely seen in a kid his age, as his physical and mental maturity are beyond his years. With a blazing fastball that rests in the mid-90s and an excellent changeup, Teheran has the ability to become one of the best pitchers of his generation.
Delgado, a quiet yet confident kid, has the makeup of an elite major leaguer. This was evident by his second appearance with the Braves when he took a no-hitter into the seventh inning, giving fans a glimpse of what's to come. While he may begin the season in Gwinnett, expect Delgado to see a fair amount of action in Atlanta this year and become a big piece in the team's future plans.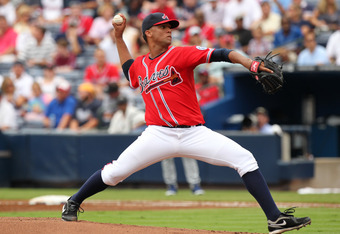 Joe Murphy/Getty Images
Vizcaino may be further away from a full-time spot on the Braves' roster than the previous two, but that doesn't mean he's any less talented. His 100:28 strikeout-to-walk ratio last season exemplifies his dominance on the mound as well as his control. While it has yet to be decided whether or not Vizcaino will ultimately be a reliever or a starter, he should blossom into a top-notch pitcher for Atlanta regardless of his role.
In addition to Teheran, Delgado and Vizcaino, Mike Minor and Brandon Beachy are also quality prospects, though neither is as highly touted as the three mentioned above.
With such a wealth of young talent on the mound, the Braves' future looks very bright; the opportunity to develop one of the strongest rotations in baseball is certainly there. And even though Teheran, Delgado and Vizcaino may not become the next Maddux, Smoltz and Glavine, their presence, along with the likes of Minor and Beachy, gives the Braves a lot of depth to work with, perhaps an unprecedented amount.
This bodes well for a team that will most likely lose many of their most valuable pitchers in the near future. It's possible that Jair Jurrjens, Tommy Hanson or both will traded or lost to free agency, and Tim Hudson isn't getting any younger.
But just like it's been for the last 20 years, the Braves have worthy replacements ready to take over. And even with a rich history, their current group of up-and-comers may be the most promising to date.