How Cam Newton Can Learn from Tim Tebow
December 15, 2011
Before anyone responds to this post negatively, please take the time to read it in its entirety, then make your comments based on the article itself and not just the title.
Cam Newton is a blessing for the Carolina Panthers and brings a rocket arm with a tight end athletic frame to a team that was ridiculous on offense in the 2010 season.
The Carolina Panthers are truly blessed to have a quarterback of Newton's ability to fall in their possession. And the future is bright.
However, in my opinion, Cam Newton has showed very little leadership and focus when the games count the most: the second half. Cam has shown that he can get totally down after a bad drive, or a bad throw, even if his team still holds the lead in the fourth quarter.
Cam needs coaching, and lots of it. His inability to rally the troops late in games has contributed to many fourth quarter collapses, and at some point that needs to change.
In a recent interview with ESPN the Magazine, Newton brought a little controversy to the Carolina Panthers by claiming the organization is a "tarnished house where losing is accepted." It is unclear how the team as a whole feels about Newton's words.
"What happens when you take a lion out of the safari and try to take him to your place of residence and make him a house pet? It ain't going to happen," Newton said. "That's the type of person that I am. I'm that lion. The house that I'm in is somewhat of a tarnished house where losing is accepted. But I'm trying to change that, whether I'm going to have to turn that house into a safari, or I'm just going to have to get out of that house. I'm not saying I'm trying to leave this place. I'm just trying to get everybody on my level."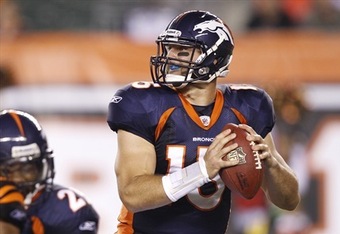 The problem with that statement...lions are often mentioned as great fighters, mentally and physically tough, and rulers of territory.
Those traits have disappeared from Newton when the game is on the line late in games, and as negative plays mount up, Newton appears to lack the mental toughness it takes to play through the bad and rally his troops to finish what was started.
The Denver Broncos might have more of a lion at their disposal. Second-year quarterback Tim Tebow has lifted his entire team mentally, and has carried the Broncos to six consecutive wins the hard way, by rallying his troops when it matter the most—late.
Tebow is third in the NFL with a fourth-quarter NFL QB rating of 111.0. Newton's rating is 72.4 in the fourth quarter.
Tebow is confident and has a motor that never quits, even after three quarters of bad offensive football.
But the trait that Tebow possesses that Newton lacks appears to be the mental capacity to keep your head up when things aren't going his way. Tebow has confidence in his teammates, while Newton's quotes have showed he may lack that confidence in his team.
This past Sunday, the Broncos finished off the Chicago Bears by scoring 10 points in the final four minutes of the game, and winning in overtime...but all wasn't well as the game unfolded.
Early in the game, Bronco wide receiver Demaryius Thomas let a Tebow pass go right through his hands. As Thomas came to the sidelines with his head down, Tebow immediately ran to him, sat with him on the bench and told Thomas, "Don't sweat it, you will catch the game-winner."
Thomas did not catch the game-winner, but he finished the contest by catching seven passes for 78 yards and the touchdown that ultimately got the Broncos back into the game.
Tebow seems to have the mental toughness to not only pick himself up when things aren't going great, but he also seems to have the ability to radiate that confidence throughout the entire team, and the Broncos are finishing teams off with that confidence.
And how does Tebow respond? By putting the team concept first in post-game press conferences.
Cam Newton has unreal talent and athletic ability—this is no secret. But these traits can only carry you so far when it comes to success at this level.
The mental power you have inside the helmet will ultimately decide how far you can actually carry an entire NFL franchise, or a tarnished house where losing is accepted, as Cam calls it.