Liverpool FC: Maxi Rodriguez Is a Valuable Asset to Kenny Dalglish
January 6, 2012
Mike Hewitt/Getty Images
I have had a personal vendetta against more than a few Liverpool players in the past few years. Andrei Voronin was woefully out of his depth at the club and provided little value save the comic sight of a footballer with an adult film star ponytail.
Milan Baros set the 2004 European Championship on fire with his goals for the Czech Republic, but he remained consistently inconsistent in a Liverpool shirt.
Maxi Rodriguez was signed by Rafa Benitez on a free transfer in January 2010 from Fernando Torres' boyhood club, Atlético Madrid. On a team that was crying out for pace and trickery on the flanks, the Argentinian looked like one of those typical Benitez signings.
He was another defensively solid yet relatively immobile outside attacker who didn't provide the spark and creativity fans were hoping for. The number of chances he missed in those droll 0-0 draws sparked more than a few "Maxi you (expletive deleted)" remarks.
To be fair, even if Liverpool had managed to poach Lionel Messi from Barcelona its unlikely anything would have come of that ill-fated 2009-10 season. However, despite sharing passports with Pep Guardiola's scampering goal-goblin, Maxi is a fundamentally different player.
Benitez never managed to find a quality winger, but part of the problem could have been that the likes of Albert Riera or Jermaine Pennant were simply too knackered to product after having so much defensive responsibility.
Maxi was more than capably at tracking back to match his opposing attacker, but never managed to truly bomb down the touchline, beat defenders and create opportunities.
My problem with Maxi stemmed mostly from the fact that he wasn't the player Liverpool needed, similar to how Lucas Leiva simply wasn't Xabi Alonso. Liverpool's season became a whimper, with the Champions League-winning manager replaced with Roy Hodgson over the summer.
Fortunately, most of the Hodgson era has been forgotten in an alcohol-fueled haze, constantly trying to wipe those months from memory. Maxi remained a peripheral figure, a squad player to bring on in the later stages of any given match.
He never had a decent run of games, but at the end of April 2011, something just seemed to click and the Argentinian netted seven times in only three games.
A hat trick against Birmingham City was tailed by a fortunate deflection against Newcastle, leading to a massive surge in acquisitions by fantasy football managers all over the world. They were suitably rewarded when he put on another treble display, this time against Fulham.
His third was a 25-yard screamer, a goal that would only have been attempted by a player at the peak of his form and full of confidence.
I would argue that Maxi's greatest asset is his awareness. Most of his goals are produced through a late arrival into the box from the left flank to finish off an attack. Whether shaping his body to shoot or leaping for a header, his attempts are rarely off-target and typically require something special from a goalkeeper to deny him.
His link-up play is also superb. Against Queens Park Rangers a few weeks ago, there were several interplays with Luis Suarez, one in particular that left the Uruguayan alone against Radek Cerny. Unfortunately, to further align his sensory frequency with that of Liverpool's No. 7 will require a run in the first team, something that Kenny Dalglish seems hesitant to provide.
The Scottish manager is a clear admirer of the Argentinian, claiming recently that "he is an intelligent footballer and he must have been some player five years ago when he was in his prime." While this may present Maxi's age as the reason for not giving him a run of games, there has been no noise from the player about not getting enough first-team opportunities.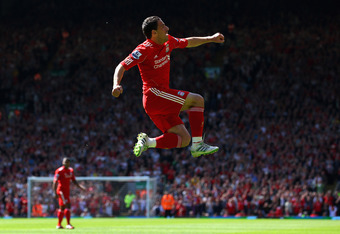 Clive Brunskill/Getty Images
Goals have been in short supply this season for Liverpool, and especially considering Luis Suarez is primed for some serious downtime they need all the attacking they can get. Lucas' injury has seen Jordan Henderson deputize in his more natural central position, leaving a place on the flanks for both Maxi and Stewart Downing.
For me at least, Maxi has evolved from a frustrating symbol of Benitez's at times inept transfer dealings into a dedicated squad player with a wealth of experience who has an appetite for scoring when Liverpool are looking for goals.
The fact that Liverpool fans are calling for his introduction when the side are struggling is a world away from the grimaces of discuss when his name cropped up in another flat Benitez starting XI.
He may not be a world-beating winger, but he's certainly a hell of a lot more useful than Harry Kewell ever was.