Arsenal FC: 10 Great Quotes Spoken by Arsene Wenger
December 15, 2011
Michael Regan/Getty Images
Arsene Wenger, known as Le Professeur, certainly has a strong opinion or two.
And in doing so, it tends to bring out very passionate viewpoints worth quoting.
Having led the Gunners since 1996, Wenger personifies the Arsenal way and the Frenchman has achieved just about everything a coach can during his tenure. League titles, Cup wins and even a perfect season completes a stout resume and solidifies his credentials as one of the Premier League's greatest managers.
Times have not always been the greatest for the 62-year-old but Wenger is an honest, straightforward coach who rarely strays from his beliefs and ideologies. While many have argued against his strong personality, more often than not things pan out exactly the way Wenger envisioned.
A respected figure in football, his tactical intelligence is unique and the loyalty he has for Arsenal and his players is purely genuine. One thing is for certain, and that is when it is all said and done, Wenger will go down as one of the greatest coaches this game has ever seen, and heard from.
So since he is a man lauded for his footballing IQ, let's take a look at 10 great quotes uttered by Arsenal's greatest manager ever:
10. Regarding the Legacy and Class of Arsenal Football...
"If you eat caviar every day it's difficult to return to sausages."
Arsenal, a team boasting a treasured history, are used to success year in and year out. Wenger used this clever analogy to justify the anger of Arsenal fans when the team plays poorly.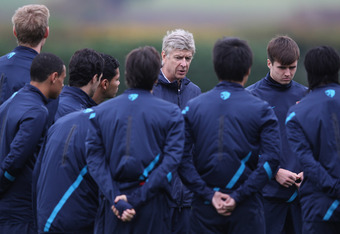 Clive Rose/Getty Images
9. Regarding his Tactics...
"A company works best when everybody does the job he is paid to do."
Wenger aims for a cohesive squad whenever he fields a starting XI, and it doesn't matter if he picks an established veteran or an inexperienced youth, everyone serves a purpose. Results are dependent on how well each individual performs their specific job.
8. On How to Manage Personalities in a Squad...
"A football team is like a beautiful woman. When you do not tell her, she forgets she is beautiful."
Wenger will heap praise on any of his players, so long as they deserve it. More likely than not they usually do (besides that horrid stretch in the beginning of this campaign) but he must go about handling the egos of his players in a fragile manner.
7. Responding to Sepp Blatter's Comments on Football's "Child Slavery"...
"If you have a child who is a good musician, what is your first reaction? It is to put them into a good music school, not in an average one. So why should that not happen in football?"
The Gunners, according to the Frenchman, are what he is describing as a "good music school", where "good musicians", meaning the world's greatest players, want to enroll. This pertains to many of the great clubs, and I cannot agree more with Wenger's logic on this.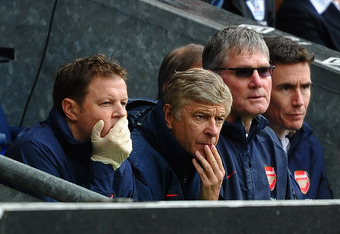 Laurence Griffiths/Getty Images
6. On his Often-Questioned Theories and Standards in Football...
"The biggest things in life have been achieved by people who, at the start, we would have judged crazy. And yet if they had not had these crazy ideas the world would have been more stupid."
You may not agree with his transfer frugality, his tenacity or any of Wenger's other methods, but you most certainly respect them. Nobody has an illustrious career like his by being timid and not having outlandish ideas from time to time.
5. On His Very Obvious Stance Pertaining to Tight Matches...
"As long as no one scored, it was always going to be close."
Seems a bit apparent, doesn't it Professor? If nobody scores, then indeed a match will be close!
4. Response to Sir Alex's Criticism on his 2002 Title-Winning Squad...
"Everyone thinks they have the prettiest wife at home."
Even after winning the league in 2002, Manchester United's own outspoken manager had harsh words for Arsenal and labeled his own team the best in England. While Wenger was quite content with hoisting the EPL trophy, he understands where SAF is coming from; a coach must instill such confidence in his squad if they are ever going to be great.
3. On Arsenal's Historic Winning Ways...
"At some clubs success is accidental. At Arsenal it is compulsory."
Might come off as arrogant, but there is no denying the fact Arsenal have established some winning ways. He has been trophyless the last few seasons, though, but hopes to revitalize that winning formula once again.
2. On the Importance of Work Ethic in Football...
"Nobody has enough talent to live on talent alone. Even when you have talent, a life without work goes nowhere."
A statement that emulates Wenger's training regime, and an idea that should certainly be applied to anything outside of football. Inspiring words from an inspiring manager.
1. His Reaction to Watching his London Rivals...
"I tried to watch the Tottenham match on television in my hotel yesterday, but I fell asleep."
A subtle, cheeky knock at neighboring Spurs. What would you expect from Wenger?