2011 R&L Carriers New Orleans Bowl from the Sports Mac
December 16, 2011
Leon Halip/Getty Images
The first day of the 2011-2012 bowl season is actually quite busy with a triple-header starting in the middle of the afternoon and lasting right through the evening.  The third and final game of the day is also the first of three bowl games in the Louisiana Superdome.  The R&L Carriers New Orleans Bowl has reached its 11th edition, and it offers an intriguing matchup between two teams that ended the season very differently.
Louisiana-Lafayette got off to a blistering hot start, winning six games in a row after an opening week loss to Oklahoma State.  It included a 4-0 start in Sun Belt play, but things started to go south from there.  The Ragin' Cajuns had losses in three of the last five games, and that has left a bad taste at the end of what started as a breakthrough season.
San Diego State also started off well this season, winning three of its first four contests.  The Aztecs' slump came in the middle portion of their campaign when they lost three of four, including two of their first three MWC games.  But unlike Louisiana-Lafayette, the Aztecs are playing well at the end of the year.  They've won four of the last five with the only loss to Boise State.
It's a matchup of two teams that will each be looking to end the year with their ninth win of the season.  Read on for the preview of the 2011 R&L Carriers New Orleans Bowl.
Louisiana-Lafayette Offense vs. San Diego State Defense
The Ragin' Cajuns haven't been great moving the ball this season, finishing just 65th in the nation in total offense.  They have been efficient when they have had the ball this year.  They have managed to score at least 20 points in every game this season and more than 30 points in nine games this season. 
Blaine Gautier leads the offense, finishing in the top 20 in passing efficiency and the top 40 in total offense.  San Diego State has not been great on defense, especially against the run, giving up more than 175 yards per game. 
One area where the Aztecs have been productive is taking the ball away.  They finished just outside the top 10 in turnover margin and will be looking to create opportunities for the San Diego State offense against a Ragin' Cajun team that is just in positive territory in turnover margin itself.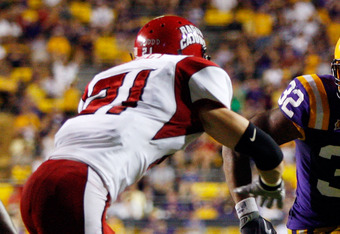 Chris Graythen/Getty Images
Edge: San Diego State defense
San Diego State Offense vs. Louisiana-Lafayette Defense
The Aztec offense starts and ends with one man: Ronnie Hillman.  The nation's third-leading rusher has been dominating all season, averaging 138 yards on the ground this season.  Ryan Lindley is under center for San Diego State and takes advantage when defenses are keying on stopping Hillman, throwing for more than 2,700 yards this year. 
One of the big reasons for Hillman and Lindley's success is an offensive line that has given up less than one sack per game.  Louisiana-Lafayette has seen its defense slip as the season has come to an end.  The Rajin' Cajuns have given up more than 34 points a game during their 2-3 finish and saw their total defense slip to 72nd nationally.  They especially struggle in pass defense as they ended giving up almost 250 yards per game through the air. 
Hillman and Lindley could be in line for big days if Louisiana-Lafayette continues its defensive woes.
Edge: San Diego State offense
Special Teams
Neither team looks to have a huge advantage here.  The one player of note for either squad is San Diego State punter Brian Stahovich, who is in the top 25 nationally, averaging more than 43 yards per kick.  That has helped the Aztecs be one of the top 20 teams in net punting this season.
Edge: Even
Coaching
Rocky Long got the chance to be a head coach once again after being let go by New Mexico.  San Diego State turned to him after Brady Hoke left to take the job at Michigan.  In his previous job at New Mexico, he did lead the Lobos to five bowls in 10 seasons.  He has gotten off to a good start with the Aztecs and his knowledge of the MWC should serve him well. 
Mark Hudspeth has done something in his first year as a D-I coach that hasn't happened in a long time.  Leading Louisiana-Lafayette to its first bowl in 41 years, he has made a good first impression, and that will carry him and the school forward.  Despite that, Long's experience gives San Diego State the edge here.
Edge: San Diego State
This and That
This will be a virtual home game for the Ragin' Cajuns as it is just a 2.5-hour drive to make it to New Orleans, and there should be plenty of fans at the Superdome for their first bowl game in more than four decades. 
But San Diego State may not be fazed by such an environment.  The Aztecs have actually won four of their five games on the road, with their only loss this season coming to Sugar Bowl-bound Michigan.  For a team that had close road wins over Army and Colorado State, feeling like they're playing a true road game may prove to be a advantage rather than a hindrance.
Edge: Even
So, What Will Happen in the 2011 R&L Carriers New Orleans Bowl?
It should be a steady dose of Hillman early and often to loosen up the Ragin' Cajun defense, and Lindley will be able to make a couple of big throws.  Louisiana-Lafayette will get over the 20-point barrier again, but it will also make a couple of turnovers that will give the Aztecs a nice, comfortable win in the Big Easy to end the year.
Line: San Diego State by 5
The Sports Mac Prediction: San Diego State 41, Louisiana-Lafayette 21