Blake Griffin Is Overrated Like Amar'e Stoudemire, but It's Not All Bad
December 16, 2011
Kevin Winter/Getty Images
In all of the discussion of the Chris Paul and Clippers drama, there has been an assumption that Blake Griffin is or will be a superstar. Timofey Mozgov, SportsCenter, Bill Simmons and the Kia Sedona will certainly tell you that.
But I think it's very possible that his ceiling is a bit lower. In 2004-05, a 22-year-old scored 26 points a game. He, too, finished with authority. His name is Amar'e Stoudemire and he never was, or will be a top-five player. 
That year he had a usage rate of 28 percent and scored at a very efficient true shooting percentage of 62 while being assisted on 60 percent of baskets. Griffin this past year had a usage rate of 27 percent and true shooting percentage of 55 while being assisted on 67 percentage of baskets. 
Yes, Amar'e did play with Steve Nash. But Baron Davis sets up a big man pretty well, and Griffin was assisted on more of his baskets. Despite being a bit fat, Davis did average 3.8 assists to the rim for the Clippers last year. Derrick Rose had 2.7 and Chris Paul 3.1. And you can't put that all on Griffin. Davis averaged 3.6 the previous year, with Griffin on the bench. 
There are also deep similarities in the composition of Amar'e and Griffin's baskets. Fifty-two percent of Amar'e's baskets came on jumpers versus 48 percent inside. Griffin's came on 54 percent jumpers and 46 percent inside. Amar'e had an eFG percentage of 46 on jumpers, whereas the dunk contest winner had an eFG percentage of 41. 
The only significant difference is that Griffin was assisted on 75 percent of his jumpers while Stoudemire was on 49 percent. 
Both players have good size and are extremely athletic and relentless (offensively). They thrive on pick-and-rolls, in transition, off cuts and off of offensive boards.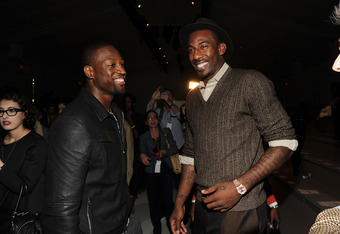 Larry Busacca/Getty Images
One of the things said often about Griffin is "just wait until his jumper improves and he'll be unstoppable." But it isn't that easy. He seems to work hard and that's always great, but many a player just cannot improve that facet of their game. 
Amar'e played his first basketball at age 14. When we talk of players who start playing at that age like a Bismack Biyombo, we usually think they will reach their ceilings later than players who grew up with a ball in their giant palm.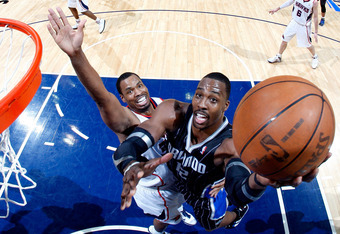 Kevin C. Cox/Getty Images
But Griffin grew up the son of a high school coach and former college player. Maybe his physical gifts discouraged him from developing a jump shot, but maybe it just isn't in him. Amar'e's never improved his eFG percentage on jumpers above 46 percent, which came in what I believe was his fifth year of organized basketball. 
I apologize. This is a lazy comparison and I should look at the improvements in shooting of all athletic power forwards the last 10 years as they age. David Lee, Marc Gasol, Glen Davis, Joakim Noah, Carl Landry and LaMarcus Aldridge have shown little improvement in shooting percentages from three to nine, 10 to 15 and 15 to 23 feet and this holds even when you take into account higher usage and fewer assisted shots. Michael Beasley and Kevin Love have. 
Aldridge made leaps from within nine feet. Perhaps Griffin can as well with an improved post game, but that is also far from certain as Aldridge seems to be the exception.  
At the very least we can conclude that Griffin is a bad shooter now and it is possible he won't get any better. What is connected to this terrible shooting?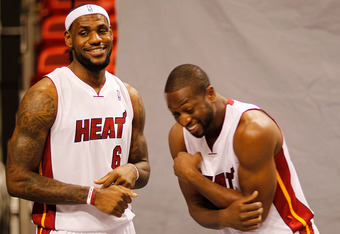 Mike Ehrmann/Getty Images
Griffin last year was terrible in isolation. According to Basketball Prospectus' Sebsatian Pruiti:
On his 212 isolation possessions, Griffin scored just 148 points for a PPP of 0.698, which puts him in the bottom quarter of the NBA. Why? Griffin settles for jumpers way too much. When Griffin shoots a jumper, which happens 34.4 percent of the time he isolates his defender one-on-one, Griffin's PPP drops all the way to 0.542 and he shoots just 27.5 percent on those shots.
The mark of a superstar is being able to single-handedly score when you need to and do it over and over without getting less efficient. We don't have any reason to think Griffin can get there.
Now, Amar'e today is not physically what he was at age 22. But look what happened when he left Steve Nash and was asked to do more on offense. Last year he increased his usage from 27 to 30 percent, while the percentage of baskets he was assisted on decreased from 61 to 53 percent.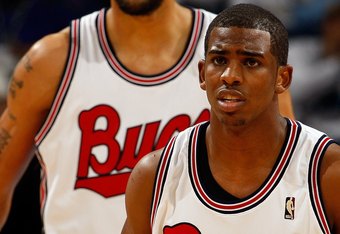 Chris Graythen/Getty Images
His TS percentage last year was 57 percent, down from 62 percent the previous two years and 66 percent the year before that. If you ask him to score like a superstar, he won't score with the efficiency of a superstar.
Bill Simmons has suggested that what makes Amar'e good is that he thinks he's on the Wade-James plane, that he's the best player on the floor. 
Sorry for constantly referencing the Grantland editor in chief. But he is a major creator (or reflector) of modern NBA dialogue.
Simmons has criticized Dwight Howard for, despite having a habit of scoring 24 a game and wonderfully protecting the hoop, not seeming like the "guy." 
Griffin seems, like Amar'e, very confident in his game and has been characterized as an "alpha dog." I recall him once comparing his perimeter skills to those of Kevin Durant. Maybe like Amar'e that "alpha" status makes him better? For better or worse, Amar'e would not let Hedo Turkoglu take threes off the dribble at the end of playoff games. 
But does the status make him a better player or just a better receptacle for fan and writer veneration? 
As a Warriors fan with a statistical bent, "how good is Monta Ellis really?" is a question commonly on my mind. His points may come less efficiently than others. A common refrain is to compare Ellis to Lou Williams, the Philadelphia guard who puts up similar stats when you take out minutes/tempo. 
But Howard never said he wanted to play with Lou Williams. Kobe Bryant, to my knowledge, has never endorsed Williams' All-Star candidacy saying, "He's a fantastic player. Offensively he's complete. He can shoot the long ball, which he's really improved on. He can get to the rim, obviously, and he has mid-range game."
When teammate and opponents consider you a star, perhaps you become one. 
In the NBA there is a limit on how much you can pay players. That makes things like state sales tax, weather, night life and teammates an implicit compensation for players. Chris Paul will be on the Clippers partly because of his confidence in Griffin. 
That might be worth just as much as a good isolation game. Maybe he doesn't even need one. He's playing with Paul who will give him easy baskets and score around 18 and cause Caron Butler to get an inflated deal in three years. Instead of comparing Blake to young Amar'e, I could have looked at Tyson Chandler's simple scoring stats with and without Paul. 
I'll paraphrase: They get better with Chris Paul. And so will Blake Griffin's. But he won't be on the Wade-James level.