Why the New York Knicks Can Be the 3rd-Best Team in the East
December 16, 2011
With the acquisition of (arguably) last season's NBA Finals runner-up MVP, Tyson Chandler, the New York Knicks addressed their huge need for a dominant inside presence.
Now, the season is fast-approaching, and the Knicks look to continue progressing into the upper echelon of the Eastern Conference.
Considering the Chicago Bulls and Miami Heat each made improvements to their respective rosters, cracking the top two for the Knicks will be very difficult this season.
Fortunately for the Big Apple's basketball squad, last season's third-best team in the East—the Boston Celtics—are a year older and susceptible to a decline.
Last season's fourth- and fifth-best teams from the East—the Orlando Magic and Atlanta Hawks, respectively—also face a probable decline. Orlando will have to deal with Dwight Howard trade rumors all season, unless they trade him and make their team worse, while Atlanta recently lost their fourth-leading scorer and best bench player in Jamal Crawford to the Portland Trail Blazers.
Of course, the Knicks have their own issues to be concerned about. At the top of that list is what they're going to do about their point guard situation.
As you probably already know, Chauncey Billups was amnestied by New York in order to make salary cap room for Chandler. In line to replace the former NBA Finals MVP are Mike Bibby, Toney Douglas and Iman Shumpert.
Realistically, Bibby and Douglas will be competing for the starting position next season. Bibby struggled after joining the Heat last season, but the 13-year veteran could be out to score some redemption points from basketball analysts, fans and pundits.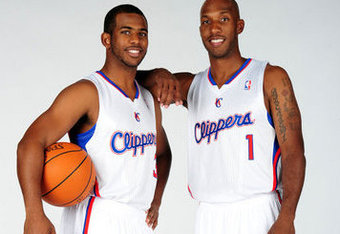 Bibby, who's got career averages of 15.2 points and 5.7 assists per game, will likely have numerous opportunities to hit open shots when opposing defenses hone in on Carmelo Anthony and Amar'e Stoudemire. His major weakness is that he's a liability on the defensive end, although that will be less of an issue with Chandler on the floor.
Douglas is a better on-ball defender than Bibby, but his style of play is much more suited for the shooting guard position. If Douglas, who's a solid three-point shooter, can develop more of a pass-first game then the Knicks would have a decent starting option at the point.
As the season progresses, Shumpert could make a run at cracking the starting lineup as the team's point guard. Of course, it could take some time before he's comfortable playing the position at the professional level, and he has to cut down on his turnovers.
As it currently stands, the Knicks lineup will probably look like this:
Starters
PG: Toney Douglas
SG: Landry Fields
SF: Carmelo Anthony
PF: Amar'e Stoudemire
C: Tyson Chandler 
Bench (Alphabetical Order)
Renaldo Balkman
Mike Bibby
Josh Harrellson (Rookie)
Jared Jeffries
Jerome Jordan (Rookie)
Iman Shumpert (Rookie)
Bill Walker
The starting lineup, which usually gets major minutes on Mike D'Antoni-coached teams, looks solid. The bench, though, looks shaky and dependant on Iman Shumpert and Jerome Jordan to develop quickly.
Although he provided little defense, losing Shawne Williams, who signed with the New Jersey Nets, could be a key missing ingredient for the second unit. Of course, that loss could be alleviated if Bill Walker can step in and provide the Knicks with solid spot-up three-point shooting.
While there are numerous questions regarding the bench, it's hard to think New York can't move up into the top three of the East after adding Chandler.
Last season, Chandler never backed down from any of his teammates—including NBA Finals MVP Dirk Nowitzki—when he felt they needed to step it up on the defensive end. Expect more of the same from the seven-footer, even if he has to relay that message to the Knicks' "Big Two."
With Chandler in the lineup, the Knicks will have three players that are excellent rebounders at their respective positions. Landry Fields led all guards in total rebounds last season, while Carmelo Anthony has always been one of the best rebounding small forwards in the league.
Last season, the Knicks had the offense to compete with anybody. Of course, their defense was so bad at times that a D-League team could have dropped 100 on them. 
(Okay, maybe that's a bit of an exaggeration.)
Now, with Chandler manning the paint, the Knicks are a brand new team, ready to become a serious threat to make their first NBA Finals since 1999.