Kobe Bryant's Personal Battles Are Fueling His MVP-Level Play This Season
January 14, 2012

Jeff Gross/Getty Images
It's happening again.
One of the best NBA players of all time has entered full "screw you" mode, and unleashed his full talents on the basketball world, and damned be the individuals or teams who try to contain him.
We all saw how a refreshed and extra-competitive Michael Jordan returned to the NBA. 
He silenced his doubters. 
He did it with ferocious play on the court and led his teams to NBA titles. 
Kobe Bryant has gone to "screw you" mode before, in his post-Shaq days with the Lakers, but it took time for him to find his balance between his competitiveness level and facilitating his teammates.
It's a delicate balance, but true dominance through inspired play separates the goods from the greats, and the greats from the greatest of all time. 
Here's what we know:
Bryant's wife Vanessa has left him, and he was seen at a Jay-Z concert looking "miserable," according to TMZ.
Their marriage was without a prenuptial agreement. 
Two bad things, for sure. The latter, though, far, far worse for Bryant going forward.
His estimated worth at the time of his divorce? Approximately $200 million. That's not including future earnings, but unless Bryant has a well hidden pile of cash somewhere far, far away, his soon-to-be ex wife is entitled to half.
That $4 million ring he bought his wife after his charges from the incident in Colorado? Hers to keep. A gift is a gift, after all...
One has to wonder, though: as smart as a businessman as Bryant is, why didn't he get a prenup? Kanye West even warns his fellow bling-garnered men: "Cause when she leave yo a** she gon' leave with half  // holla 'we want prenup' 'we want prenup' yeah!'".
For some men, fulfilling lives are led as a family man who provides. For some, it's being the best at what you do every day. For others, the paths intersect. Bryant's life, and comfort of living for himself and his wife and kids has been provided by his fantastic play on the basketball court.
Remind me...was it Vanessa who scored 81 points in a little over three quarters of play against the Toronto Raptors? Oh, right.
Was it Vanessa who ran the rejuvenated showtime Lakers with Shaquille O'Neal?
No, but I'm hoping Bryant learned something from that messy divorce, too.
His inspired play early in the 2011-12 NBA season has proven how Bryant will handle his off-the-court challenges as it concerns his on-the-court performance.
If nothing else, it cements his legacy as one of the best athletes of the generation, and puts him in an echelon of athlete able of finding sanctuary in his game, like few before him.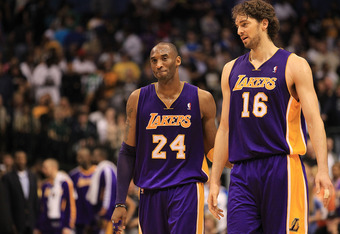 Ronald Martinez/Getty Images
We all remember NFL great Brett Favre's 2003 Monday Night Football slaughter of the Oakland Raiders after his father passed away. Favre lit up the Raiders defense all night, and his receivers even alluded to as much as help from above aiding some of his dart-like passes that night. 
Favre, were he not as mentally strong an athlete, may have crumbled in that game, given the circumstances. Instead, he flourished.
Personal anecdotes aside, I know I wouldn't have been able to play at an elite level after losing one of my parents.
In spite of the circumstances, Favre went to a place where athletes find occasional solace: his game. 
For athletes, their game is at times the only thing in their control, so it'd be no surprise if Bryant stays hot throughout the season, health willing. 
Bryant's play this season has seen him post 40-plus points for the last three games, and he's averaging 30.3 PPG, besting his career average by a full five points per contest.
Bryant has as many miles on him as any player in the NBA today, which would suggest that his play won't keep at this stellar level. However, I'll disagree with the consensus.
Again, health willing, his knees seem refreshed after a blood procedure he had done in Germany during the lockout. With fresher legs and a Lakers squad post-Lamar Odom, Bryant may need (and will likely relish in doing so) to step up his own scoring and production.
With the combination of his divorce adding fuel to his already competitive nature, refreshed legs, and a retooled and re-centered Lakers team he needs to carry, Bryant's season may go down in the annals of time as one of the greatest "achievement in the face of adversity" years.
That is, if he holds up. 
At 33, Bryant's best years are behind him, or so conventional age thought would suggest.
But his play this season speaks for itself; in this short season, his 16th in the NBA, he's scored the most points in a game by a player in their 16th or later season, during a 36-and-6 game tear, his Lakers won five of six games. Oh, and all of the above has been done with a torn wrist ligament.
For other NBA teams, the thought of a fully healthy Bryant being even better than now must be downright scary.
Per usual though, the NBA's writers and sports media outlets in general were quick to dismiss Bryant this season after he shot 12-46 in a back-to-back against the Nuggets to start January. Bryant said so much himself:
"If I play bad or have one bad game like I did in Denver, everybody cries for a change or cries for the fact that I'm too old," Bryant said. "It's just a bad game with a bad wrist." 
As if Bryant needed more fuel for his fire, ESPN recently released its list of the top 500 players in the NBA. Bryant checked in at number seven on the list.
In response, after dropping 48 points Tuesday on the Phoenix Suns, Bryant said "Not bad for the seventh-best player in the league."
Clearly, he's making a list and checking it twice. Not a belated Christmas one, instead rather a list of his detractors, critics, and what he needs to do to prove them wrong. He's doing a fine job so far. 
The Lakers will go as far as Bryant and his play take them. Andrew Bynum is imposing his will in the post and opening things up nicely for Bryant, who is cashing in his opportunities with relative ease, hitting 45 percent of his shots so far this season, while leading the league in scoring.
There's no doubting the Lakers of 2012 are no longer the same Lakers who won NBA titles just a few seasons ago. Don't tell Bryant that, though. It'll probably just serve to motivate him more.
As if he needed more motivation, there's also the rise of the Clippers from the abyss in his own building.
Rising star Blake Griffin and newly added Chris Paul have partnered up, becoming one of the best one-two punches in the NBA. Fans around LA are taking notice, as well, with the moniker "Lob City" sweeping Clipper Nation this season.
Why would this add to Bryant's determination to prove himself one of the best in the game today and cement his legacy as one of the best ever?
It's like if your mother and father divorce and he has to leave the house. Then a younger, fresher, flashier dad moves into his house. He starts becoming the talk of family get-togethers.
Wouldn't the now-single dad feel a little spurned by how he's not even No. 1 in his own house, motivating him, even for just a little while?
For those who couldn't follow, Bryant is the divorced dad, and the Clippers resurgence has acted as the catalyst for him to lift the fading Lakers upon his shoulders to keep them above water. By my math, Bryant has at least five reasons for a career year this season.
The rise of the Clippers
His refreshed health
People continue to write him off
His divorce
His legacy
Above all else, Bryant is one of the best players to ever step on a basketball court.
For something like his divorce or the rise of the Clippers in his own house to quicken his descent from the NBA's elite, it'd be completely out of character. For them to bolster his play level, it'd be definitive Kobe Bryant.