SEC Football: Razorbacks Add another Verbal Commitment for 2012 Class
December 17, 2011
Chris Graythen/Getty Images
Lose two recruits but gain one big one in the process. Arkansas fans and the Razorback staff are getting a first-hand look at how finicky college football recruiting can be in the modern era.
The first week of December, Arkansas added three-star (Rivals.com) junior college defensive tackle Mike Pennel to the verbally committed list, only to have him de-commit a couple of days later.
Arkansas head coach Bobby Petrino wasted little time adding another junior college recruit when four-star (Rivals.com) wide receiver Courtney Gardner verbally pledged to join the Hogs on Thursday.
Gardner plays for Sierra Community College in California and will be a summer enrollee for the Hogs. He is listed at 6'3", 215 pounds and runs a 4.4 40-yard dash.
In 2010 Gardner caught 22 passes for 403 yards with five touchdowns. This season he had 61 catches for 1,099 yards and 13 touchdowns.
After committing to the Hogs during the summer, Chicago quarterback Robert Gregory has opened his recruiting back up.
No word if Gregory's decision is based on former offensive coordinator Garrick McGee leaving the program to be the head coach at University of Alabama-Birmingham or if Arkansas has a line on another top quarterback prospect chasing Gregory away.
The Razorbacks are still in the running for Springfield, Missouri wide receiver Dorial Green-Beckham. Green-Beckham or "DBG" is listed as the top recruit in the nation regardless of position.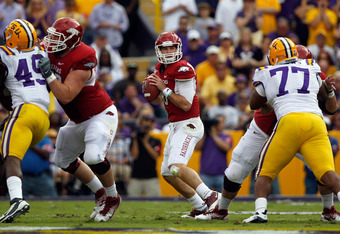 Chris Graythen/Getty Images
DBG caught 119 passes for 2,233 yards with 24 touchdowns as a senior.
Arkansas' football team is currently ranked No. 25 in the nation in recruiting by Rivals.com, No. 17 by Scout.com, and moved up three spots to No. 26 by ESPN.com.
Here's a list of the 20 Razorbacks recruits:
CB Ray Buchanan Jr., Suwanee, GA
WR Jalen Cobb, Warren, AR
CB Jared Collins, Tulsa, OK
WR D'Arthur Cowan, Olive Branch, MS
WR Courtney Gardner, Roseville, CA
CB John Gibson, Missouri City, TX
WR Keon Hatcher, Owasso, OK
WR Eric Hawkins, Longview, TX
DE Brandon Lewis, Memphis, TN
DB Defonta Lowe, Bearden, AR
ATH Nathan Holems, Port Arthur, TX
RB Donovan Roberts, Norman, OK
TE Jeremy Sprinkle, White Hall, AR
LB Jakarri Thomas, Tallahassee, FL
LB A.J. Turner, Lepanto, AR
OG Jeremy Ward, Pottsville, AR
DE JaMichael Winston, Prichard, AL
RB Jonathan Williams, Allen, TX
DE Deatrich Wise Jr., Carrolton, TX
OG Cordale Boyd, Memphis, TN
Position-by-position breakdown of Arkansas 2012 verbal commitments:
Offensive line: two
Tight ends: one
Defensive line: three
Linebackers: two
Secondary: four
Running backs: two
Wide receivers: five
Quarterbacks: none
Athletes: one
Kickers: none
All verbal commitments are non-binding until a letter of intent is signed.