St. Louis Rams Need to Hit Reset Button: Hello, Stan Kroenke?
December 18, 2011
Jay Drowns/Getty Images
The Rams are the worst franchise in the NFL currently and have been for the past six years.  They are 2-11 as of now, but I believe the Colts and the Vikings could beat the Rams by two touchdowns.
The talent level even without the injuries is awful, I sometimes think LSU could beat the Rams.  The past draft, aside from Robert Quinn, has produced zero in terms of quality players.  I am ready to give up on Austin Pettis and Lance Kendrick, and probably, Greg Salas too. 
It would not bother me if all three were cut.  Billy Devaney is so inept as a GM that he has left the Rams worse than when he took over.  For those of you who don't believe me or have a differing opinion, take your emotions out the situation and analyze things from a pure talent evaluator's eyes.  The Rams are that bad!
What's making things worse is the silence of Stan Kroenke, giving Rams fans no hope for the future, no reason to attend anymore games, and frankly, if Devaney is not shown the door, he has lost this Rams fan for good. 
So for the sake of this article, I have made myself Stan, and these are the changes I am proposing.  For those die-hard Rams fans, my opinions and what coarse of action I would take may rub some of you the wrong way, but....I'm sorry, I am tired of having a losing football team in this city.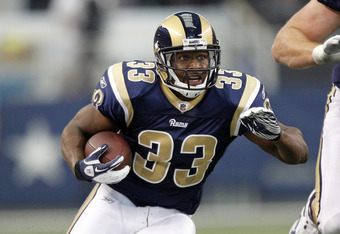 Layne Murdoch/Getty Images
CHANGE No. 1: CUT ABOUT HALF THE TEAM
Brady Poppinga, Ben Leber, Eugene Sims, Gary Gibson, Craig Dahl, Rod Hood, Chris Smith, James Butler, Dominique Curry, Josh Gordy, Jason Brown, Jason Smith, Jacob Bell, Adam Goldberg, Tony Wragge, Brandon Gibson, Austin Pettis, Billy Bajema, Britt Miller, Justin Bannan, Tom Brandstater, Cadillac Williams, Quinn Porter, Thomas Welch, Brian Mattison, Bryan Kehl, Dorell Scott, Nate Ness and Stephen Spach.
You all just got waived.  And I don't want to hear, "well so and so is good."  No, no they are not good and most of these guys will never play in the NFL again.  Go sell insurance.  I want to rid the Rams of the slow plodding players and replace them all with explosive athletes.  I want to get rid of the players who were the root of the 2-14 Rams.  Losing is a disease, and I want most of the reminders of that team gone.
It worked for Pete Carroll and Seattle.
CHANGE No. 2: FIRE BILLY DEVANEY AND EVERY SCOUT IN THE ORGANIZATION
I am not sure who's in charge of the war room of draft day, but who's in charge of selecting these guys the Rams pick?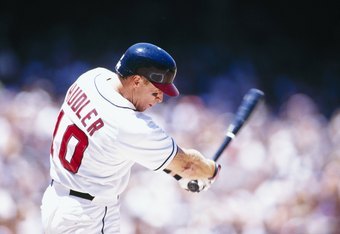 J.D. Cuban/Getty Images
I could blame Devaney alone, and I think he's the worst GM is sports, but our scouts were directing the Linehan regime to select awful players before that.  Fire them all, start over!  You want to know why the Rams have won about 15 games in six years, look at all the drafts going back to 2005.  This is the main reason for the Rams' ineptitude. 
If Kroenke continues with the current staff for player procurement, he will lose this city, if he has not already.
Hire a GM who wants athletes, not locker room guys, not rah-rah guys and quality citizens, but football players who can play!  Enough of the scrappy, try-hard white guys, I know St. Louis loves these type of players—the Joe McEwing, the Rex Hudlers. Let the Cardinals meet the city's quota for the scrappy Rudy's; this is football. 
CHANGE No. 3: FIRE SPAGS AND EVERY COACH
Sorry Spags. You are a nice guy and all, but you have to go...
Yes, injuries and Devaney did not do you any favors, but your fingerprints are all over the Rams' 53-man roster to begin the season.  And you probably already David Carr'd  Sam Bradford, for that alone you and the staff should get the heave-ho, which brings me to my next change.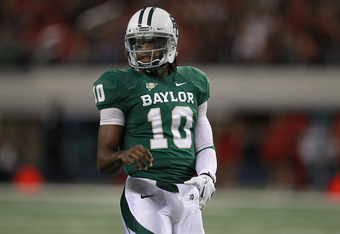 Ronald Martinez/Getty Images
CHANGE No. 4 TRADE SAM TO CLEVELAND FOR THEIR ENTIRE 2012 DRAFT
This is probably a bit far-fetched, in terms of how many picks I want in return, and I probably could have got that at the end of 2010, but Sam's play and health and contract will make it hard for the Rams to get everything I want in return, but the Rams need more picks, and the Browns have two first-round picks this year.  In my scenario, Cleveland accepts the trade offer, and the Rams are in business for April 2012.
CHANGE No. 5: HIRE CHIP KELLY AS HEAD COACH
Now that the Rams are going in a new direction, let's totally turn this franchise on its ear.  Hire Kelly to bring his style of offense to St. Louis.  And with the second pick of the 2012 NFL draft, the St. Louis Rams select...
CHANGE No. 6: ROBERT GRIFFIN III, QB, BAYLOR
Kelly and Griffin will bring excitement to this city and put butts in the seats.  Imagine RG3 directing Oregon's offense right now; they're in the title game against LSU—and probably favored.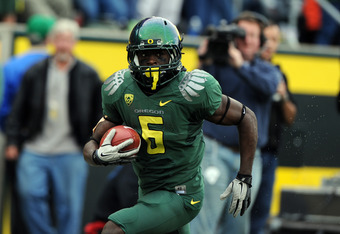 Steve Dykes/Getty Images
CHANGE No. 7: TRADE SJ39 TO THE JETS
Yes, I am advocating trading Steven Jackson.In my scenario, it's a three-team deal involving the Jets and the Ravens. We get Tyrod Taylor and a second and a fifth-round pick.  Taylor starts till RG3 is ready to go, and the Rams get more picks.  Jackson gets paroled so to speak and gets the chance to play for a winner.
CHANGE No. 8: DRAFT PLAYMAKERS (HUGE CHANGE)
In addition to RG3, draft Justin Blackmon and Trent Richardson with the picks from Cleveland.
Here are some more names to select for 2012:  Janoris Jenkins, Kelechi Osemele, Kendall Wright, Ray Ray Armstrong, Kevin Zeitler, Lavonte David, LaMichael James, Cliff Harris, Travis Benjmain, David Paulson, Janzen Jackson, Josh Oglesby and Fozzy Whittaker.
2013:  Sheldon Richardson, Tyrann Mathieu, Denard Robinson, Kenjon Barner and DJ Monroe.
2014:  DeAnthony Thomas and Sammy Watkins
CHANGE No. 9: SUPPLEMENT THE YOUNG GUYS WITH QUALITY FREE AGENTS
Hopefully, the Rams will hire GM that can identify and sign talented free agents to supplement the influx of young players they are bringing in through the draft.  No more slow-footed Brady Poppingas or Ben Lebers and no more slow possession receivers who can't catch a cold, i.e. Mike Sims-Walker.
CHANGE No. 10: WIN SOME DAMN GAMES!