Ty Cobb Celebrates 125th; Once Got Management of Detroit Tigers as Birthday Gift
December 18, 2011
There are people in several states celebrating the birth of Ty Cobb, baseball's most intelligent performer and the first player elected into the National Baseball Hall of Fame and Museum in Cooperstown, but the best way I know how to celebrate his through the revitalization of old stories of the life he once lived.
The most celebrated birthday story that I can think of took place in December, 1920, when the owner of the Detroit Tigers, Frank Navin, talked Ty into taking charge of his then-seventh place Tiger aggregation. It wasn't that Cobb didn't want to be a manager, because he did; it was just the timing of the event, and he would have been more suited to take on such responsibility at the close of his career and not while he still had base hits left in his bat.
Nevertheless, in November 1920, while he was duck hunting, his former manager was released by the front office in Detroit. Despite Hugh Jennings' success with the Tigers, his health was declining fast. His 14 years of fighting spirit was all but gone. What kept him going was the succor he found in slugging down his favorite drinks.
In reality, Jennings should have been proud of himself. Out of 14 years with the club, Jennings landed the Tigers in the first division 10 times, including three pennants and two second-place finishes.
But as for the aging manager, it was time to pass on the reins. The club finished in seventh place in 1920, 37 games back of first place.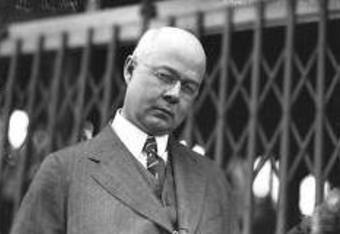 The sour curtain call had generated much excitement up north, as Detroiters waited several weeks to name Jennings' successor.
Navin contacted Cobb and asked if he was interested in the job. Cobb replied, "No." He also turned down pleads from others who tried to encourage him to take the job. Jennings himself worked on Cobb.
"You are the only one who knows the situations well enough," pleaded Jennings. 
Again Navin called Cobb, "The job belongs to you, if you will accept it." Cobb again declined it.
Sportswriter Eddie Batchelor, told Cobb that if he didn't take the job that he might find himself playing for another leading candidate named Clarence "Pants" Rowland, a former White Sox manager who had no previous Major League experience before Charles Comisky named him Chicago's new skipper.
Rowland had been cooking in a small restaurant the American League President, Ban Johnson, and Comisky had visited during a hunting trip. It was a decision that brought waves of protest. It was one that Ty also found very disturbing, since he considered "Fancy Pants" to be an incompetent fraud.
Rowland was the last person that he would have worked for. It forced Cobb into making a decision that he would always regret. Not that managing the Tigers was a bad thing, but moreso, he would have wished that this opportunity would have came up later in his career.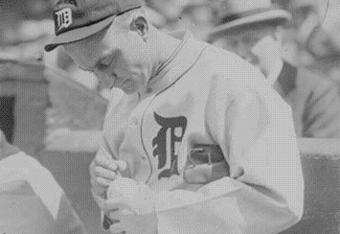 In his 1961 autobiography, Cobb explained, "Rowland or no Rowland, I wish now I would have never stuck my neck into the noose that the Tigers' management represented."
Cobb simply was not ready to take on that role at that time.
John Kelsey and Walter Briggs bought quarter shares of the Tigers that spring and had known Ty since his rookie days from the Ponchatrain Hotel and urged him to take the job. Every major figure affiliated with the American League and Detroit applied some sort of pressure on Cobb to replace Jennings.
One of Navin's more effective strategies was to have Detroit's mayor, with whom Ty was closely associated, offer encouragement to the famous Georgian.
The public and press wore Cobb down so much that he agreed to meet with Navin on December 18, 1920, his 34th birthday. The two met at the Hotel Vanderbilt in Detroit to discuss the terms of the contract. Cobb received a handsome raise, $35,000 a year, once again making him the highest-paid player in the game. He had accepted to become a player-manager of the Detroit Tigers against his own desire to remain focused on his playing career. 
Ty Cobb was a great instructor of hitting, position playing, fielding, running the bases and became a personal adviser to so many Tiger players. One afternoon, Ty entered the locker room before practice and passed around a $10,000 bill. He told his players that he wanted them to put a little of their paychecks back each week for a rainy day.    
Ty led his Tygers, as they were then dubbed, to a third-place finish by the end of 1922. During that year, he paved the way with a .401 batting average, second only to George Sisler's .420, making him the only modern player to hit over .400 three years. Not bad for the aging 36-year-old warhorse.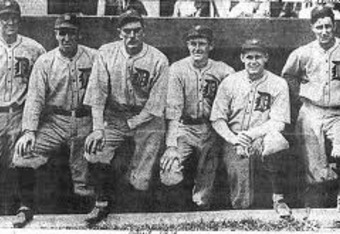 Ty and company improved to second place in 1923, winning 83 games on sheer determination. Lacking the players that Cobb urged the wealthy owner to purchase, the Tigers made another bid for the pennant in 1924, but found themselves in a close third-place finish by season's end. It was by far, one of Detroit's best teams since the pennant winning seasons of 1907, 1908 and 1909.
The Tigers' gate attendance in 1924 had reached the one million mark for the first time in franchise history and did not repeat that again until a decade later when the team reached the World Series. The team won 86 games in that lustrous season when Cobb's greatest feat was knocking Ruth and the Yankees out of the the pennant race.
Still, the tight-fisted Navin refused to buy the pitchers Cobb suggested to get the Tigers over the top.
As far as batting was concerned, Cobb developed some good average hitters like Bob Fothergill, Heinie Manush and Harry Heilman, and made stars out of them. The latter two produced four American League batting championships during Cobb's tenure as manager. That is quite an accomplishment considering the legendary players like Babe Ruth, Tris Speaker, George Sisler, Lou Gehrig, Eddie Collins, Charlie Jamieson and many other great stars of the decade. Even Charlie Gehringer took what the Georgie Peach had taught him and later became a batting champion himself.
Ty Cobb's managerial performance has been criticized by some. His 479 wins beside his 444 losses for a .519 winning percentage really left little room for condemnation. Critics charge, however, that he "lacked the patience for players who lacked his ability to play the game."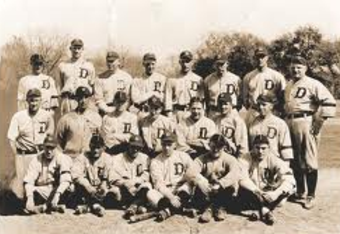 The teams that he put together between 1921-26 proved that the accusations were invalid. Just as his first season had closed, for example,  the Tigers had compiled a team batting average of .316, a mark that is still and American League record today.
In addition, Babe Ruth, Cobb's most famous rival, was edged out three different times for the batting honors by Ty and his hard-hitting Tigers. The Cobb-school graduates denied Ruth of the triple crown on all three occasions.
As a manager, all Cobb expected from his players was to play their very best at all times.
After all, that was what made him the greatest player of all time. He just gave his best, and that is why we are still celebrating his life after more than a century since his birth.
Happy 125th birthday today, Ty Cobb; you deserve a toast!