Fantasy Football: Why It Is Overrated
December 18, 2011
Jared C. Tilton/Getty Images
Discovering that fantasy football is 90 percent luck and 10 percent skill feels like discovering that Santa isn't real.
Heartbreaking. Devastating. Not too surprising when you really think about it.
And after this season, I am done with fantasy football.
It is not fun, at least for me.
It is not a test of wits or a test of who can put together the best team. 
It is all a mirage. A fluke. A sham. Maybe even a joke.
After an unbelievable draft that left me with Matt Stafford, Tony Romo, Michael Vick, LeSean McCoy, Arian Foster, Beanie Wells, LaGarrette Blount, Vincent Jackson, Larry Fitzgerald, AJ Green, Brandon Marshall, Brandon Lloyd, Percy Harvin, Antonio Gates, the Texans Defense and Neil Rackers, I went into the season with the felling that I would win the league or at the very least do significant damage.
Instead, I discovered that fantasy football has nothing to do with playing percentages, following certain experts, having an intuition for match-ups or mismatches, playing sleepers or any of that. I learned that fantasy football is complete luck, and that on any given week, anything and everything can happen.
This was understood long before I started fantasy football, but I thought that outside influences and trends would have some bearing on my record so long as I could put together a team with depth.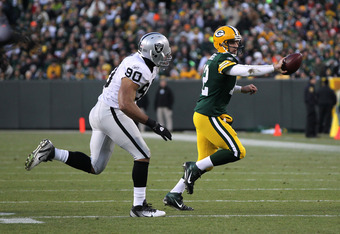 Jonathan Daniel/Getty Images
I went 7-6 on the year and was eliminated in the fantasy football playoffs after one week.
All my losses came by less than five points due to freak performances from players like Scott Chandler. Who? Don't act like you started him out of any reason other than desperation. 
All of this despite being projected to win my weekly matchup in 12 of 13 weeks.
Call it a colossal misfortune. There is no way that you can convince me that with the team I put together, I did something wrong each and every week.
And that is why I will never play fantasy football again. I will never draft as good a team, and I know that if I somehow win, it will be because of complete fortune, not because of some innate football knowledge I hold.
It also has completely altered the way I watch games. I now have to nitpick every single miscue one of my players makes.
It's all a complete joke. And if you or anyone else you know has won several championships and feel that you are some rare exception, you are wrong. You are simply the lucky one percent.
You made a lucky waiver wire pick up to ride out your season, or you took a chance on a player that nobody could prove could do well. You may play the percentages well, but at the end of the day, it is completely out of your hands.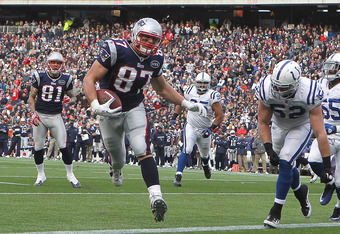 Jim Rogash/Getty Images
So my suggestion is to stop acting like it is, and stop playing. You're missing out on watching football the way it needs to be watched. With a free eye.
Pay more attention to the big guys up front. Running backs, quarterbacks and wide receivers are not what makes the NFL world go round. They are a small piece of the puzzle. 
If you truly enjoy your experience enough, who am I to tell you that you shouldn't play it? I am glad you are relishing your experience, and I hope you continue to believe that you knew that Michael Jenkins would have his first 100 yard game in eight years in Week 7.
But seriously, I hope you continue to enjoy it, especially with any friends and family you may compete with. I hope you enjoy your temporary bragging rights you may earn.
I just want you to understand that, unless you are some football savant, or you have discovered a magical loss-proof algorithm that has you starting Jason Avant against the No. 3 defense in the NFL and coming away with 30 points, that you got lucky, and that's all there is to it.
I just don't see why people like me, who have an undeniably skeptical eye, would play a game that makes me significantly more skeptical and less happy about the sport I love. Especially after discovering that even the most knowledgeable experts really cannot take you over the metaphorical hump to fantasy football glory.
And so I apologize to my bitter self for taking that long to figure it out.