Playboy Model Jessica Leigh: 'MMA Is My Love Affair'
December 19, 2011
Despite what a certain Disney film will have you believe, the lion is not the true king of the animal kingdom.
Certainly, a lion possesses extraordinary power, but it wastes over a half of its day sleeping while the female lion is out bringing home the bacon…or the zebra intestines. This is why, for as much strength as a lion has, it will always pale in comparison to the true king of the jungle—the bunny.
Who doesn't love bunnies? Bunnies make the world go round. They are cute, cuddly and fun to pet, but at the drop of a carrot they will waste no time in biting your head right off your shoulders and hopping their cotton tail down the yellow brick road with Dorothy and Frankenstein.
Horrible metaphor aside, Jessica Leigh is one of the sexiest models to ever be featured in a shoot with Playboy. Known in the Twitter world as "Fight Club Bunny", Leigh is an actress, dancer and model that is absolutely gaga over the sport of MMA.
Yours truly spoke with this bad ass chick for over an hour about a variety of different topics. Here is her story:
On getting involved with acting, dance and modeling
"As early as I could remember I've always liked being the center of attention and performing. Dancing was my first love, I grew up doing that and then I got into acting, modeling and then cheerleading," Leigh told unbelievably attractive columnist Mitch Ciccarelli.
"I've always been in love with acting. I was a theater nerd/cheerleader in high school which makes no sense at all but I actually went to acting school in New York City. I had a photographer approach me that saw my pictures online and wanted to do a shoot. Everything just kind of happened from there."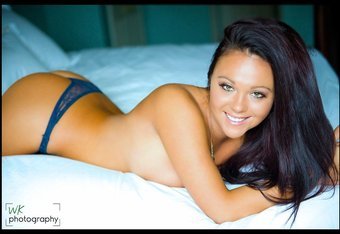 On MMA Hosting Ambitions
"There's too much drama in the entertainment industry. Right now I am much more interested in hosting an MMA show than I am in acting. I love acting and I'd love to do a role but I love sports and I love MMA," Leigh said.
"To me, it would be an absolute dream job to go to all of these different MMA events and interview the fighters and host some sort of show where I am reporting on the fights. I love talking about MMA and I'm not afraid to give my opinion."
On Getting Involved with Playboy
"One of my friends was in Playboy in a Girl's Next Door feature and she suggested that I send in my pictures. I thought about it and I decided to go for it but of course I had her take the pictures because you can't just trust anyone with these kinds of photos," Leigh said.
"We took the pictures and sent them in and they had me do a shoot in New York and they loved me. We did another shoot in Chicago and then we filmed the Real Girls of Jersey Shore in Jersey. I also was given the opportunity to write an MMA blog for (Playboy) back at UFC 111 for Dana White's party.
"I tried getting Playboy to start up a whole blog about the UFC but I guess politically and financially it didn't work out. I love Playboy and everyone there and it really is like a family."
On falling in love with MMA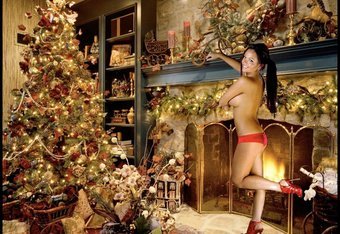 "This is probably going to sound pretty typical but when I was younger, about 18 or 19 years old, I was working at Hooters and they play all of the fights," Leigh said.
"I started watching it instantly and then with my modeling work I eventually started working as a ring girl for a few local promotions around New Jersey, New York and Philadelphia. I started getting really into it and MMA became my love affair. It's my favorite sport, next to football.
"I remember when I was little, and this will sound weird because I am a girl, I used to like professional wrestling because back then MMA wasn't that big. I had a wrestling doll of Hulk Hogan but then as I grew up a little bit I started to realize that [pro wrestling] isn't real.  I think it was destined that I fall in love with MMA.
"I just love that there are so many forms and aspects that go into it. With all of the techniques that are utilized both standing up and on the ground, it's just non-stop action. It's so real and highly unpredictable."
On being a ring girl
"I've been a ring girl for Ring of Combat and XFE and I've also worked some boxing shows but it's just not as fun to watch. As far as landing a gig with larger promotions such as Bellator, Strikeforce and the UFC, I definitely wouldn't turn down the chance but I'm friends with a couple of those ring girls," Leigh said.
"All of those girls are gorgeous and I wouldn't want to step on any toes or take anyone's job. I see myself now as someone that would prefer to be talking about the sport and interviewing fighters and being more involved in that aspect."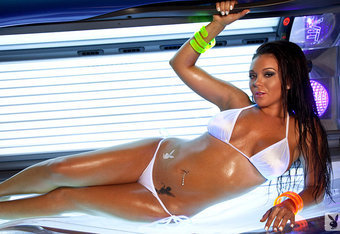 On sleaze balls in MMA
"It comes with the territory. Sometimes professional athletes think that they can just get any girl they want and talk to them however they want to. It doesn't really work with me because I don't care who you are or what you do because everyone needs to have a certain level of respect," Leigh said.
"I know a lot of different fighters, most are very respectful but some think that just because they are a huge athlete and are in all of these commercials and have these sponsors that they can just get whatever they want.
"It probably does work for them a good amount of times but I really think girls today need to have more self respect and not buy into that."
On Frankie Edgar vs. Benson Henderson
"Frankie Edgar is an amazing fighter that has incredible heart. He never gives up and his stamina is amazing. He actually trains about five minutes away from my house at Ricardo Almeida's gym so I'm always going to root for the hometown fighter. He definitely has my vote for fighter of the year for sure," Leigh said.
"I think [Benson Henderson] is going to be a tough fight and possibly tougher than some of Frankie's most recent ones. I definitely feel that Frankie has a good chance of winning against Henderson though.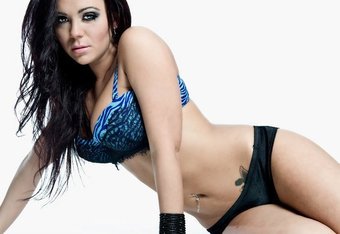 "The way that he moves is just crazy and I honestly would love to see Frankie fight Clay Guida at some point. That would be a UFC fight on crack with how fast they would be moving around."
On surprising guys with her MMA knowledge
"When I'm at a bar and I'm talking about MMA, it's like I don't shut up. All of the guys are like 'this little girl is talking about the UFC and she knows more than I do', they are shocked," Leigh said.
"I can be very girly and obviously I dress very girly but then I can go to the bar with the guys and drink beers and watch sports. I'm just all around randomness and the best of every world. I'm from Jersey so I'll tell it how it is without thinking first so it is what it is."
 Mitch Ciccarelli is, by far, the sexiest columnist in MMA today. This man snaps his fingers and every bra within 10 miles pops off. Follow this American God on Twitter @ mitchciccarelli