WWE TLC 2011 Results: Why Zack Ryder's Win Is All Thanks to His Own Efforts
December 19, 2011
WWE kicked off what I believe was one of the best, if not the best pay-per-view of the year, with the biggest match of one young man's career.
Of course, I'm talking about none other than Zack Ryder, who finally punched his ticket and became the new WWE United States Champion.
For Ryder it has been a long journey, filled with hard work and determination.  In less than a year, Ryder has gone from being on the verge of a "Future Endeavored" message from John Laurinaitis to one of the company's biggest stars.  The kicker here?  It's all because of his own efforts.
Back in February of this year, Zack Ryder was on the verge of being released from his WWE contract, and he knew it.  He took matters in his own hands and decided to do something that he said would "either get me notice, or fired."  So Ryder started up a YouTube video series known as the "Z! True Long Island Story."
The series was an instant hit, and Ryder began to obtain quite a fan following, despite being rarely used on television, and only appearing on WWE Superstars when he did finally appear on television.  
WWE then started to notice and created a basic Zack Ryder T-shirt, which Ryder used to his advantage.  He used Twitter, Facebook and YouTube to promote the T-shirt, telling fans that if they sent him a picture of them with the shirt on, he would mail them an autographed photo.  It worked, and the T-shirts sold out.
In April, Ryder tried to grab even more attention.  By using a children's replica Intercontinental Championship belt, he created and declared himself the WWE Internet Champion.  His fan base continued to grow and he began to get noticed by bigger names in WWE.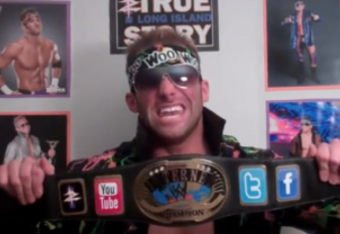 By June Ryder had secured the support of WWE's biggest superstar, John Cena.  He began to be seen on episodes of Raw, mostly during backstage segments, and was getting more and more exposure as the weeks went on.
Not satisfied with appearing backstage just before commercial breaks, Ryder took to the Internet again, persuading his fans to ask for him to be seen on television more often.  Even John Cena hopped on board and began to tweet to his followers about Ryder, suggesting that they follow him on Twitter and watch his YouTube videos.
Ryder was then given the chance to wrestle on episodes of Monday Night Raw.  Even in losing efforts to bigger superstars, the fans loved Ryder.  He even had several brief moments as a heel, turning on his Superstars tag team partner, Primo, but the fans just wouldn't boo him.
Ryder never gave up.  He didn't quit with the YouTube videos after he had secured a more stable spot on the Raw roster.  He continued, and still continues to this day, to put out a new episode of "Z! True Long Island Story" each and every week.
After Ryder began to appear just about every week on Raw, he started feuding with one of his real-life friends and WWE United States Champion, Dolph Ziggler.
Ryder was granted several matches for the United States Championship, but was never able to pick up a victory.  That didn't stop him.  When other superstars would normally sit back and wait for another chance, Ryder started an online petition to get another shot at Dolph Ziggler and the United States Championship.  His online petition, which had accumulated over 20,000 signatures, was eventually put on television, and created an even bigger buzz for the Internet sensation.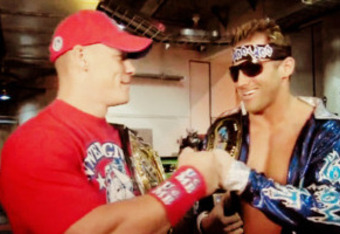 Though the petition never worked out, Ryder kept pushing.  Every time he was placed in a match, you could tell that he was busting his butt to put on the best match he could.  He always gave everything he had to make sure that, even if he lost, the fans went home happy knowing that they got to see some great in-ring action.
Eventually the time came.  With the help of John Cena, Ryder secured his match with Ziggler by defeating the then World Heavyweight Champion, Mark Henry.  All of the hard work and determination paid off at TLC, where in the first match of the night, Zack Ryder cleanly defeated Dolph Ziggler and became the new WWE United States Champion.
Nothing was handed to him, he didn't sit back and hope for his opportunity, instead, Zack Ryder turned himself into a WWE Champion.  The fans love him and other superstars and WWE employees love him.  And he has earned the respect of each and every person who cheers his name.
Look at the difference between Ryder and someone who didn't have to work to become a champion in WWE.  Alberto Del Rio was practically handed a top spot on the WWE Roster, complete with Royal Rumble, Money in the Bank, and eventually WWE Championship victories.  How did the fans react to him?  Well, they really didn't.  Sure he was booed, but not the way the top heel on Raw should be.
Ryder is the exact opposite.  Before he even had WWE gold around his waist, the cheers that he received rivaled those of John Cena, Randy Orton and CM Punk.  You have to work to get a reaction in WWE, and nobody worked harder than Zack Ryder.
With the United States Championship now in his possession, there is no telling where Zack Ryder is going to go from here.  I expect his YouTube videos to get even better, his Twitter and Facebook followers to grow more and more each day, and his reign as champion to be long and exciting.
The Broski Era has begun.
Follow TC on Twitter (@TheOneTC) and be on the lookout for his new blog, Total Chaos Wrestling, coming soon.