After the Broncos: How New England Patriots Fans Feel Right Now
December 20, 2011
2001 AFC Divisional Playoff. Raiders vs. Patriots 
A young Tom Brady walks out on the field to practice before the game. This is his first playoff run as a starting quarterback. He's loud, brash, prone to boasting, and he's got a choppy haircut that makes him look slightly immature. But he has a warrior's mentality, and his team believes in him.
The clock is winding down to game time, and practicing is difficult. The conditions are horrible; it's the kind of bitter cold that freezes your eye lashes. The wind is wet and icy and cuts you to the bone. The field is totally white from the snowstorm barreling down. 
Brady practices in a t-shirt to show his teammates that the cold weather will not affect him during the game.
Raiders 13, Patriots 16
2001 AFC Championship. Steelers vs. Patriots
Prior to the game, several Patriots players walk past a storage room. Inside the room are packed bags belonging to members of the Steelers and their families. 
The bags are for their planned flight to the Super Bowl.
Moments before the game, the Patriots begin walking through the tunnel. They're angry. Spitting nails, foaming mouths, like a pack of hungry dogs. In his customary bravado, Brady screams out, "Yeah, we're coming, baby." He claps his hands together hard with his adrenaline surging and his swagger coming into crystal focus. "We're coming today."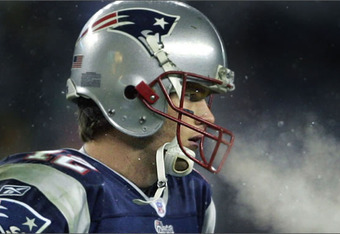 Patriots 24, Steelers 17
2001 Super Bowl. Rams vs. Patriots
During the introductions, the announcement comes over the speakers: "And now, ladies and gentlemen, choosing to be introduced as a team, the American Football Conference champions, the New England Patriots." They take the field. No one player is more important than the other.
The Rams tie the score at 17 with 1:21 left in the 4th quarter. Patriots ball.
Adam Vinatieri, kicker for the Patriots, drapes his arm around the equipment manager's shoulders and whispers to him, "They screwed up. They gave us too much time."
On the sidelines, Brady prepares to take the field. Bill Belichick and Charlie Weis pound it into his brain that he must take care of the football. Drew Bledsoe, now acting as Tom Brady's mentor, pulls Brady aside and says, "Go out there and sling it."
After Brady slings it and brings the Patriots into field-goal range, Vinatieri instructs the equipment manager to prepare for a sprint downfield to recover his game-winning ball.
Rams 17, Patriots 20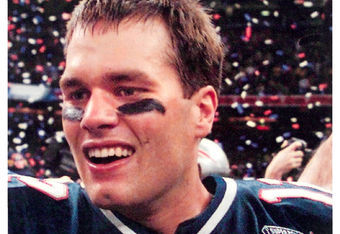 Swagger is essential to winning championships, but it's a complex dish to prepare. Confidence is a key ingredient, but overconfidence is poison. In the playoff run of 2001, the Patriots personified the right kind of swagger.
Confidence must be coupled with the right mentality of, "Hey, we want this more than you," and "You can't have it, we're taking it."
Anyone who thought the Patriots didn't pay attention to little things like Tebow Mania were grossly mistaken; they made every effort imaginable to drive a stake through that vampire. 
Like Muhammad Ali, the Patriots took Tebow's best blows up front, absorbed the hits, then unleashed their fury. 
As much as the Broncos wanted to keep their winning streak going, the Patriots wanted to end it more. They weren't overconfident. They were stronger, better and more prepared.
Gone are the days of the Patriots relying on their reputation to win football games. Every single week, Patriots fans are a little nervous. We were on edge about the Colts game. We were a little antsy about the Redskins game. And we were on the edge of our seats for the Broncos game. 
Each week is a potential loss. This may sound obvious, but it's a semi-new sensation for Patriots fans to feel. We're still adjusting. Right now, we feel confident and humble.
But this victory over the Broncos told me something about this team. They can win it all if they play their game. If they get guys like Aaron Hernandez and Danny Woodhead involved, they're a wall of iron.
A lot of us mocked Chad Ochocinco all year. And, yes, there's only so many accolades you can give a guy for one touchdown. But if he can become consistently relevant, then this offensive unit provides a whole new set of problems for opponents. All of a sudden, Rob Gronkowski and Wes Welker are only two of many guys that will keep teams tossing and turning all night. 
The development of Woodhead, Julian Edelman, Ochocinco and Hernandez will be essential. These guys aren't big jersey sellers, but they're crucial to establishing long-term success in the playoffs. This is where the magic is hidden. Teams know what Brady and Welker and Gronkowski bring. But these guys bring new dimensions of versatility that have been missing for the last few years.
And I should also mention that this is probably the best "worst" defense I've ever seen. For a defensive unit ranked dead last, they certainly don't give up a lot of points. The way they got to Tebow was masterful.
The three most significant things I observed during the Broncos game were this: the Patriots were ready, they were ready and most importantly: they were ready.
The Patriots weren't ready for the Giants. They weren't ready for the Ravens. They weren't ready for the Jets last year.
They were ready for the Broncos on Sunday. 
They showed up on a day where they had to play great football, and they played great football. The Patriots demonstrated poise, intelligence, toughness, swagger, and brutality.
If the Patriots can build on this win, things are looking up.