WWE's Special MC Report: Life After Attitude Era: The New Generation Part II
December 20, 2011
In 2004, the transition to the new generation continued.
One of the biggest moments from the past 10 years witnessed Randy Orton becoming the youngest ever World Heavyweight Champion in a classic bout against Chris Benoit.
The match in itself was exciting and suspenseful, as it helped bring the Summerslam PPV back to life. Even though Randy Orton had the look of a mainstream star, he proved his wrestling ability going against one of the greatest technicians of all time.
Even though Orton was still a heel with Evolution, even the crowd had to give the young star his due as he wept, celebrating his first title reign.
But even though young stars were making gains, older stars were finally receiving their long overdue run in the spotlight.
By 2004, Eddie Guerrero was a veteran in the business. Beginning as a luchador in Mexico City wrestling promotions, Guerrero traveled a long road in order to have the opportunity to wrestle on the main American stage.
During his runs in promotions such as World Championship Wrestling and Extreme Championship Wrestling, Guerrero made his mark a high flying, but technical powerhouse. Yet, it would be over a decade before Guerrero held a major title around his waist.
His "Viva La Raza" persona finally afforded the fans the opportunity to see Guerrero as a real, lovable personality, yet still a serious wrestler. His United States Championship title reign turned Guerrero into a complete fan favorite.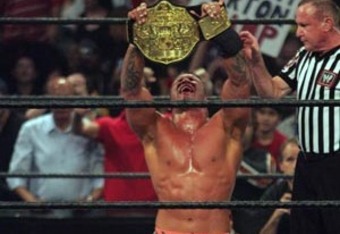 At No Way Out, Eddie Guerrero went against the WWE Champion Brock Lesnar. During this time period, Brock Lesnar was still being billed as unstoppable. He had defeated the likes of The Rock and even took The Undertaker to the limit.
However, Eddie Guerrero and Lesnar were able to put on a hell of a match. Lesnar again showed how his size, strength, and athleticism went together hand in hand.
But even though Guerrero was a smaller size, he was able to counter Lesnar with his experience and technical moves.
The crowd was electric in this match, cheering on the underdog Guerrero.
In the end, with the help of Goldberg and a shooting star press, Guerrero captured his first and only WWE Championship with his mother and family at ringside.
After over ten years, Guerrero was living and symbolizing the wrestling dream. A guy who countless times throughout his career suffered setbacks and skepticism from his bosses, Latino Heat was finally on top the world.
Goldberg's interference set up what was built as a historical matchup for that year's Wrestlemania.
Brock Lesnar and Goldberg faced each other in Madison Square Garden for Wrestlemania XX.  Attitude era icon Stone Cold Steve Austin played the role of special guest referee.
However, the match in a short time would go from famous to infamous. Both men barely wrestled each other in the midst of a tough New York crowd reaction. Fans were highly aware that the match would be the last time they saw either men, and didn't take to kindly to that idea.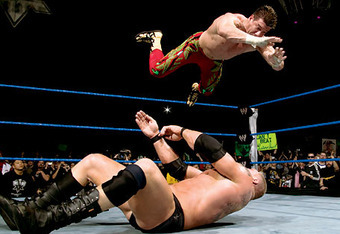 I didn't think the departure of Goldberg would have a huge effect on the WWE. Goldberg was aging and was definitely not the same as he was on WCW.
However, Brock Lesnar's departure spoke volumes. The star grew tired of the grueling traveling schedule, while wanting to explore other avenues of sports entertainment.
He had a quick stint in the NFL before making a return to Japan Pro Wrestling, where the road would lead Lesnar to Mixed Martial Arts.
Indeed, Lesnar's departure, much like The Rock's, was not thought as much by fans.
But Lesnar was built as a guy who was supposed to carry the company for 10 years or even more. He had the look, the skill, and the mainstream power.  And for the WWE to lose someone like that, who only comes along once in a life time, would affect their future outlook on who should be on top and who shouldn't.
It forced Vince McMahon and Co. to go back to the drawing board and re-master the plans for the future.
Enter: John Cena.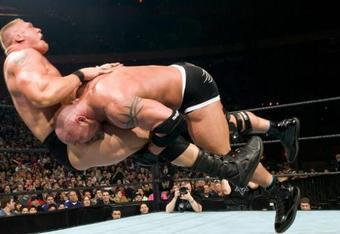 But we shall beginning analyzing that transition in the next episode.
Thank you for reading!  Comment, like, retweet. Anything would be appreciated in order to spread the word on this article!
Follow me @ http://twitter.com/itssocrates.
WWE's Special MC Report: Life After Attitude Era- the Beginning Years Part I
WWE's Special MC Report: Life After Attitude Era- the Beginning Years Part II
WWE's Special MC Report: Life After Attitude Era- the New Generation Part I
Also check out my other articles in my profile! Stay tuned for the next part!