WWE Raw Segment Analysis: Is Kane Serving as a Metaphor for John Cena?
December 20, 2011
Good evening Bleacher Reporters.
Today I shall begin a new column analyzing a particular segment during a WWE show. Most often, it will be a segment from Raw analyzing meanings and what should be expected.
Last week witnessed the resurrection of Kane with a new and improved mask. Hell, fire and brimstone, Kane returned to the square circle, re-claiming his identity and seeking vengeance on those he sees fit.
In his path of destruction, his target has been none other than the man of all men in the company, nine-time champion John Cena.
Last night in particular witnessed Cena trying to let bygones be bygones while searching for a solution for the attack that occurred a week before.
Typically, a happy go lucky Cena arrives to the ring in the midst of boos and cheers. Lately though, his boos have increasingly exceeded in volume over his cheers.
Mark Henry would interrupt Cena as he sulked over his losing the World Heavyweight Title and suffering an injury. He reminds Cena that Kane saved him from being inducted into the Hall of Pain.
Then, a boom occurs. Suddenly, the arena dims. The chilling music signals the arrival of the resurrected Big Red Machine.
At first, Kane teases that he is finally gonna seek his vengeance on Mark Henry for putting him out of action months earlier.
But he slowly turns his his head, almost Michael Myers-esque, and sets his sights on the Cenation leader.
While Cena attempted to fight back, Kane launched a powerhouse attack on a man who was thought of to be invincible. Even blood leaked out of Cena's mouth.
Numerous articles on Bleacher Report attempted to discuss exactly where this feud should head and what is the meaning of it all.
My two cents:
Maybe, just maybe, Kane's character revival is serving as a metaphor for Cena. Kane is either trying to tell Cena, or us, about the meaning of rebirth.
When Kane was first de-masked several years ago, many believed his aura and what made him great left with the mask. Kane's feuds have usually gone the route of him going crazy, just for him to become mortal and lose in the end of it all.
However, Kane's new found resurrection has him being reborn and taking out those who feel they need a reality check of their own.
And that is where Cena fits in the puzzle.
John Cena has been shown up by the likes of The Rock and CM Punk in the second half of this year. His critics have grown in numbers and are becoming louder and louder in their protest.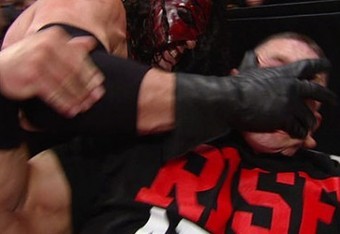 He has even received the worst end of his feuds, losing the title to Punk at Money in the Bank, and being out classed and rock bottomed by The Rock at Survivor Series.
But Cena constantly attempts to smile his way through the pain and the backlash. He constantly tries to revere in his Superman persona and not show any signs of his weakness. It's his defense mechanism.
He did this during the segment even, coming out smiling and happy as usual as if Kane was never there.
However, his act is crumbling, fast.
Roddy Piper a few weeks ago tried to get this into Cena. That by getting his head and his true emotions back into the game, Cena wouldn't be turning his back on himself.
If anything, Cena would be his true self. He wouldn't hide behind the mask.
The fact that Kane ripped off Cena's shirt and stared at it says something to me about where this feud might be going and what it all means.
Kane has resurrected himself and has found his identity.
Though it probably isn't his intention (or maybe it is as a part of Kane's mind games), he is trying to get Cena to do the same.
Thank you for reading! Comment, like, retweet. Anything would be appreciated in order to spread the word on this article!
Follow me @ItsSocrates
Also check out my other articles in my profile! If you are an old or new wrestling fan, definitely check out my series analyzing the WWE after the Attitude Era.