NFL Week 16 Picks: The World's Best Sports Advice for Free, All Games
December 21, 2011
Wesley Hitt/Getty Images
10-6 three weeks in a row left me at a tidy 126-94 against the point spreads this year.
$1,000 per game equates to 126 x $900.00 won and $1000.00 x 96 lost. Net profit with my games would be plus $17,400.00.
In Week 16 you will see players rested in anticipation of the playoffs and get much-needed rest from nagging injuries.
Some teams have to win, and in other cases, it really does not matter. Listen to NFL Mikee. That's me.
After the first loss of the season, Green Bay will look much sharper this week against the Bears. Take the Packers and give the points and grab the under in this game. Packers -12.5.
Kansas City is looking better, and it will win by three points this week versus the Raiders. Denver should lose also, opening the door for San Diego, who also must win this week. Kansas City -0.5 points.
I like San Diego to win this week, while Denver and Oakland lose. San Diego +2.5.
Washington should handle Minnesota at home no problem. Minnesota's mind is somewhere else this season. Washington -6.5.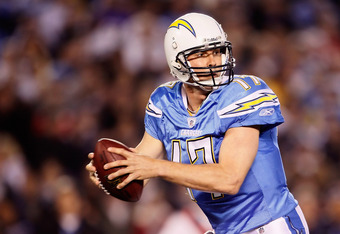 Jeff Gross/Getty Images
Houston rolls into Indy a relaxed division winner. Take Indy at home to win two in a row. The Colts will cover at least. Indy +5.5.
Like I said earlier, I like Buffalo at home against the Tebow factor and the travel time to the East Coast. You get a home 3.5 dog, which is rare. Buffalo +3.5.
Cincinnati is at home playing the 7-7 Cardinals who are doing well as of late. The Bengals are fighting for a playoff spot and will have the full deal happening. Cedric Benson should be huge in this game. Cincinnati -4.5.
Baltimore is in a fight for the division and must maintain the tie with Pittsburgh. These division games play out closer than this spread allows. Cleveland +13.5.
Tennessee is at home and must win to have any playoff hopes. Jacksonville is not great—we all know that. Tennessee -7.5, but I would not bet the house on this one.
Pittsburgh is favored by 14.5 over the Rams, but when can Big Ben ever rest that high ankle sprain? Rams +14.5.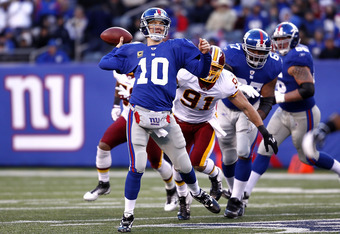 Jeff Zelevansky/Getty Images
Tom Brady and the Patriots should continue their offensive blitz on the league against the Dolphins with those two talented tight ends. The Dolphins have used that position pretty well also but just don't have the defense to stop Brady. He will take what the defense gives and score 35 points. Patriots -10.5.
I fully expect Eli Manning to outscore Mark Sanchez and win the battle of New York. The Jets are going nowhere fast this season. Giants get 2.5 points. That's a gift bet from Vegas.
Carolina will handle the bumbling Buccaneers by the allotted 7.5 points. Cam Newton should be the fantasy player of the week on Sunday.
I like San Diego to pull off an unlikely upset this week in Detroit. You get 2.5 points, and hey, I'm not Norv Turner. It's not my job on the line. San Diego +2.5.
The Eagles sure are coming on strong, and they still can makes the playoffs, astounding as that seems. Dallas has the most talent, but injuries are wearing them thin, so I can't see them stopping LeSean McCoy, especially from having a big day. It will all come down to Dallas/Giants next week, but for now I am drinking Eagles Kool-Aid. Eagles +2.5.
The 49ers will handle Seattle in one of the easier selections this week. San Francisco -2.5.
The Saints are red hot, and Drew Brees will break Dan Marino's single-season passing record. Atlanta got off to a slow start and will be lucky to grab a wild card this season. In fact, this game may do them in. New Orleans -6.5.
Thomas[NFL Mikee]Moreland 
Regestered domain name nflmikee.com   Have a great Sunday weekend.