Knicks Rumors: Ending Pursuit of James Posey Is Senseless Move
December 20, 2011
Harry How/Getty Images
As a two-time NBA Champion with the Miami Heat and Boston Celtics, swingman James Posey can be an invaluable asset to a team looking to make a postseason run. Despite that, the New York Knicks are no longer pursuing the savvy veteran in free agency.
According to Al Iannazzone of The Record, Knicks head coach Mike D'Antoni has said that signing Posey no longer looks to be an option. While Posey isn't the type of player that will win or lose a team an NBA Championship, there is simply no reason not to consider him when he's available and waiting to be signed.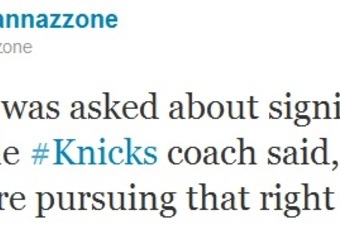 Posey would likely only play sparingly for the Knicks, but even at the age of 34, Posey is still an excellent perimeter defender, which is an area where the Knicks are lacking. A roster is 12 men deep, and while the 12th man may not be used as much as the others, he can still serve a very important purpose.
Posey is precisely that type of player.
Perhaps a championship pedigree is an intangible thing that may not really mean anything, but Posey knows what it's like to climb to the top of mountain. He has been there and done that, and I believe that his experience alone would have done a world of good for a Knicks team that has been stocking up on veterans.
Over the past few seasons, Posey's minutes played and numbers across the board have been down, but he would only be needed in small spurts by the Knicks. The front office will likely fill that spot with a younger, lesser-known player, but I'm not exactly sure what that would accomplish.
I can't imagine that money would be much of a hang-up in the situation, either. At this stage in Posey's career, I have to believe that he would be happy signing a deal for the veteran minimum with any contending team in order to get one last ring.
Signing Baron Davis was a good move for the Knicks in my opinion, as he brings plenty of experience to the table, but he has never even sniffed an NBA Championship. Tyson Chandler did last season with the Dallas Mavericks, and that is one element that makes it a great signing, but you can never have too many champions.
Either way, the Knicks should be fine and should be very much in contention in the Eastern Conference, but come playoff time Posey is a very valuable guy to have when you're in a pinch. The Knicks will likely have to turn to an inexperienced player like Iman Shumpert, however, and hope that he can handle the pressure.
With Posey, though, that wouldn't even be a question.