Southern Miss Football: Golden Eagles Flying High into Sheraton Hawaii Bowl
December 21, 2011
Bob Levey/Getty Images
Honolulu—It's been a long two-and-a-half weeks since Southern Miss head football coach Larry Fedora stood on top of Robertson Stadium's field—and on top of the world—in Houston and said his Golden Eagles should play in a Bowl Championship Series game.
Southern Miss, of course, had just won the Conference USA championship by beating the undefeated and No. 6 ranked Houston Cougars who were assured of a BCS bowl game had they won. Therefore, Fedora's plea made sense—just not in the insane world of postseason college football.
So, the No. 21 Golden Eagles (11-2) were quickly dismissed from any BCS bowl game conversation and sent to play in the Sheraton Hawaii Bowl 5,500 miles away from Hattiesburg, Miss. against the Nevada Wolf Pack (7-5) on Christmas Eve (7:00 p.m. CT, ESPN).
Not to mention, the Golden Eagles aren't even Fedora's football team any more, not technically at least. On Dec. 9, the four-year Southern Miss leader was introduced as the next head coach at North Carolina. Fedora is set to take over for the Tar Heels after coaching in the Hawaii Bowl.
If the extreme joy from Southern Miss' C-USA championship win on Dec. 3 has been dampened by these happenings remains up for debate.
What is not, though—even if some in Mississippi are still upset because they expected a bowl game near home, and would have traveled to the C-USA title game in Houston had they known otherwise—is that the Golden Eagles themselves are regathered and keenly set on living in the moment and enjoying the task at hand.
"Coming up here we understood that this would be a once-in-a-lifetime opportunity to come to Hawaii," senior linebacker Ronnie Thornton said at the bowl press conference on Tuesday. "And a lot of the seniors got together and we just basically said that: 'This may be our last time being together.'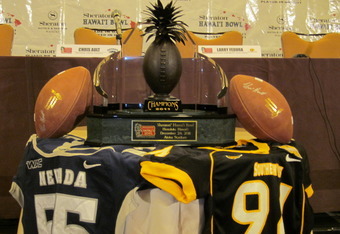 "So we just wanted to come out and have a little fun and spend time with each other. It's turned out great thus far and we have some pretty interesting upcoming events that we're supposed to attend. We're looking forward to having fun and going out with a bang."
While tours around the island of Oahu, trips to water parks and sunset dinners on the beach might not be music to the ears of those unable to make the cross-country and cross-ocean jaunt, that doesn't seem to be inhibiting the joy of those who did.
"We're excited to be here," senior quarterback Austin Davis said. "And a lot of guys, this will be their only time to ever come to Hawaii and experience this, and I think that was the big deciding factor to be here, and we'll get to play a good football team on Saturday; so it will be good.
"But we don't want to get too caught up in the vacation part and forget about the football season that we have. And the season that we've had has been special, and I would hate to end it on a bad note. We want to finish strong and get (win) number 12."
The Sheraton Hawaii Bowl will be the 22nd all-time bowl appearance for Southern Miss and its tenth straight. The Golden Eagles are 2-0 all-time against the Wolf Pack from the Western Athletic Conference, having beat them at home in 1997 (35-19), and at Nevada in 1998 (55-28).
This is the program's second trip to the Hawaiian islands. On Oct. 15, 1977, Southern Miss beat the Hawaii Rainbows 28-26.
The Golden Eagles arrived in Honolulu over the weekend and have been enjoying some free time. Tuesday was the team's first day of practice.
"We just got finished with our first practice and guys were focused in well, did a great job at practice today, we had plenty of energy," Fedora said.
"We've got a group of 21 seniors who've done a tremendous job of leading this football team to this point, and they understand what it's taken to get here; the 11 wins and what we've had to do to get to this point.
"And I'll be honest with you guys, you can go out and watch practice and you wouldn't know if it was August 5, which was the first day of practice for us, or it was the next-to-the-last practice for us. They're still practicing the same way so they understand what it takes."
Southern Miss' senior class is shooting for its 34th victory since the beginning of 2008. A win over Nevada would match the 1952-1955 teams for its best four-year cycle for victories.
"They understand how important it is," Fedora said. "We're not just playing another game. We're making history at Southern Miss. There's no team that's ever won 12 games in the history of 100 years of football."
Thornton was quick to remind Fedora that no Southern Miss team had ever won 11 games, either.
"And (Thornton's) right, this is the last time that this team as we know it—the staff and trainers and equipment managers and everybody—will be together. The last time.
"So we're going to make the most of it," Fedora said.
Kevin Riley is a Featured Columnist for Bleacher Report. Unless otherwise noted, all quotes were obtained first-hand.