Why Rajon Rondo Is a Top-5 Point Guard
December 21, 2011
ESPN NBA analyst Tim Legler presented his list of the top five point guards in the league. Here it is:
1. Derrick Rose
2. Deron Williams
3. Chris Paul
4. Russell Westbrook
5. Steve Nash
None of these point guards have an NBA championship ring.
Not much has changed for Rajon Rondo since 2007. Well, except for becoming an All-Star, earning a spot on three All-Defensive teams and winning a championship ring. Also, his jersey is the third-best seller behind James and Bryant.
So, maybe a lot has changed, in the literal sense.
But in terms of those pesky invisible things, such as the public perception of him and the degree to which he's valued amongst other point guards in the league, he hasn't made much progress.
When ranking point guards in the NBA, analysts always seem to feel obligated against their will to fit him into the top tier.
You name the NBA expert, and you can bet that he or she considers Rondo an afterthought to the likes of Derrick Rose, Chris Paul and Deron Williams. Nowhere in recent memory can I recall a player who has been so clinically underrated.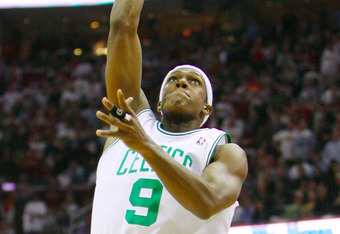 There was even a time not too long ago, 2009-ish, when professional basketball analysts placed a higher value on Mo Williams. Unbelievably ridiculous.
Many believe that Rondo's inconsistent jumper renders him more of a liability than an asset, therefore knocking him down in the point guard ranks. But it should be noted that lump scoring and flawless shooting isn't necessarily characteristic of the point guard position.
John Stockton, generally considered the position's gold standard, averaged 13.1 points per game. Rondo's already at 10.7 and he's maybe 25 percent done with his career and getting better each season.
Michael Jordan was by far the most skilled ball-handler on the Chicago Bulls and could easily have played point guard, yet he played shooting guard. Ray Allen and Kobe Bryant are phenomenal ball-handlers who could easily qualify as the point guards on any team in the NBA, but they're best-suited for the shooting guard position because of their uncanny shooting abilities.
Point guards distribute first and score when they have to, and shooting guards score first and distribute when they have to. Rondo fits into the point guard category, and he is indeed a point guard, but he gets blamed for not having the skill set of a shooting guard.
Does this seem logical?
At times I think we mistake the aberration of Magic Johnson as the norm.
We also tend to consider guys like Derrick Rose and Deron Williams as heirs to the Magic Johnson throne, but that's completely inaccurate. Not only was Magic great at everything, he also managed to be a great scorer while being surrounded by other great scorers.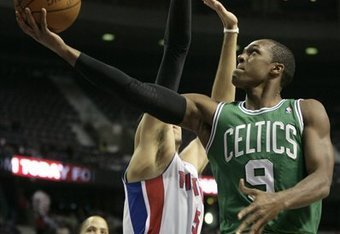 He was a rarity, a talent amongst talents.
Yes, Derrick Rose and Deron Williams are great scorers, but they have to be great scorers. They have nobody else on their respective teams to carry the offensive load. If these guys don't bank 30 points a night, their teams lose.
So, despite being point guards, Rose and Williams are also expected to perform like shooting guards because of the deficiencies of their teams.
Do not make the mistake of believing that scoring 30 a night is the key to being a great point guard.
To hold Rondo's lack of scoring prowess against him is, in effect, to blame him for being on a good team. I've seen every game Rajon Rondo has ever played, and I can say with certainty that he's more than capable of nabbing 20 points a game.
I've seen him score 25-plus without breaking a sweat and with no more than one or two jumpers nailed.
The field isn't where he collects his point totals. Nearly all his points come in the paint, and at the tail end of the shot clock on broken plays that force him to hoist up shots that he usually makes.
Scoring isn't difficult for Rondo. Free-throw shooting is, but scoring isn't.
The basic fact is that he just doesn't need to have 25 or 30 points to win ball games.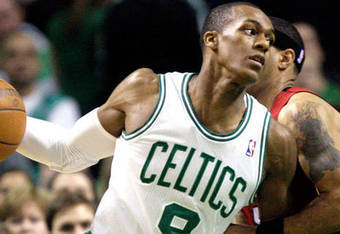 The Celtics win all the time with Rondo having 15-plus assists and anywhere from a few to 15 points. He scores what's needed from him to win games (and a championship). Why on earth would he go out and score 30 every night?
That's what Ray Allen, Paul Pierce and KG are there for.
Rondo's not looking to score, but Rose, Williams and Paul are always looking to score. From the opening tip, they're looking to collect points for their team so they have a chance to win.
So while everyone gets on Rondo's case for his inconsistent jumper, I'm looking at all the things he does consistently, like his dominant numbers in steals and assists and his double-doubles in the regular season and triple-doubles in the playoffs.
Not to mention the fact that he's the best rebounding guard in the league. Also, he's the leader of a team with three Hall of Famers on the roster.
I'll repeat, he's the leader.
So again, while everyone's questioning Rondo's jumper, I'm wondering why Chris Paul wanted to go to the Lakers and eventually went to the Clippers. He didn't want the continuing burden of having to score 30 a night. He wanted Kobe and Bynum, or Blake Griffin.
He wanted scorers.
Chris Paul left New Orleans to get what Rajon Rondo has.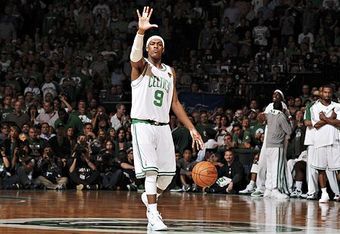 Here are my top five point guards:
1. Rajon Rondo
2. Chris Paul
3. Tony Parker
4. Stephen Curry
5. Russell Westbrook
Which list do you prefer?