WWE's Special MC Report: Life After Attitude Era, Tragedy and Struggle (Part I)
December 30, 2011
2005
On Nov. 13, 2005, Eddie Guerrero was found dead in his Minnesota hotel room by his nephew and fellow WWE superstar Chavo Guerrero.
The death of Guerrero sent shock waves through the wrestling community. 
Guerrero's career was at its peak after more than a decade in the business.  He enjoyed a successful WWE title reign the year before and was booked to win the title back again.
I remember how I attempted to shrug it off when I first heard the news.  This was around the period where I began to slowly get out of wrestling. 
I was in middle school and was going through my own issues at the time.  However, Guerrero was a huge part of my childhood. 
I remember when he arrived in 2000 with the Radicalz alongside the likes of Dean Malenko and Chris Benoit.  Guerrero's "Latino Heat" character quickly made me a fan of his persona and swagger.
The Raw after Guerrero's death was a very emotional one.  Even a giant in the Big Show shed tears in mourning the celebrated star.
Guerrero's death put a somber tone in 2005—a year that many believe started the decline of wrestling.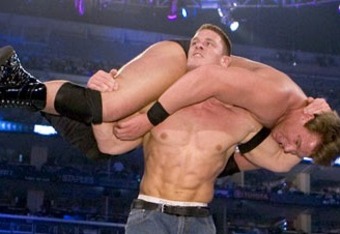 With superstars like The Rock and Brock Lesnar departing from the business, along with the sudden death of Guerrero, a future that once looked bright started to seem cloudy and uncertain.
Even the one bright spot of the year is now a heavily debated one.
John Cena definitely was on the horizon by 2005.  His "Doctor of Thuganomics" persona gained him love and respect from older and younger fans alike.
While Cena's rap persona was a huge hit, I admit even then I was not that impressed.  I always found Cena's raps to be corny, and even in this era you could definitely see shades of where the character was heading. 
Cena's rap gimmick did attract many new young fans who were coming after The Rock and Steve Austin's generation.
While on Smackdown, Cena earned his first title match at WrestleMania 21 against John Bradshaw Layfield, a.k.a. JBL.
At the time, quite frankly, JBL as champion wasn't cutting it, though many within the Internet wrestling community did appreciate his cliche heel persona.
Cena and JBL went on to wrestle for the WWE title at WrestleMania 21.  The match officially signified Cena's newly found status as WWE's top star. 
Cena would go on to win the title that night and then revamp the belt into the now infamous spinner championship.
Later on that year, Cena was drafted to the Raw brand amidst cheers.  Even Jim Ross labeled the crowd's reaction as "electrifying."  Indeed, a man who was a former bodybuilder was living the WWE dream.
But even as Cena grew in popularity, another growth took place in the change of his character. He slowly began to rap less and less, and instead cut promos filled with jokes that were an attempt to keep his edginess.
Even though a lot of people attribute the boos of Cena to the losing of his rap character, I remember even when he still was rapping on Raw, the crowds began to show way less favoritism toward him. 
Maybe this is what prompted WWE take a change of pace with him in the first place.
It's amazing that a guy who was on top of the WWE gained as much heat as Cena did.
The fast, sudden rise of stars such as Austin and The Rock led fans to consider them heroes rather than villains, but for Cena it was starting to become the opposite.
Another noteworthy event in 2005 was the return of Extreme Championship Wrestling.
Tommy Dreamer and Paul Heyman worked behind the scenes in order to set up a one-time return for the hardcore promotion. 
The angle began on Raw when Eric Bischoff mentioned his dislike of the brand, which paved the way for Heyman and company to set up a revival pay-per-view.
ECW One Night Stand was held in New York.  Old school wrestling fans got the chance to relive their era of wrestling with the return of guys such as The Sandman and The Dudley Boyz.
While I was not one who was into ECW during its original run, the PPV was a magical one.  It seemed like, for the first time in ages, the crowd was electric and the atmosphere made you feel like a kid again.
All in all, 2005 was a mixed bag.  The death of Guerrero put a very tragic stamp on the year that witnessed the rise of Cena and the one-time return of ECW.
However, there would be even more adversity and struggle coming the company's way that would change how we think of WWE today.
Thank you for reading!  Comment, like, retweet. Anything would be appreciated in order to spread the word on this article!
Follow me @ItsSocrates

WWE's Special MC Report: Life After Attitude Era- the Beginning Years Part I
WWE's Special MC Report: Life After Attitude Era- the Beginning Years Part II
WWE's Special MC Report: Life After Attitude Era- the New Generation Part I
WWE's Special MC Report: Life After Attitude Era: The New Generation Part II
Also check out my other articles in my profile! Stay tuned for the next part!